I have always loved to read. Every night of my childhood for as long as I can remember, I fell asleep reading a book. I loved nothing more than getting engrossed in the characters, the nuances of their relationships and their stories. Still today, I have the same feeling when I find a special book - one that transports me into other peoples' lives, where their struggles and triumphs feel so real.
I have only ever met one of my favorite authors in person, Judy Blume - once as a child and thankfully, many years later as an adult. As a 10-year old quarantined in the infirmary my first time away at summer camp, the beloved author had a daughter at the camp and heard she had a young fan who was sick. She came to see me, talked to me and wrote in my favorite book at the time, Are you there God, It's Me Margaret. I know I was just one of thousands, if not millions of young girls, who thought Judy Blume was speaking to her, knew her, "got" her. Years later, I followed her into the ladies' room (wasn't as creepy as it sounds) at a premiere for one of her books that had been turned into a novel. I introduced myself and pulled out the very same copy of the dog-eared purple paperback that I had kept for over 38 years. And to the initial personal note "For Rachel - Have fun at camp and feel better soon! Lots of love, Judy Blume," written in 1975, she added "Rachel, how great to meet up with you 38 years later!" Love again, Judy Blume."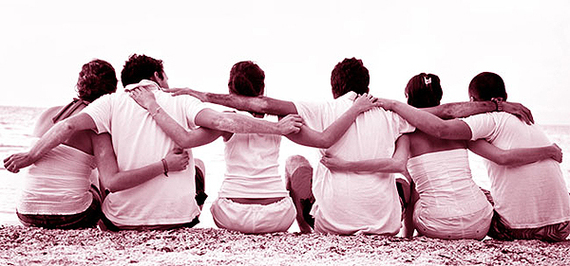 And now, I can't stop crying (apologies to my children who are embarrassed at my bawling in the airport). Full disclosure, I am a big crier - at movies, commercials, Rory Gilmore's college graduation (don't tell me that wasn't real), toasts, cards, letters, pictures. It is not the first time I have hidden my puffy, crying eyes beyond sunglasses. But this is extreme even by my crying standards. As my father-in-law once said, "There is more crying at a Braun (the family of my birth) birthday party than at a Scherl (family I married into) funeral. And why all the crying? Today, I finished A Little Life: A Novel by Hanya Yanagihara. I feel like she "got" me. I feel as if she so beautifully articulated the depth and capacity for human connection. I was astounded at the strength of the relationships in the face of horrible violence, abuse and pain. The connections and sense of mutual protection with their "people" literally defined and saved their lives - they shared and knew one another in a way (IMHO) most people never experience. They were unlikely combinations of people from vastly different backgrounds from each other and from me.
I literally can't stop thinking about the friendships and the love. I highlighted many sections that spoke to me - about family, about relationships, about loss, about the life circumstances the characters rise above and the baggage they lug around for their whole lives. I read and reread in amazement the beautiful passages, the literary wonder of some of the descriptions, the unbearable pain described and the spectacular joy experienced - made even more so, by the struggles the main character, Jude, had to overcome to find it. And most importantly, I marveled at how totally present and constant, they were in each other's lives, their total acceptance of one another's flaws - loving one another because of those flaws, not in spite of them.
I discovered that that the author lives in NYC, and I think my children are concerned that I will show up at her apartment. (Note: I am not a stalker. The Judy Blume thing only happened that once). I have rarely had this feeling so intensely, one in which I want to talk to the author, learn more about the characters, understand the inspiration for them, meet those people (or versions of them if they are still in her life). But most of all, I want to talk to her about the impact his novel had on me, what it made me want to strive for in my relationships, how it made me want to feel that intensely every day (even though I know it would be too hard to live that way).
Okay, so maybe I won't meet her anytime soon. But I know this, I will try even harder every day to model some of their astoundingly, beautiful behavior of Jude, Willem, BJ and Malcom - trying to be present, be more accepting, feel gratitude for the people who have enhanced my life - new and old, who painfully or thankfully left it, as well as those who have been in it for the long haul. And I will focus even harder on the "mutual dedication" required of important and lasting relationships. Now that doesn't sound like "A Little Life" to me.
Support HuffPost
The Stakes Have Never Been Higher
Related
Popular in the Community