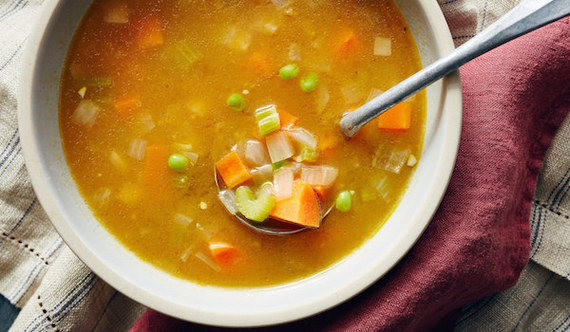 There are wintry nights when you don't feel like making a trip to the grocery store, but you could really use a warm bowl of soup. We have good news! If you've got 20 minutes to spare, you can definitely whip up vegetable soup on the fly. We can't resist the allure of this pantry ingredient soup for its ease and flexibility.
Here is our miracle formula for making a simple, flavorful, and satisfying vegetable soup with common ingredients you're likely to find in your fridge and pantry. This is a low-stress meal with a big upside--have fun with it.
AROMATICS + BROTH + VEGGIES = VEGGIE SOUP DU JOUR
Onion + garlic + chilies + ginger + vegetable broth + carrots + celery + potatoes
Aromatics
Heat 1 tablespoon of canola or olive oil in a medium pot over medium heat. Add aromatics. Here, you can use whatever you have on hand. We like finely chopped garlic, ginger, onion, scallion, and the like, along with some spices. Sauté until softened. Taste and add salt and pepper as needed.

Broth & Veggies
Add broth and diced veggies of choice to pot with aromatics. Increase heat to high and bring to a boil, then reduce heat to medium low and simmer until vegetables are tender and flavors are melded. Taste, and add more salt and pepper as needed. Serve in roomy bowls and enjoy.
If you're looking for more easy-to-make, innovative recipes with pre-portioned ingredients delivered to your door, check out Plated.