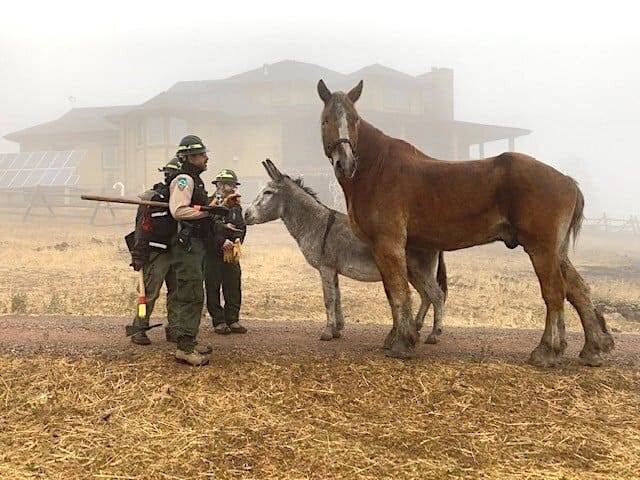 Travis Ochs of Boulder County, Colorado, was forced to flee as the CalWood fire rapidly approached his home last week. He had failed to load his beloved draft horse, Adam, and donkey, Ennis, into borrowed trailers in time, and let them loose, hoping they would find safety.
"The police said, 'It's not safe. You need to turn the horses loose and get in the car,'" Ochs said. "They were nice and just doing their job. We were really close to getting them in the trailer, but the fire was running faster than we were."
He came back the following day to find all that was left of his cabin was a melted stove. 
The animals — who are both 14 years old and have been together from the age of 6 months — were nowhere in sight.
But they were alive, Ochs soon heard from a park ranger, who had found the two buddies nearby in a "half acre of grass surrounded by scorched earth," the newspaper reported. Adam and Ennis were a bit singed — and hungry — but healthy.
It was a happy day for all three of them. Ochs' friend Eric Garner snapped this sweet reunion, and it was posted on Twitter Friday by the Daily Camera reporter:
"I can't imagine if they were alone, because Adam is very nervous," Ochs said of the animals' time fleeing the fire. "If he didn't have Ennis with him, he would be really stressed out."
The CalWood Fire was 55% percent contained Friday. It started Oct. 17 and has burned more than 10,000 acres. All evacuated residents were told they could return home, but should stay alert. Firefighters are hoping for a break this Sunday with snow in the forecast. 
Calling all HuffPost superfans!
Sign up for membership to become a founding member and help shape HuffPost's next chapter