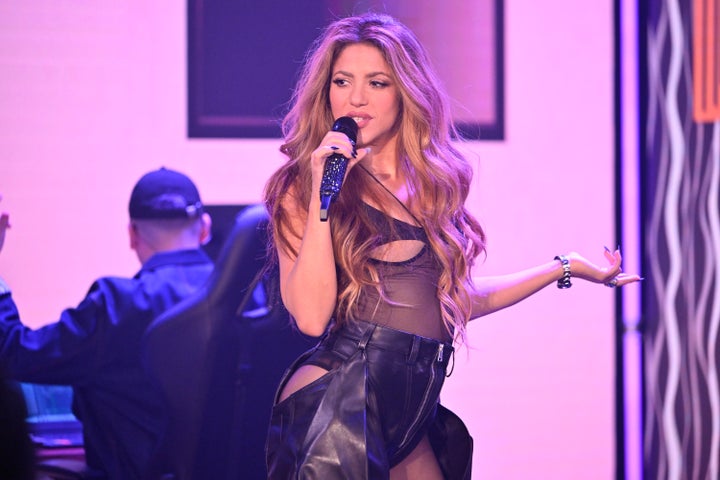 The "Easy on Me" singer couldn't hold back after Shakira's name was mentioned during one of her recent Las Vegas residency concerts. In a video shared on Twitter by a fan account, Adele is seen asking an audience member at her show to name her favorite musician — besides herself. In the video, the fan tells Adele she likes Shakira, to which the Grammy-winner hilariously replied:
"Oh, I saw her performance last night on Jimmy Fallon … Oh, her ex-husband's in trouble!"
Shakira has experienced a whole lot of turbulence in the past year. She not only saw tax fraud accusations from 2018 turn into actual charges, but she's also been embroiled in a very public and messy breakup with her ex-boyfriend, retired soccer player Gerard Piqué. Although the former couple never married, they share two sons — Milan, 9, and Sasha, 7.
Piqué allegedly cheated on the Colombian superstar after 11 years together. He eventually left her for Clara Chia Marti, who is in her 20s. The couple became Instagram official in January.
The breakup and betrayal inspired Shakira to collaborate with Argentinian DJ and producer Bizarrap to create the epic diss track "BZRP Music Session #53" — also known as "Out of Your League."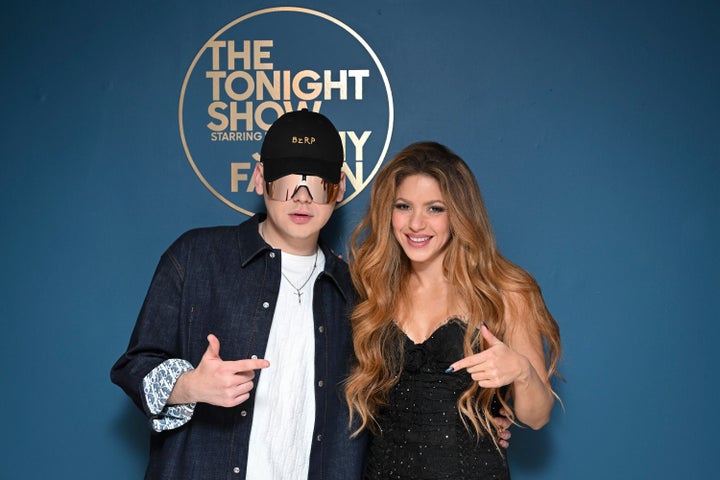 The scathing song has definitely resonated with fans, and has broken 14 Guinness World Records including the most streamed Latin track on Spotify in 24 hours and the most viewed Latin track on YouTube in 24 hours.
So, when Shakira and Bizarrap performed the song on "The Tonight Show with Jimmy Fallon" last week, it was something really special to behold.
During her performance, Shakira goes into the studio audience and sings along with the crowd. It doesn't sound like much, but when you see an entire audience singing her scorching lyrics word-for-word with as much passion as the "She Wolf" singer — and appearing to emphasize with her pain and sense of empowerment — it's something, well, magical.
Fans were awed by the performance and the audience participation as well:
The performance was especially powerful, fun and ultimately cutting when you know the words that everyone is singing together, which we here at HuffPost have translated for your pure enjoyment. Also keep in mind that some of the rhymes and metaphors don't quite translate perfectly into English.
A she-wolf like me doesn't have time for guys like you-oo-oo-oo
For guys like you-oo-oo-oo
So now you're with one just like you-oo-oo-oo
Shakira calling out Piqué by name with a play on the Spanish word for splash, "salpique":
Even if you cry, even if you beg me to
I've learned that it's not my fault if they criticize you
I just make music, I'm sorry if it splashes you
A diss to Piqué's new girlfriend:
I'm worth two 22s [year olds]
You traded in a Ferrari for a Twingo
You traded in a Rolex for a Casio
You're going too fast, slow down
But try to work your brain out a bit too
And finally, a reference to her financial problems:
You left me the mother-in-law as a neighbor,
The press at my door and in debt with the tax agency
You thought you hurt me but you made me tougher
Women don't cry anymore, they bill
Popular in the Community