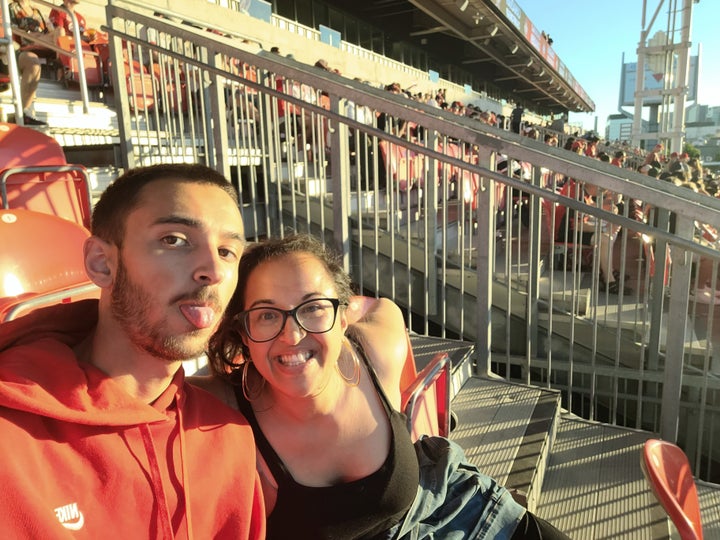 I'm sitting on the couch, curled up with tea and leafing through some grocery flyers. My son comes out of his room, reaches into the fridge, glances over, stares. "That's the most adult thing I've ever seen you do," he says.
"Yay!" I beam at him with pride and amusement.
I'm in my late 30s and currently contemplating what that means beyond coming to relative acceptance of all the pretty basic adult things I cannot seem to do. (See: cooking, cleaning.)
Most have some feelings about aging. Some worry about it. (My friend Andrew's recent proclamation: "When I turn 40, I'm going to lose my mind.") Some celebrate it. (My own recent proclamation: "If you're not aging, you're not here anymore.") Some lie about it, some hide it and some — fewer than most, it seems — embrace it.
In a patriarchal society, much of the negative messaging around aging in the media impacts women, so it's no surprise that women in particular have a more complicated relationship with their age. Of course, the older a woman gets, the less likely she is to see herself reflected in media.
"All of Hollywood is run on one assumption: that women will watch stories about men, but men won't watch stories about women," said actor Geena Davis in the still-relevant documentary "Miss Representation."
"It's a horrible indictment of our society if we assume that [men are] ... just not interested in [women]."
While this impacts all women and their stories in the media, it's amplified for certain people. Women's studies professor Andrea O'Reilly has noted that the patriarchy doubly impacts women who are mothers. "Many of the problems mothers face — socially, economically, politically, culturally, psychologically and so forth — are specific to women's role and identity as mothers," she said.
While exploring the concept of the disappearing woman in media, writer and activist Gloria Steinem noted that a male-dominant system values women as childbearers, which limits their worth to the time they're sexually and reproductively active. And so as older men continue to populate the stories that are told, women in the media, well, it seems that when they've done their "job" as mothers, they're just not all that interesting anymore.
I just turned 39, but because I had my son at 19, I relate to this deeply. My friends with kids can watch the same shows as me and feel somewhat represented in the roles they see on screen; they're still actively parenting young children (though of course even these roles can be limiting and stereotypical — not comprehensive or nuanced by any stretch).
But I don't connect with those stories at all. Even when the women depicted are my age or older, they might be at a completely different life stage from me. And so I have a taste of what many older women must feel once they've finished raising their children and turn on the TV. Where are the stories of women who have finished actively parenting? What are they supposedly doing once their children are grown?
Stories of older women aren't always erased, of course. In one of my favorite TV shows, "Jane the Virgin," three generations of women are fully fleshed out. Throughout the series, the character Xo navigates the difficulty of no longer actively parenting her adult daughter and eventually embarks on a personal journey to find what will bring her joy. She returns to dancing, she goes to school to pursue a new career and she moves to a new city. The series does a wonderful job showing the navigation of Xo's reclaimed independence with her deep love for her daughter.
I'm so glad this show exists. Still, such stories remain too few and far between.
We don't see many depictions of mothers going off to conquer the world and living their best life. If we are to (consciously or unconsciously) believe the stories we're told, apparently mothers have already had their best life.
Now, apparently, it's time to sit quietly and wait for the children to come visit.
I, however, envision a very different reality.
There are so many ways to be a mother—but they're too often erased from the conversation. Just as I've had to constantly push against that erasure while actively mothering, I need to continue to push against it now, during this transition.
While raising my son, we lived abroad and traveled extensively. By the time he was 15, we'd visited our 50th country.
Perhaps it's time I start thinking about embarking on my next 50.
Now that my son is an adult, I straddle two worlds with media misrepresentation. Throughout my lifetime, most media content around single-lone motherhood has been riddled with stereotypes. God forbid a female-led family be considered complete just as it is.
With my son currently in his final teenage year, I notice there are incredibly few depictions of moms with a full life once their children have grown. I already conceptually understood this was the case; now I understand it on a more personal level.
Contemplating our ideas around aging does not happen in a bubble — just like our lives do not. As author Jennifer Pozner has said, "The more we think we're not affected by media — stereotypes, advertising — the more potential those forms of media have."
And so, as I continue to peruse these flyers, as my son becomes an adult alongside me, as I continue to navigate life as a mother inundated with media messaging about it, there's one thing I know for sure: I won't be disappearing anytime soon.
Do you have a compelling personal story you'd like to see published on HuffPost? Find out what we're looking for here and send us a pitch.
Popular in the Community