Rep. Alexandria Ocasio-Cortez (D-N.Y.) debunked the conspiratorial complaints that Twitter is biased against the right when she laid out how Twitter once changed its own policy so former President Donald Trump wouldn't face consequences for breaking the rules.
The Republican-led House Oversight Committee held a hearing with Twitter executives on Wednesday to discuss the company's handling of a 2020 New York Post story about Hunter Biden's laptop.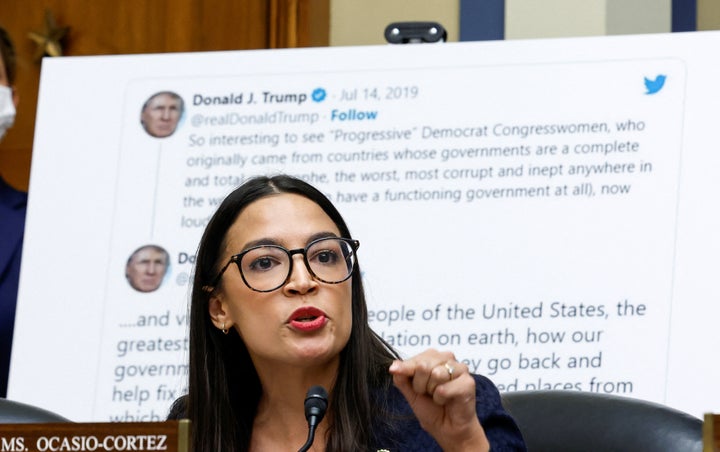 While Rep. Marjorie Taylor Greene (R-Ga.) floated absurd conspiracy theories ― including suggesting the CIA worked with Twitter to censor Republicans ― Ocasio-Cortez used the hearing to lay out how Twitter went out of its way to change one of its content moderation rules after Trump violated it.
"Why don't they go back and help fix the totally broken and crime infested places from which they came. Then come back and show us how it is done. These places need your help badly, you can't leave fast enough," Trump wrote in part.
At the time, telling someone to "go back" to their country was specifically cited as an example of abuse against immigrants in Twitter's content moderation guidance, Anika Collier Navaroli, a former senior member on Twitter's U.S. safety policy team, explained at the hearing.
"My team made the recommendation that for the first time, we find Donald Trump in violation of Twitter's policies," Navaroli told Ocasio-Cortez.
Navaroli said that she brought up Trump's violation with Del Harvey, who was then vice president of trust and safety at Twitter.
"And she overrode your assessment, didn't she?" Ocasio-Cortez asked Navaroli.
"Yes, she did," Navaroli said.
Afterward, Twitter changed its policy, Navaroli said.
"That trope, 'go back where you came from,' was removed from the content moderation guidance as an example," Navaroli said.
"So Twitter changed their own policy after the president violated it in order to potentially accommodate this tweet?" Ocasio-Cortez asked.
"Yes," Navaroli confirmed.
"Thank you," Ocasio-Cortez said. "So much for bias against the right-wing on Twitter."
Popular in the Community