Year after year, popular names like Emma, William and James have dominated the Social Security Administration's list of Top 1,000 names in the U.S. But that doesn't mean American parents aren't looking outside the box and drawing naming inspiration from a variety of sources.
Looking beyond the top choices, the names that are rising in the popularity charts reflect changing cultural norms and trends.
"More than ever before, American naming is filled with contrasting styles and contradictory trends," Sherri Suzanne, a baby name consultant and the founder of My Name for Life, told HuffPost. "True antiques like Ambrose and Flora are growing fast, while new names like Neo and Ocean are jumping quickly into the Top 1,000 as well."
As children born in the late 1990s and early 2000s become parents themselves, Appellation Mountain blogger Abby Sandel believes they may feel more free to choose from a seemingly limitless array of possibilities.
"By 2021, fewer than 72% of all children born in the U.S. received a Top 1,000 name," Sandel said. "While some names will always be more common than others, we may see fewer generation-defining names going forward. That opens the door for names that define our family priorities, reflect our values, and point towards the futures we want for our children."
With an eye to the nearer future, HuffPost asked naming experts to share some of the themes they think will influence parents' baby name choices this year. We've rounded up 12 interesting trends below.
Word Names
"Word names are a newer trend that I see sticking around for a while, said Gloria Kirk, the name consultant behind Naming Meadow. "Names such as Axel, Crew, Journey and Reign in the current top 500 are seeing their most popular years yet."
She pointed to the popularity of this trend with celebrities like the Kardashians, who have given their children names like North, Reign, Saint, Dream, True, Stormi and Psalm.
"All of these names caught the attention of the public, and while some might think these names are too far out there, most of these names rose in popularity after the Kardashians used them," Kirk noted.
In addition to the Kardashian-esque choices, name consultant Carly Zuno aka Moniker Maven believes the category of word names also includes more cottagecore-inspired choices.
"Unique word names such as Bear, Ridge, Tru, Seven, Navy, Clover, Halo, Dream and Ocean will continue to blossom," she predicted. "I can see Nori, Love, Marigold, True, Stone, Ash, Ever and Lux being the next new additions to this trend."
Goth Glam Names
"The biggest fashion trends always inspire names, and the fash-pack are loving dark academia and goth glam names," said Sarah-Jayne Ljungstrom, a name consultant and host of the "Baby Name Envy" podcast.
She offered Rune, Inka and other literary-inspired gems like Elsinore (after Hamlet's castle) and Wilde (as in Oscar, author of the gothic novel "The Picture of Dorian Gray").
"Just make sure it's not a phase, as we do see a lot more 'fast fashion' names coming in and out of the charts so always make sure to help clients find a name within a trend that has extra connection so that they will love it forever," Ljungstrom added.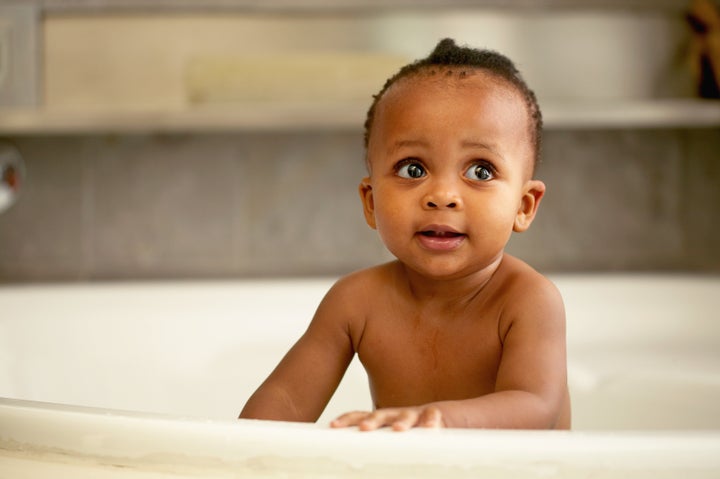 Eco Names
"Modern parents are turning to nature for inspiration more than ever as we yearn for a back-to-basics, slow-living lifestyle for our children," Ljungstrom said. "Just as the plant-based trend has taken over our kitchens, we're in the garden for names with Sage, Juniper, Moss and River all becoming more common names."
Other nature-inspired names that have become popular in recent years include Willow, Oak, Ivy and Birch.
Scandinavian Names
"There have been a couple of influencers that have gone with some bold Scandi choices and now I'm seeing them appearing everywhere," Kirk said.
She offered names like Solveig, Dagny, Runa, Liv, Alva, Otto, Leif and Viggo as examples.
"These names have a lot of history, and trendy sounds, yet nearly unheard of in the U.S., making these great for parents who want unique names that still hold up with what's currently popular," Kirk explained.
Vintage Names
"While it's true that we can almost always expect names to cycle in popularity and see names that were once popular 100 years ago come back from the dead, I feel that vintage names are becoming trendier and are being used more in general," Kirk said. "Sprinkled through the top 100 we can find old favorites such as Josephine, Silas, Adeline and Emmett. Vintage names are familiar yet can be unique in current times, like choosing Pearl or Thelma, which make them an excellent choice for those wanting an uncommon name, but not something unheard of."
She noted that Marceline, Goldie, Mavis and Ambrose were among the fastest-rising names of 2021 and listed a number of vintage celebrity choices like Inez and Betty for Blake Lively and Ryan Reynolds, Rose Dorothy for Scarlett Johansson and Mae for Hilary Duff.
"Vintage nicknames as first names continues to be a huge popular trend bridging traditional naming with a more informal world our kids are being born into," Ljungstrom added. "Winnie has been a breakout star for girls this year, Albie has been shooting through the charts the last five years and looks set to be in the top 10 in a year or two."
She recommends Ludo or Connie for a less popular take on the trend that won't dominate playgrounds in the years to come.
Three- To Four-Syllable Names
"While four-letter names dominated the popularity charts in the 2000-2010s, a new trend emerged during the pandemic ― the revival of longer, three- to four-syllable names," said baby name consultant Taylor Humphrey. "Names like Theodore, Sebastian, Santiago and Ezekiel, or Josephine, Eliana, Genevieve and Magnolia offer a long and poetic sound, with a variety of easy and fun nickname options."
Many of her clients want to establish a nickname for their child early on in their life, and these longer names are helpful in giving nickname options.
Animal Names
Parents have long looked to the animal kingdom for name inspiration, with picks like Robin and Jay consistently making the charts ― along with less popular "wild" choices.
"Names such as Colt, Bear and Wren are seeing their most popular years yet," Kirk said. "These names are fun, whimsical and cute. I think we will continue to see these names rise and new ones popping up. I predict Lark, Sparrow, Bee, Fox, Kit, Wolf and Dove rising."
Soft, Cozy Names
"There has certainly been an emerging demand amongst my clients for softer, cozier baby names," said name consultant Lilia E. Corrigan of Heartbabynames. "Names that feel familiar yet fresh, and in reality are not within the top 200, so still hold individuality and feel unique ― 'modern comfort names,' if you will."
In unsettling times like our recent pandemic years, people tend to crave warmth and comfort. As many of us turned to eating comfort foods, a lot of expectant parents have gravitated toward names that offer a similar feeling.
"Warm, cozy-feeling names outside of the top 200 should be kept an eye on this coming year for sure," Corrigan said. "Names such as Griffin, Maisie, Sullivan and Fletcher certainly fit the bill in this category ― and are all names discussed with or considered by my clients this past year."
B-Surname Names
"Modern feeling B-surnames for boys such as Banks, Bridger, Baker, Briggs and Bellamy really took off last year, and I can see them being increasingly popular in the coming years," Zuno said. "Beckham was one of the pioneers of this trend, and it is now close to entering the top 200."
She predicted names like Beck and Brighton will also join this group of B-surname picks in the near future.
Gender-Neutral Names
"Gender is at the center of a lot of name trends, not only for babies but in terms of young people changing their names due to gender identity," said Pamela Redmond, co-founder of the popular baby names website Nameberry. "Of course there are so many trending gender-neutral names, from nature names like River and Sage to cross-cultural names like Kai and Rumi. But we see names for boys becoming softer and less conventionally masculine while at the same time girl names become stronger and more heroic."
She noted that names like Robin and Kit, which were once more popular with girls, are increasingly going to baby boys and that many trending girl names come from heroines and goddesses like Aurora, Freya, Ophelia and Wednesday. Meanwhile, parents are also choosing traditionally masculine names for their daughters, as we've seen with James and Charlie.
"Parents have moved beyond gender neutral options like Finley, Dylan, River, and Riley and are starting to choose more classically masculine names like Ezra, Noah, Bennett, Carter, and Tristan for their little girls," Humphrey said. "I've also seen parents opting for mid-century masculine nicknames for their daughters such as Frankie, Lenny and Lou."
Courtly Names
"While rugged Dutton and spiritual Zion made my Top Three, I'm also watching names like Montgomery, Ambrose and Benedict," Sandel said. "They're old-world gentlemen that sound surprisingly fresh and wearable for boys born in the 2020s. Best of all, we know they'll wear well across a lifetime."
She also sees a similar trend with names for girls, which she dubbed "ladies-in-waiting" names.
"Elegant, elaborate choices like Guinevere and Eleanora are trending," Sandel explained, adding that this contrasts the "sparky, sweet" nickname names like Goldie and Birdie that are also becoming popular.
One set is at home in a royal court ― the other fits better in a roadside diner," she noted. "Some of the best names combine both qualities. Think of Theodora, called Teddie, or Maxima, known as Max."
Modern Virtue Names
"While Temperance and Constance might seem a bit dated, there's a new wave of virtue names that are becoming popular with parents," Kirk said. "These are next-level word names that pack a punch and usually hold a lot of meaning for the parents."
Rather than the old-fashioned Prudence or Patience, she predicts a rise in names like Revel, Candor, Merit, True, Wonder, Valor, Bliss and Brave.