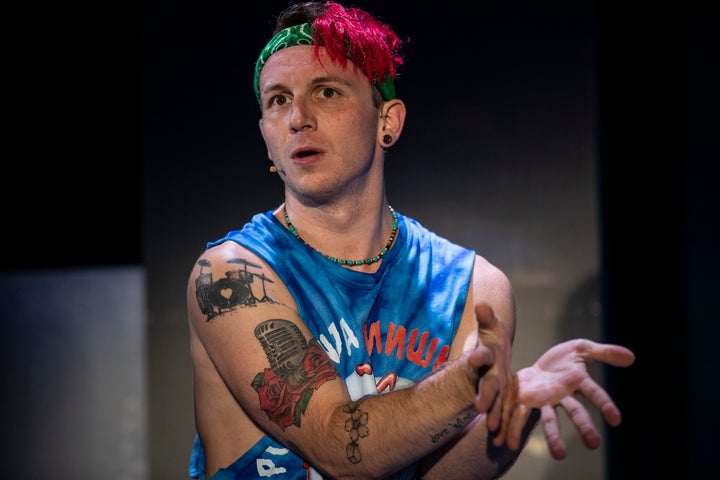 Gerard Canonico has made youthful angst part of his signature as an actor and singer. The New Jersey native brought a rebellious edge to Broadway's "Spring Awakening" and "American Idiot," and though his characters were defined by their steely confidence, he tapped into his experience being bullied as a teen to portray them.
"I spent so much of my life trying to be things for other people," Canonico told HuffPost. "Life's not going to be easy [or] fully figured out at any point in time, but the more you can be yourself, and can go forward as yourself, is the most important thing. It's helped me a lot in my personal life to look at things that way."
In his latest role, Canonico gets to experience both sides of the teenage social divide. He's a standout in the ensemble cast of "Be More Chill," Joe Iconis and Joe Tracz's wildly popular off-Broadway musical that's based on Ned Vizzini's 2004 science-fiction novel for young adults. His character, Rich Goranski, goes from misfit to fearsome bully after ingesting a magic pill that contains a "squip," a miniature supercomputer that controls one's actions and behavior.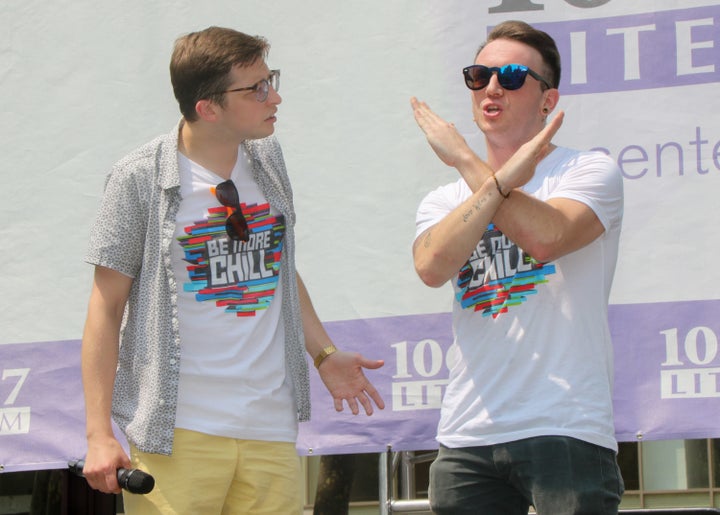 Armed with this self-assurance, Rich encourages the show's uncool teen protagonist, Jeremy Heere (Will Roland), to track down his own squip to win friends and a prospective girlfriend. As both characters discover, however, the pill has some unpredictable side effects that bring about troubling (and possibly criminal) behavior.
The off-Broadway production opened Aug. 9 at New York's Pershing Square Signature Center, with Canonico and many of his cast mates reprising their roles, and, once again, earned mixed reviews. The New York Times called it a "bounding, exhaustingly enthusiastic puppy of a show" but added that "anyone for whom adolescence is a distant and unpleasant memory" might be better served elsewhere.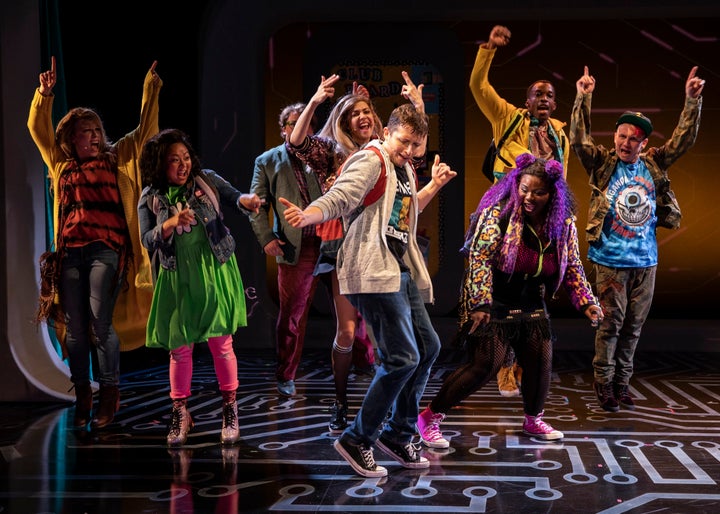 "It's truly because of those fans that we're able to do what we're doing off-Broadway right now," Canonico said. "I've never seen anything like it before. ... I think, for us, our fan base is full of people like us onstage. We've all been teenagers. We all have a little bit of that 'impostor syndrome,' I think. We all felt like we had so much that was unique and different [about ourselves] and we didn't know how to juggle that growing up. Now there's an outlet for it."
Through Rich, Canonico enjoys getting to portray a very specific form of adolescent self-discovery, too, as the character realizes he's bisexual by the end of the play. In fact, many "Be More Chill" fans have already dubbed the character a "bi icon," which the actor has cheekily abbreviated to "bicon."
"It's a huge part of why certain kids have gravitated toward my character in particular," he said. "I get emails, I get messages, I get letters from kids who are relating and [understanding] their sexuality because their favorite character happens to identify as bisexual. I think that's huge."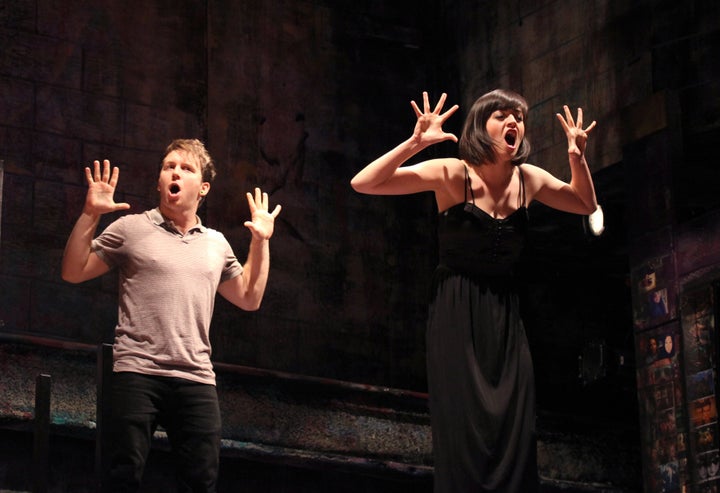 The show's anthemic score is in line with Canonico's personal musical tastes, too. Though he made his Broadway debut at age 10 in "Les Misérables," he initially moved to New York to pursue a career as a musician. These days, when he's not working in theater, he can be found touring and recording as a member of two bands: 5j Barrow, known for its folk-rock sound, and a Blink-182 tribute group called Dude Ranch and the Girl at the Rock Show.
Given his interests in pop and rock music, Canonico said he couldn't be more excited to work with Iconis, an award-winning composer and lyricist whose work has been described as "the future of musical theater" by The New York Times.
"He is so ridiculously talented, so gifted and so giving. Everyone should want to work with Joe Iconis, and I think everyone will and everyone should. This guy is the real deal," he said. Of the "Be More Chill" score in particular, he added, "Everything has a beat, a vibe, a great melody and a great hook, and it always hits you in the feels. Magic was made."
""I get emails, I get messages, I get letters from kids who are relating and [understanding] their sexuality because their favorite character happens to identify as bisexual. I think that's huge.""
Canonico is hopeful the sold-out run of "Be More Chill" bodes well for the musical's future, whether that's on Broadway or elsewhere. ("I want us to go to super Broadway, and then I want us to be a theme park," he quipped.) He'd also love a second crack at playing Roger in "Rent" ― a role he played in an Aruban production last year ― and hopes to expand his repertoire to include classic musicals like "Sweeney Todd" and "The Phantom of the Opera." Aside from that, he's just ready "to see what the world gives me."
"A lot of people have dream roles, but I don't," he said. "I get to do what I love every single day. I can't imagine doing anything else. If I could spend five years in a rehearsal room developing 70 plays, I'd be fulfilled. Would that be great for my bank account? No. But for my career and my life, absolutely."
"Be More Chill" is playing through Sept. 30 at the Irene Diamond Stage at the Pershing Square Signature Center in New York.
Popular in the Community