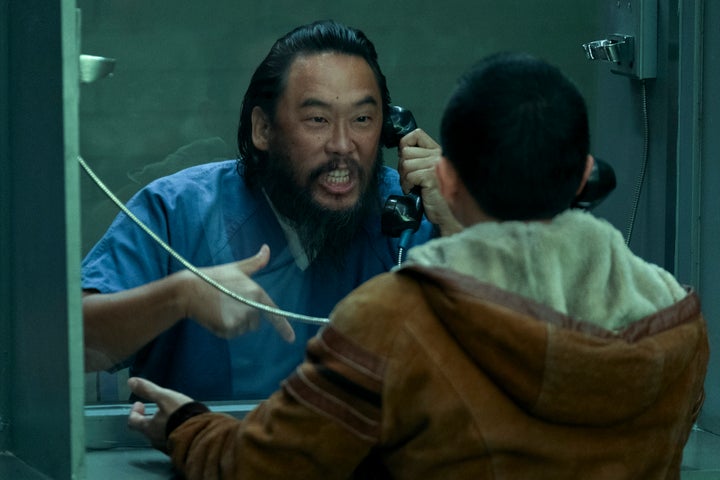 Initially, I was thrilled to enter the almost entirely Asian American space of "Beef." Getting to watch two Asian American leads channel their repressed second-generation anger into an escalating road rage incident? It was the show I never knew I wanted.
I also deeply appreciated how "Beef" effortlessly incorporated Korean American specificities: Steven Yeun's character, Danny, pausing a rant to answer his parents' KakaoTalk video call in a saccharine tone, the two cousins catching up at a sullungtang restaurant, the Korean evangelical church with a wailing praise team. I marveled at them all.
Full of inside jokes for Korean American communities, "Beef" felt refreshingly free of white-pandering tropes. It felt like an onscreen experience that was made for Korean American viewers like me. That's why, a few episodes in, I was especially devastated to learn about David Choe, the actor portraying Danny's bullying, volatile older cousin Isaac.
In 2014, on a taped podcast Choe co-hosted with Asa Akira, he bragged about forcing oral sex onto a Black masseuse in Los Angeles. Despite Akira repeatedly chiding him — calling his confessional conquests rape — Choe barreled on, partially admitting to "rapey behavior." When outlets started to cover Choe's graphic account, he later retracted his statement by excusing his podcast as a work of fictional art.
As a Korean American sexual assault survivor, I found it almost impossible to separate the art from the artist. This question looming over "Beef" — whether Choe was or was not in fact a rapist — distorted my entire experience of watching the show. Instead of being able to enjoy its cathartic portrayals of Asian American rage, I found myself disturbed every time Isaac appeared onscreen, wondering how much of the character's aggression was a performance and how much of it was channeled from Choe's documented misogynoir. The toxicity of Cousin Isaac hit uncomfortably close to home.
"Even if Choe's account really was fictional, his glorification of a rape fantasy on a public platform viewed by thousands of fans caused irreparable harm."
Choe's performance has been praised by critics, and his art for the show's title cards received additional acclaim. As an artist, Choe made most of his fortune in 2007 by painting murals for Facebook's headquarters and making the prescient call to take company stock as payment. At the time of Facebook's IPO in 2012, his shares were worth $200 million. In 2017, Choe was commissioned to paint the Bowery Mural Wall, which was immediately opposed by other street artists.
Choe continued to face no tangible consequences for the podcast and made a muted comeback in 2021 with the docuseries "The Choe Show." Framed as part celebrity portrait-painting, part therapy session, the show featured guests ranging from Choe's former podcast co-host Akira to actor Rainn Wilson. Disney flagged Choe as a controversial character, but the show — which Choe fully funded — was acquired by FX.
During these past few weeks after "Beef" was released, the podcast video of Choe has surfaced yet again, leading some critics to question the show's problematic casting choice. Netflix, A24, "Beef" creator Lee Sung Jin, Ali Wong and Yeun (the latter of whom are friends with Choe and recommended him for the role to Lee) first remained silent amid internet pleas for comment.
It wasn't until I'd already started "Beef" that I found out about Choe's unsavory past. I finished the show out of appreciation for the show's other elements. But then a feeling of dread settled in my stomach. Choe's presence complicated many of the scenes packed with Korean American nuance, and ultimately much of the show itself.
To be clear, even if Choe's account really was fictional, his glorification of a rape fantasy on a public platform viewed by thousands of fans caused irreparable harm. In the clip, Choe perpetuates rape culture and normalizes sexually violent language as a source of humor. The decision to cast him, based on some sort of artistic justification by the series creator and on his friendship with Wong and Yeun, was not necessary. There were likely other qualified candidates who weren't a real-life embodiment of Cousin Isaac's worst qualities.
It's disheartening to have to write an essay like this when I was fully ready to embrace and celebrate the show. But considering the cultural capital of platforms like Netflix and the power of Hollywood casting directors, I hope that this backlash reminds them that their creative decisions have far-reaching consequences beyond their own artistic visions. It's important to hold them accountable and demand that they don't financially support those who consider sexual abuse a joking matter.
"Beef" was made with audience members like me in mind. But Choe's substantial role in the show turned a compelling piece of Asian American art into one that caused profound discomfort for me and other sexual assault survivors.
Unfortunately, that's how patriarchy functions. It is a form of distraction at best and a tool of oppression at worst. This incident has taken away the joy derived from watching a seemingly innocuous comedy.
And that's a shame for not only all of us viewers, but the representational strides that "Beef" accomplishes for Asian Americans.
Popular in the Community