In an interview published Thursday by the The Hollywood Reporter, the actor revealed what his superstar wife actually whispered to him as they were filmed in the background of one of host Trevor Noah's comedy bits.
Affleck said that he leaned toward Lopez and stated, "As soon they start rolling, I'm going to slide away from you and leave you sitting next to Trevor."
"You better fucking not leave," Lopez responded, according to Affleck.
"That's a husband-and-wife thing," he told THR.
Elsewhere in the interview, the actor called attention to viewers who accused him of being drunk at the ceremony, saying it made him question whether his decision to open up about his battle with alcohol addiction was "wise."
"There's a lot of compassion, but there is still a tremendous stigma, which is often quite inhibiting," he said. "I do think it disincentivizes people from making their lives better."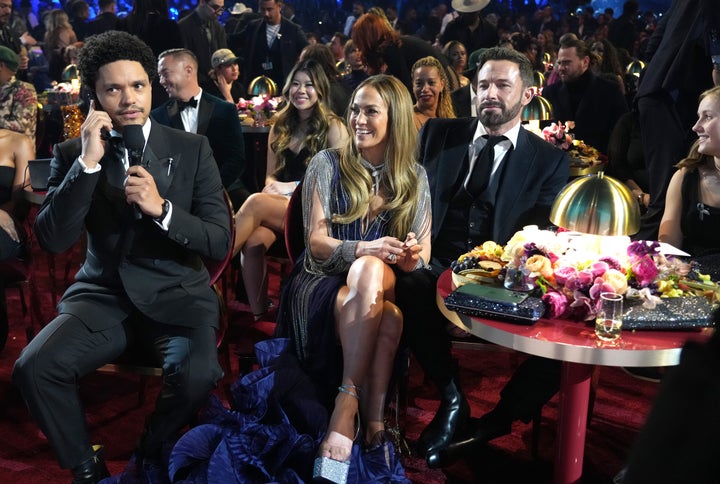 Lopez and Affleck's exchange spurred quite a reaction from those watching the Grammys at home, with Twitter users and even lip readers weighing in.
Affleck's aside with Lopez wasn't the only time his demeanor was heavily scrutinized that night. The actor was also subjected to countless memes that poked fun at him for looking bored during the event.
Days after the Grammys, Lopez seemed to respond to all the jokes about her husband's blasé expression in an Instagram post.
She shared a still shot of Affleck — appearing unamused — from a trailer for "Air," an upcoming movie about Nike that he's directing.
"My husband's happy face," she wrote in a text overlay on the image.
Although the singer's post seemed in good fun, perhaps she was being completely honest. Affleck told THR in Thursday's interview that he, in fact, "had a good time at the Grammys."
Need help with substance use disorder or mental health issues? In the U.S., call 800-662-HELP (4357) for the SAMHSA National Helpline.
Popular in the Community