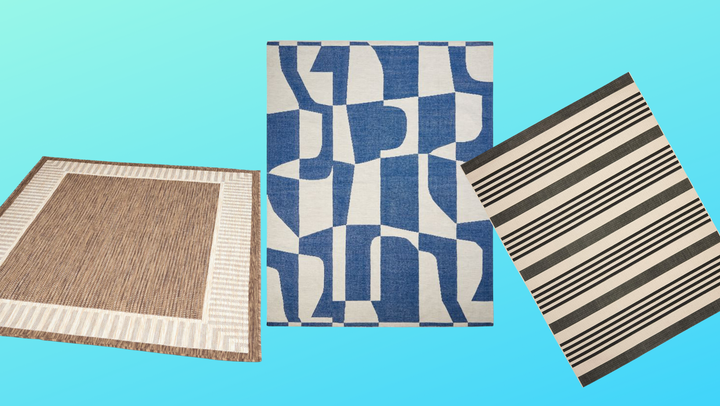 A good rug is a key piece of outdoor decor. It's a humble item that does a lot of heavy lifting — both practically and aesthetically — and is a great addition to a backyard or patio space.
Outdoor rugs can bring a casual elegance to an often-overlooked part of the home. And these days, there are all sorts of sizes, shapes, colors and styles to choose from, which can make shopping for an outdoor rug an overwhelming task. Natalie Rebuck, an interior designer and architect at Re: Design Architects of Brooklyn and Long Island, New York, likes to choose a rug that not only complements the patio furniture, but the scenery as well.
"Neutral and solid colors are always a safe choice, as they're very easy to coordinate with other furnishings and are classic enough to age well with shifting trends," she told HuffPost.
Those whose style leans more traditional might enjoy a braided, fiber-style rug. But for those not afraid of some pizzazz, Rebuck likes to use an outdoor rug as an excuse to introduce some visual excitement into a space.
"Bold geometric patterns — as well as stripes — are very in right now and can add a touch of modernity to a patio area," she said. However, she cautions against black and dark rugs, which can get really hot for bare feet and fade if they are in direct sunlight.
Aesthetics aside, Rebuck stated that the material is the most important thing to consider when purchasing an outdoor rug. "Think about the type of climate you live in and how much light the rug will be exposed to," she cautioned. "If you're furnishing a covered patio space, you can opt for a natural fiber like jute or sisal, but if your space is exposed to the elements, it's best to go with something synthetic."
Synthetic rugs will last much longer than one made of natural fibers and can withstand the harsh effects of rain, dirt and UV exposure. They're more easily cleaned and can be rinsed off, swept or even power-washed for a deeper clean to remove dirt or mold buildup, especially at the end of the season.
Below, we've rounded up a selection of beautiful outdoor rugs based on both Rebuck's selections and general recommendations, along with her must-have rug cleaning products. They cover a wide variety of aesthetics and price points. Pick one up and watch how it gives your entire backyard a quick and easy facelift.
Before You Go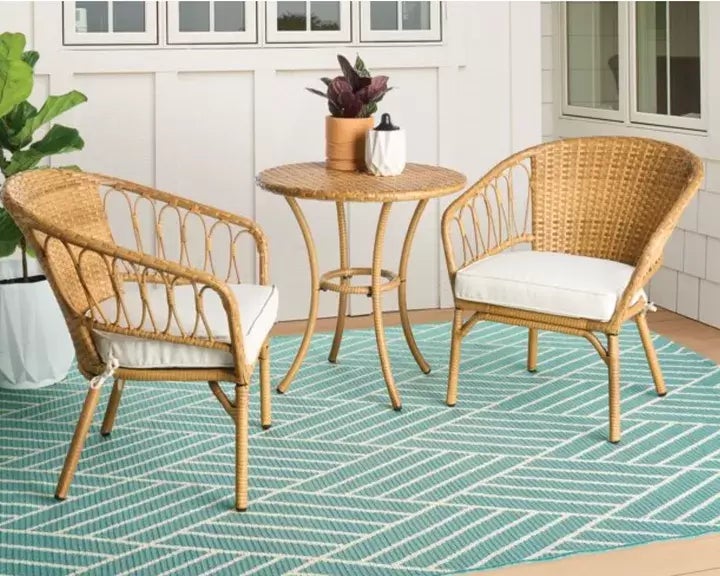 Real Interior Designers Reco Their Favorite Affordable-Chic Stores For Outdoor Furniture