The year 2022 marked a difficult time for air travel as passengers grappled with mass cancellations, increased prices, lost luggage, endless lines and general chaos.
Although things seem to have calmed down thus far in 2023, air travelers are carrying new wisdom into the new year and looking to be more strategic as they book flights. One way to cut down on the likelihood of a negative flight experience is to take a mindful approach to the dates and times of day you fly.
We asked travel experts to share which time of day they think is the best for passengers in terms of cost, convenience, comfort and cancellations. As it turns out, they had a similar answer for all four.
The best time of day to fly to reduce delays and cancellations.
"The best time of day to fly is almost always very early in the morning," said Phil Dengler, co-founder of The Vacationer. "Early morning flights are much less likely to get delayed or canceled than those taking place later in the day. Even if your morning flight is canceled, your odds of experiencing a lengthy delay are minimal. In the event of a cancellation, there is still time to get you on a new flight that morning or sometime in the early afternoon."
Later flights typically rely on crew and aircraft from previous segments of the day, so they're more susceptible to delays due to operational issues, as well as maintenance problems. When earlier flights are delayed, there tends to be a ripple effect across many locations and itineraries.
"The delays add up as the day goes along and this means more missed connections or canceled flights later in the day," said Mark Wolters, creator of the popular "Wolters World" travel channel on YouTube. "It may not be great having to get up super early in the morning to get to the airport, but the peace of mind that you have a better chance of catching your flight, making your connections, and getting to your destination when you are supposed to can help motivate you to set that early morning alarm."
Of course, morning flights aren't 100% immune to delays and airline issues, but they tend to offer more options to passengers who might need to find alternative flights in the event of a large-scale outage or other event.
"If you cannot handle a flight at 8 a.m. or earlier, you should at least attempt to book a flight departing by 11 a.m. or noon at the latest," Dengler said. "Things snowball throughout the day, and those flying later are often out of luck if there is an airline meltdown."
Booking a morning flight can lead to even more peace of mind in the age of flight tracking. Airlines now have features that allow passengers to see where the plane for their upcoming flight is coming from and when it arrives at their departure airport. So if you have a 6 a.m. flight out of Houston, for instance, you can see that the plane arrived from Chicago around 11 p.m. the night before.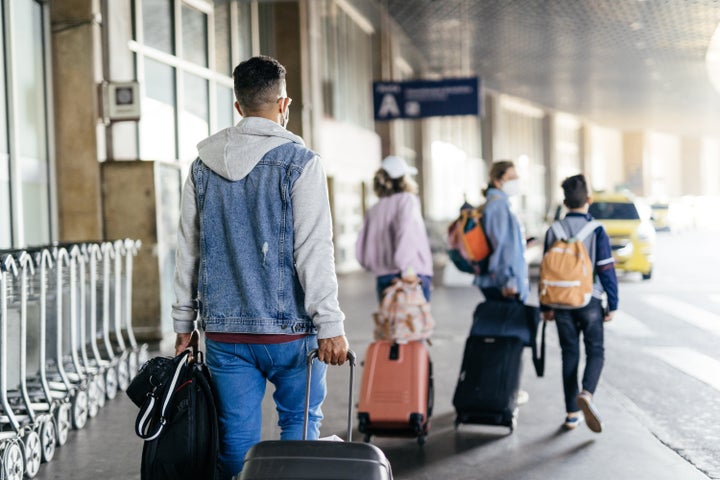 The best time to fly to reduce costs.
It turns out dragging yourself out of bed at the crack of dawn can save you money in addition to potential hassle.
"Early morning flights before 8 or 9 a.m. tend to be cheaper than those later in the day," Dengler noted. "Demand is such a major factor affecting flight prices, and most people do not want to take very early morning flights despite them usually being cheaper and less likely to be canceled or delayed."
In addition to lower fares, booking early morning flights could save you money on the hotel or Ubers you'd have to pay for if you were on an afternoon or evening flight that got canceled when it was too late to find an alternative itinerary for the same day.
Another aspect that could add to your travel cost is parking. If you're planning to drive yourself to the airport, an early flight can be advantageous in that regard as well.
"Early morning flights are the best time to fly as they are the least likely to get delayed since the weather is usually calmer and the rest of the air traffic is quiet," said Harrison Woods, CEO of YourParkingSpace. "It's also worth considering that airport parking prices do fluctuate and can vary due to demand, so it's best to try to park during a quieter period. So taking this into consideration when booking flights, perhaps choosing to book during the week and early morning, will guarantee availability and the lowest prices."
The best time to fly for a better flight experience.
Sticking to a morning departure time might also make for an overall more comfortable in-flight experience.
In addition to a potentially smoother flight, there's also a sense of comfort in being on a plane that had a longer amount of time for cleaning and sanitizing. As noted, the aircraft used for morning flights typically arrive the previous night, so they don't undergo the rushed turnaround between flights that you see in tight midday stops.
"Booking the first flight of the day might come with an early wakeup call, but you'll have a clean plane and fresh crew," said Melanie Lieberman, managing editor for global features at The Points Guy.
Of course, flight attendants are professionals, but everyone in the working world knows there's a difference in mental capacity and mindset at the beginning of a work day versus the end of a long and tiring shift. The morning flight is typically a flight attendant's first gig of the day, so it often comes after they've had a chance to sleep and refresh, which adds to the calmer environment.
The best time to fly in terms of convenience.
Many aspects of convenience come down to traveler preference, but there's an argument to be made for morning flights from a scheduling perspective as well.
"I like arriving at or right before the hotel check-in time, which is usually around 2 or 3 p.m.," said travel expert and author La Carmina. "If I took a red-eye and arrived at the destination in the morning, then I'd be exhausted yet unable to check into my hotel room until hours later. I also find that I adjust best to the time difference after a morning flight. When I arrive, I'll take it easy and go to bed at a reasonable hour, and I usually feel quite rested by the next day."
The lines at airports tend to be less overwhelming in the morning, which creates a more relaxing check-in and security experience.
"This is when the airport is usually quieter and has shorter wait times for security lines," travel blogger Sean Lau explained. "You won't have to deal with the crowds and can get through the airport much more stress-free."
And if you arrive at your destination in the late morning or early afternoon, you have almost a full day ahead of you to acclimate to the new destination or return to your normal routine at home.
That's not to say there aren't disadvantages, like getting less sleep or having fewer airport food options. But the key is to determine what your priorities are.
"If your objective is to save money, you may need to fly at some inopportune times," said travel blogger Rocky Trifari. "Having some flexibility is one of the easiest ways to save money while booking travel plans. If you have a limited amount of time for a trip, then you may want to maximize your time at your destination by booking the earliest flight out."
Flying early in the morning isn't always an option, but if you can swing it, this choice might make the air travel experience feel much more worth your while.
Need some more great travel tricks? Check out these 35 travel items that frequent fliers swear by.
HuffPost may receive a share from purchases made via links on this page. Every item is independently selected by the HuffPost Shopping team. Prices and availability are subject to change.