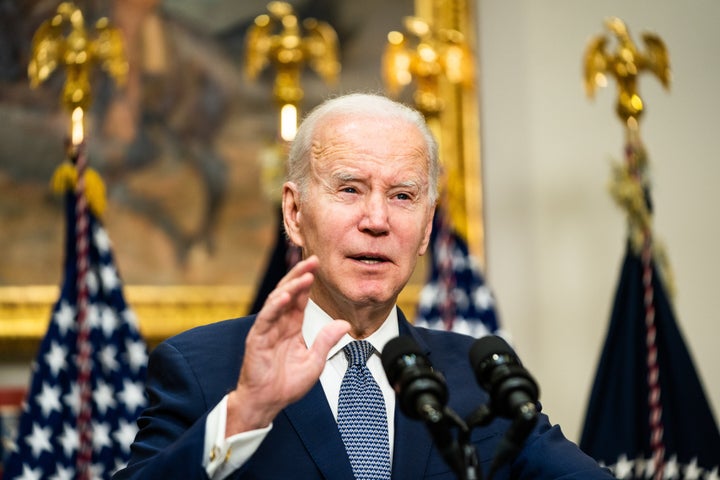 President Joe Biden wants to undo a bank deregulation bill that passed under former President Donald Trump, but without actually repealing the legislation.
In 2018, Congress relaxed rules that were enacted in response to the financial crisis a decade earlier ― despite explicit warnings that doing so would increase the risk of bank failures. Now that two banks have indeed failed, prompting a dramatic government intervention to bail out the banks' depositors, the White House wants regulators to put the rules back in place without any action from a divided Democratic Party or an even more divided Congress.
"I don't want today's actions to be taken to mean no congressional action is necessary," a White House official told reporters on a conference call Thursday.
Major congressional action in response to the banking crisis looks unlikely. While Sen. Elizabeth Warren (D-Mass.) and other progressives would prefer to overturn the 2018 deregulation entirely, dozens of Democrats who supported that legislation have largely brushed aside the idea that it was responsible for the collapse of Signature Bank or Silicon Valley Bank. And Republicans have continued their usual strict opposition to banking regulations.
Officials said Thursday that Biden plans to urge bank regulators like the Federal Reserve and the Federal Deposit Insurance Corporation to enforce the "enhanced prudential standards" that lawmakers made optional for mid-sized banks in 2018.
That law said the stricter oversight imposed in 2010 by the Dodd-Frank Wall Street reform ― including liquidity requirements, stress tests and requiring banks to hire chief risk officers ― would only be mandatory for banks with assets above $250 billion, instead of $50 billion as previously required. But the law allowed regulators to maintain the standards, at their own discretion, on any banks with assets above $100 billion that they thought were risky.
The authors of the 2018 rollback, who include both Democrats and Republicans, say their legislation doesn't deserve any blame for the recent bank failures because the law gave regulators the option of maintaining the stricter rules. By that same token, regulators could make the tougher standards mandatory for all banks now if they thought it would be a good idea.
"There was substantial discretion under that act for the Federal Reserve to put in place tailoring rules that were different from the tailoring rules that it put in place," Federal Reserve Vice Chair Michael Barr told lawmakers this week. "I think there is still, to this day, a substantial discretion in changing those by notice-and-comment rule-making."
Warren says regulators should act ― but Congress should, too.
"We need to do both," she told HuffPost. "We need the Fed to step up and start exercising their supervision over these banks, starting immediately. But Congress also needs to lock the door that it opened by permitting the Fed to weaken the regulations in the first place."
There is one piece of legislation that could pass in response to the bank crisis. Warren and Sen. Josh Hawley (R-Mo.) have introduced legislation to give the government the power to claw back bonuses from executives at failed banks, and to bar them from the banking industry in the future. But it's unclear if either Senate Majority Leader Chuck Schumer (D-N.Y.) or House Speaker Kevin McCarthy (R-Calif.) will prioritize that legislation.
Igor Bobic contributed reporting.
Popular in the Community