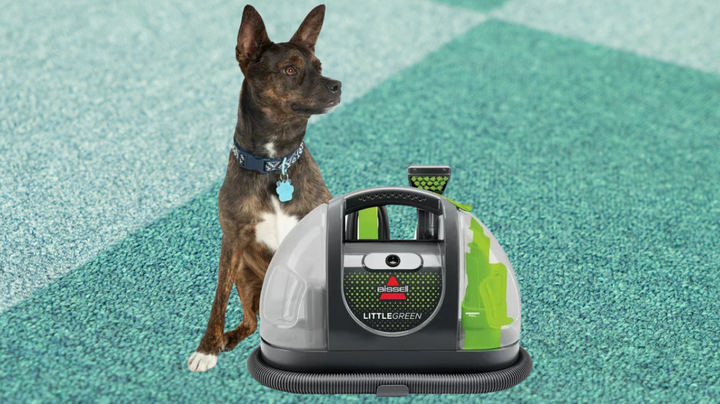 HuffPost may receive a share from purchases made via links on this page. Every item is independently selected by the HuffPost Shopping team. Prices and availability are subject to change.
Accidents happen. And if you have pets or kids in your home, they happen daily. Instead of crying over spilled milk or stains on your upholstery, grab a Bissell Little Green portable carpet cleaner right now for just $89 at Walmart — a sale price that's even $20 lower than Amazon's.
To target smaller messes and stains, this portable upholstery and carpet cleaner can spray, scrub and suction away dirt and grime (and dirty water) from all sorts of surfaces. Use it on rugs and couches as well as your stairs or in the car to get muddy paw prints and fluids out of upholstery and and carpets with ease.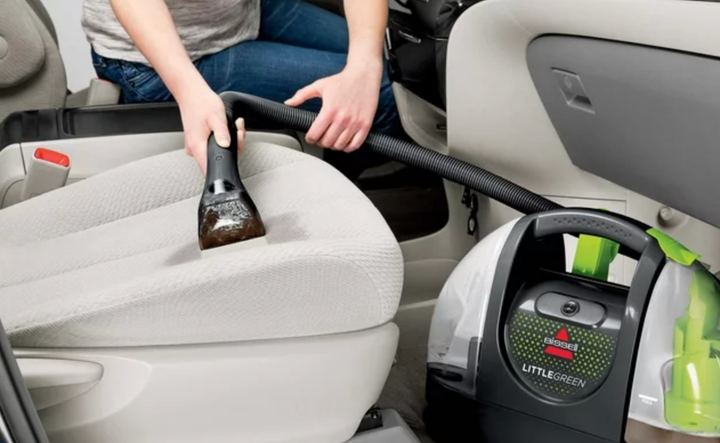 It's easy to carry and lightweight, has a separate clean water tank and a dirty water tank that can both address many messes before needing to be refilled or dumped, and comes with an 8-ounce trial size bottle of Febreze Freshness formula to leave your interiors with a great smell after cleaning. The machine's 3-inch tough stain tool suctions and scrubs through stains around your house and car.
Right now, Walmart is offering this beloved mini-cleaner at $89, down from its regular price of $123.34. Grab one today and don't miss out on easy cleaning for your carpets and cars.
Promising reviews:
"From cleaning up after our older Pomeranian who vomits often to the mud the kids track in along with spills, The Bissell Little Green Machine is a very handy cleaner to have. No one wants to lug the big carpet shampooer unless you have hours to devote to it, This cleaner is not too heavy, has a generous length of cord and has 2 cleaning heads, one for the nasty jobs. This made cleaning our carpeted stairs a breeze. I can see parents using this in the family car as well." — bschank85

"This machine de-funked my stinky, 14 year old car. But yesterday, my child spilled an entire bowl of Cheerios on my sectional. A milk nightmare. Magically reversed!" — Heidi

"I absolutely love this product! It was a great purchase. I have been looking for things to clean around the house because it's so effective, quick, and easy to use. I've used it on my dining chairs, carpet, car interior, and a kids chair so far. You can see an immediate difference as you're cleaning. The stains do not have to be fresh in order to see results. The more time you spend on the stains the more results you will see. It's easier to get progress when the area is pretty saturated with the solution and water mix. I recommend this to anyone that wants to upkeep upholstery, carpets, etc and especially to people with small children and/or pets." — Bianca

"This was a great little machine. I used it to clean the upholstery on a used car. It got quite a bit of dirt out. It took about 24 hours to dry. It could have used a second going over. But I was pleased with the results this little machine did. I used up practically all of the water. So the water tank could be a little bigger, but it was compact enough to get inside the car and get under the seats. So the results for the effort of about an hour's work was fine." – t
Before You Go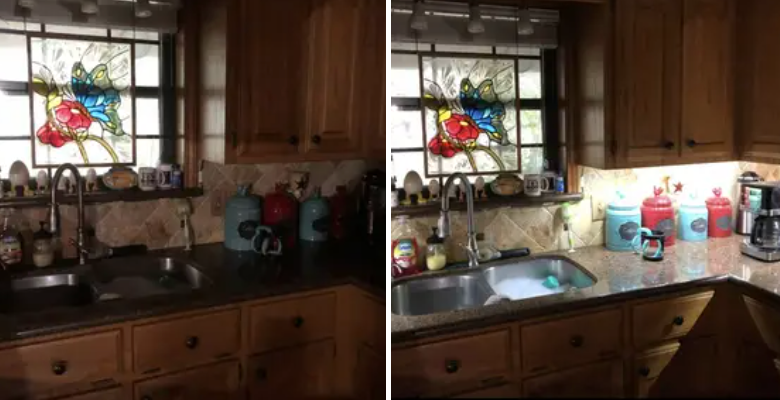 25 Products So Effective Amazon Reviewers Have Literally Called Them "Unbelievable"
Popular in the Community