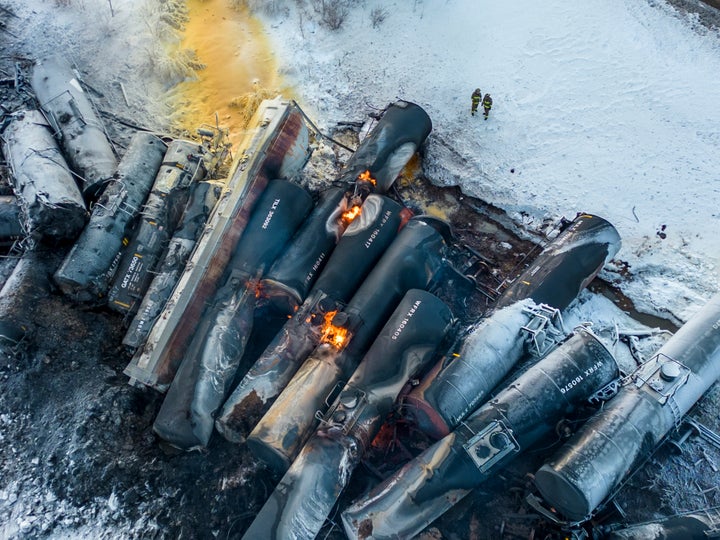 Evacuations were ordered early Thursday morning in southwest Minnesota after a train carrying ethanol and corn syrup derailed, catching fire, authorities said.
A BNSF freight train derailed near Raymond, about 100 miles west of Minneapolis, around 1 a.m. Approximately 22 cars came off the tracks and four caught fire, the company said in a statement.
"There are no other hazardous materials on the train and no injuries as a result of the incident," said Lena Kent, BNSF's general director of public affairs. The cause of the derailment was not immediately clear and is under investigation, she said.
Evacuations were ordered within half a mile of the crash site, the Kandiyohi County sheriff's office said.
"Residents were instructed to leave their homes and an emergency collection site for those with nowhere to go was established," the sheriff's department said in a statement.
Aerial footage of the scene showed a massive pileup of burning and smoldering train cars along the snow-covered tracks.
Minnesota Gov. Tim Walz (D) said he was traveling to the crash site after speaking with U.S. Transportation Secretary Pete Buttigieg, who in his own statement said that federal authorities would be involved in the investigation. This includes the National Transportation Safety Board, which said it was sending a team to the site.
"The state stands ready to protect the health and safety of the community," said Walz in a statement posted to Twitter.
Train derailments have been in the national spotlight ever since last month's fiery derailment in Ohio. That train was carrying hazardous chemicals, and the accident prompted an evacuation of the local area.
Popular in the Community