Moving on from single-humped dromedaries in this second blog on camelids, we come face to spitting face with double-humped camels in darkest Asia. I'm afraid this one is going to be a mainly photo-free zone due a camera mishap in Central Asia.
You can see the majestically swaying two-humped 'ships of the desert' wherever you look in the central Asian state of Turkmenistan, rolling imperiously and imperially across the deserts and arid plateaux.
The capital, Ashgabat, thanks to the crazed whims of its one-time dictator Saparmurat Niyazov, looks like somewhere between Oz, 1984 and the futuristic city in H.G. Wells's Time Machine - it would make a great film setting for any of them.
There's a vast square with a huge gold-domed presidential palace and blue-domed parliament, and oodles of other domed buildings and statues, even if the huge gold statue of the great man himself, 40 feet tall atop a 150-foot high tripod column revolving in communion with the sun, arms upraised to welcome the heavens, has now been moved to the outskirts by his successor.
If you go even further to the outskirts, you'll come to Tolkuchka Bazaar, dubbed by Lonely Planet 'a Central Asian bazaar as staged by Cecil B. De Mille with a teaming cast of colourful thousands.' In actual fact it's a huge ensemble of rickety modern stalls spreading in hundreds of lanes across the desert within a walled-in enclosure selling everything from carpets and clothes to household goods to fruit to camels.
My efforts to find the camel section prove interesting, given my lack of familiarity with the local lingo. My noise imitations get me directed to the car parts section outside the walled enclosure while my hand depictions bring me smack into the skimpy bra department.
Finally I find it way across a dusty field from the car parts. They're hauling the huge growling beasts by crane onto the lorries of purchasers. I ask what they cost in my pre-natal Turkmen-cum-Russian, and find them most affordable at $2 each. I think I'll buy a baby one and set it free in the desert.
I produce my $2, eliciting the most withering look of disdain from the seller, surpassed only by that of the spitting beast itself. I'd better check up on my Turkmen numbers again.
I meet many more of the stately beasts as I 4X4-drive across the deserts of the Central Asian 'Stans' but I can't prove it. My camera's innards seem to have had a melt-down in the heat, and instead of yellow-fawn ships of the desert the memory card is full of indistinguishable yellow-fawn blips of the desert on an indistinguishable background of grey and black.
In lieu of the mis-photographed Turkmen blips here's a crowd of dromedary cousins all together in Djibouti.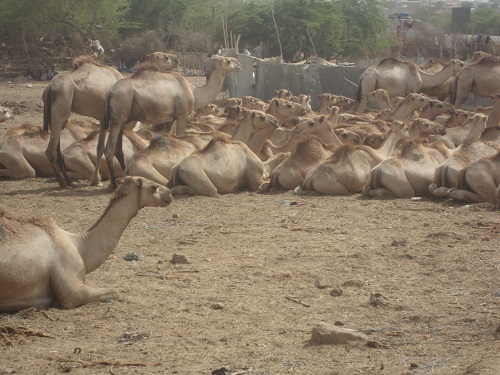 But I do indeed have photographic evidence of their cousins in the Gobi Desert of Mongolia.
Now if you want to get an idea of what you get and what you see in the Gobi Desert ranging from dinosaur fossils and flaming cliffs to ice-covered canyons, go to my blog of February 2014 at: http://www.huffingtonpost.com/mike-arkus/the-gobi-deserts-on-3-con_b_4288715
Amid the arid pebbly plains and scrubland, I see ships of the desert rolling out their stately progress across the stoney expanse. And this time I can prove it - I have a new camera.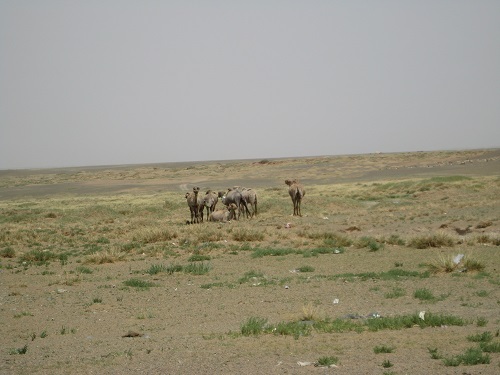 There's one more stop on our camel tour - Yalta in Crimea, before Putin grabbed it from Ukraine. Here at the end a cable car ride atop a huge mountain crag with stunning views in all directions, two rather pretty and very furry camels, one of them white, hauled here from points further south-east, wait for tourist riders.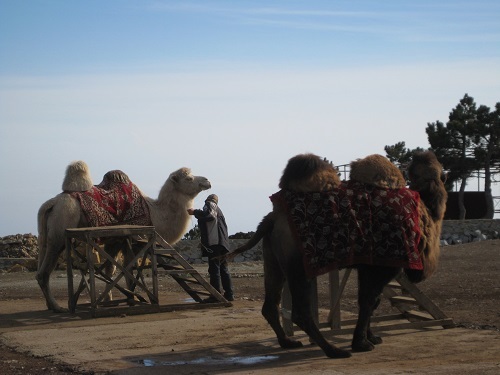 How out of place can you get!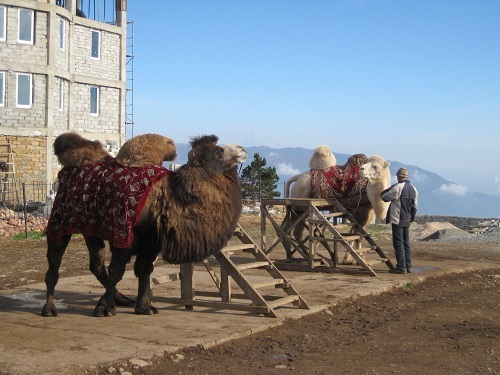 Below, Count Vorontsov's 19th century palace resides in a magnificent park with views of mountains and sea, an also out-of-place folly in a mix of Moorish and gothic styles. But then the Soviets and present day capitalists have done even worse - the former with huge block-like 'sanatoriums,' one called the Paris, the latter with semi-skyscrapers to further mar the landscape.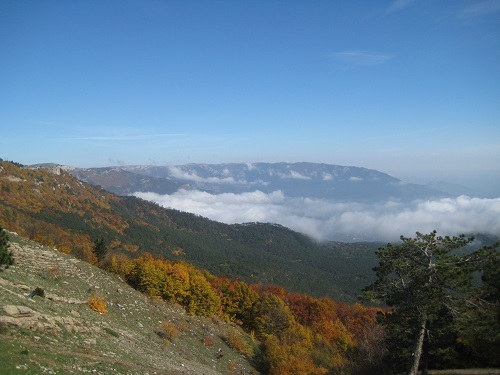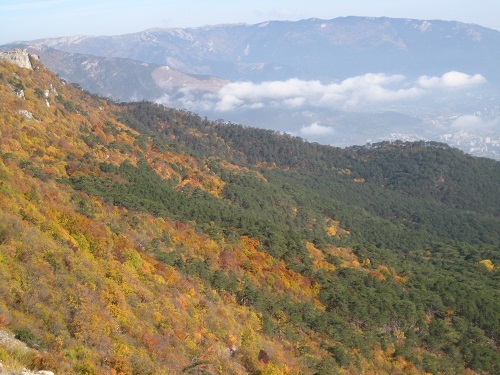 And on a rocky cliff the Swallow's Nest, another folly built in 1912 in neo-Gothic style, represents a knight's fort from the Middle Ages.
[Upcoming blog next Sunday: Animal Planet on the Looney Front - Camelids, Section 3 : Llamas & Co, the Camels' Spitting Image]
______________
By the same author: Bussing The Amazon: On The Road With The Accidental Journalist, available with free excerpts on Kindle and in print version on Amazon.
Related