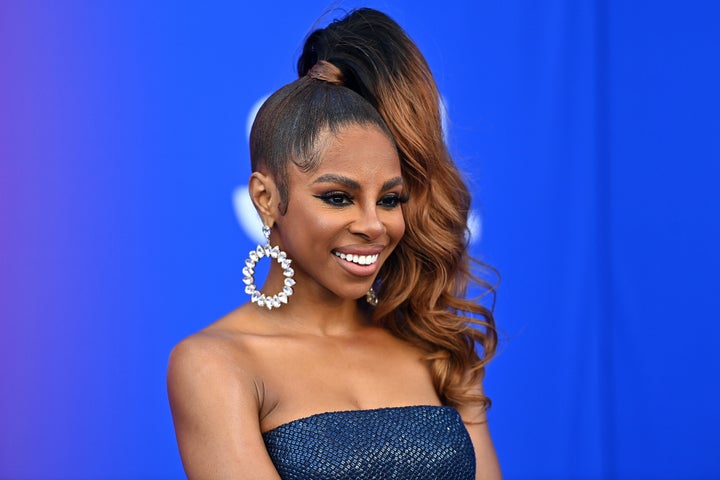 For some of us, the seventh season of "The Real Housewives of Potomac," which concluded on Sunday, was not as enjoyable as the seasons before it for a few reasons.
A lot of the cast was lying — about other people's husbands, about what's going on in their actual lives — and when they weren't spreading lies, the way some of the housewives were treated prompted accusations of colorism, recalling the ills of the show's boring and elitist inaugural season.
But even if this season wasn't as enjoyable as some others, there were some bright spots.
For a lot of viewers, that was largely due to Candiace Dillard Bassett, who not only broke down the fourth wall to combat some of the aforementioned shenanigans but also managed to make viewers laugh in spite of the misery around her.
Meanwhile, Dillard Bassett has been keeping busy — beyond defending her husband against Gizelle Bryant. The singer-actor recently released the deluxe version of her debut album, "Deep Space," is serving as the opening act for Faith Evans, Mya, 702 and SWV, and stars in the drama series "Hush," which airs on AMC Networks' ALLBLK.
While shooting a film in Atlanta before heading back on tour, Dillard Bassett made time to hear me air my grievances about Season 7 of "RHOP" and shared what she hopes happens in Season 8. She also confirmed that no matter what's been said about her or her husband, she's staying on "Potomac" for as long as it serves its purpose.
We're speaking on the eve of the third installment of the reunion, but no matter what airs tomorrow, the show has disappointed me. I've enjoyed parts of it — mainly, watching you dive more into your music career and take more serious steps toward planning for motherhood — but overall, I haven't been as turned off since the first season.
You said in a separate interview: "I honestly think that some of us have run out of things to talk about," which I think nails it, along with some of your co-workers refusing to talk about what's actually happening in their lives. Instead, we got a lot of accusations and lies between people who don't seem to really like each other.
You're not in control of the direction of the show, but where do you hope it will go next season?
Oh, gosh, that's a loaded question.
I'll say this: The optimist in me would love to see a world where we can come back together as a group because, as it stands currently, we are a broken group. We are broken more so than I feel like we've probably ever been as a group. There is no way around that.
And it's very scary because you can't have a show without a group of girlfriends who are willing to share their lives honestly and openly and participate in the premise of the show, which is about a group of affluent women sharing their lives and their friendships. So I would hope that there is a world where we can come back together, but I don't know what that looks like.
Who on the show at this point do you consider to be a genuine friend?
Well, I'm always my own friend first, but aside from that, you know, I have found loyalty and friendship in Wendy [Osefo].
I feel like Wendy kind of got a bad rap at the beginning of her time on the show, and I think a lot of it had to do with her not being open. And I have really enjoyed kind of watching her in real life and on the show open up and really be vulnerable and show us Wendy. She's shown us more of who she really is, and I've appreciated that as someone who is vulnerable to a fault. I look for that in my friends, so I can honestly say that I'm happy that I've found that in her and Karen — though we've had our situationship.
I still have so much love for Karen. I think in spite of it all, I see Karen's heart and I understand her as a person. Aside from myself, I would say Karen is probably one of the most consistent people on our show, and I can appreciate and love her for that. And she's always tried, with the exception of maybe once or twice, to be a good friend to me.
Those are the two people that I communicate with the most.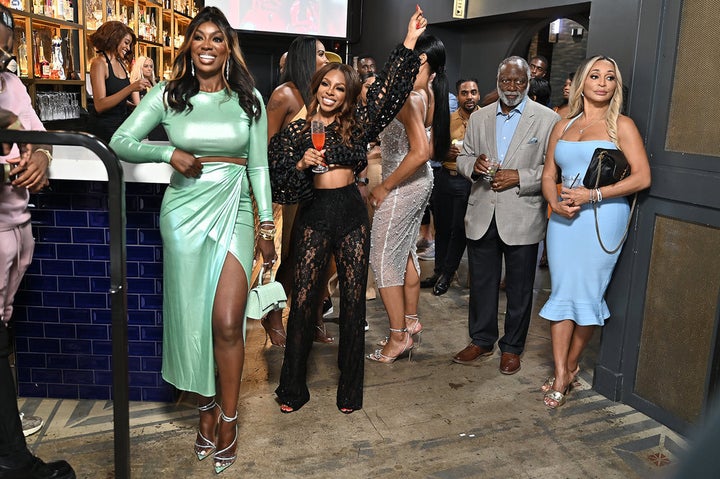 I don't want at least half your cast on the show anymore, but I know you don't advocate for anyone losing their jobs. Inflation and unemployment being a terrible combination aside, do you think new energy could help the show?
I'm always open to having new people come into the fold.
I think, and you know — if you look back at the history of these "Housewives" franchises, we're entering into Season 8 of this show, [and] by Season 8, there are shakeups. A lot of times, it can be difficult for the ones who've maybe been there from the beginning to continue to give of themselves in the same way if they've given it all, and you just maybe need a break or just a changing of the guard, if you will.
And we are hopefully gonna be entering into our eighth season. That's almost a decade of "Potomac," which is incredible and admirable and something to be proud of. But I do think that there's a precedent that's already been set that says, if you're not able to give what needs to be given when it's time to give, then you need to give yourself an exit and allow others to be ushered in so that you can just have new blood. And there's just something interesting for an audience and for us about getting to know someone new and bringing someone new into the fold.
Blink twice if your back is OK from carrying this whole season.
Oh, gosh. My back is fine. [Laughs.]
I know there was a big deal made about you breaking the fourth wall on the show this season during that scene with Gizelle, but I was curious if you found that to be a bit antiquated because some reality franchises have long embraced that they are indeed filming a television show and it hasn't damaged the show in any way.
For me, it wasn't about creating a moment. It was about right. I don't know about other shows, but on our show, we break the fourth wall all the time. I'm always looking right into the camera and talking shit, or, you know, just looking into the camera to be silly.
There was an episode of "[Real Housewives of] Atlanta" last year, I think, where they were at somebody's house and Kenya was super drunk, and she's like twirling in the camera, I'm so fabulous. I thought it was hilarious, and I love that they showed that. I just think it has to make sense.
There have been other times on my show, like two seasons ago, my mom said something to me, she was like, cussing me out or something, and I looked right into the camera, said, "Did you get that?" Like a quick moment? Everyone says, "Candiace is so disrespectful, and she da da da da da da. OK. But did you hear what my mama said? OK. All right."
But for this, whether it was right or not, I appreciated that all of the fourth-wall moments were shown — especially because the people who were orchestrating the fake stories just would never expect that to be the case. Like, she went back into the room after she dropped her rehearsed bomb with a smile on her face as if what had transpired in that dance studio was not going to be discussed. Because I did look right into the camera and say, "What is happening?" And then I got up and started screaming for our executive producer, Eric, and all of that. And that's the gag for me [because it's like], "Oh dear heart, you thought and you were incorrect."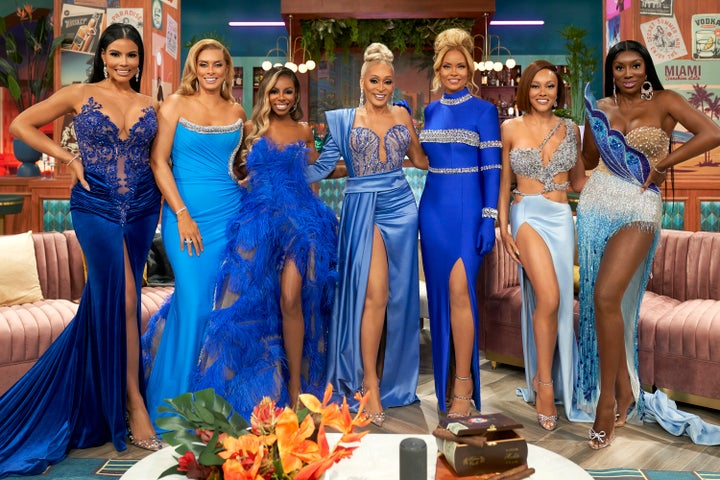 That makes me wonder if you get tired of some of your co-workers acting more like producers than cast members.
Everybody has a role, and I think our show would run more smoothly if everyone just stayed in their lane. You can't reach for the stars when you don't have the bandwidth. You don't have what it takes.
From what I saw on Twitter, you seem pleased with how the colorism segment on Part 2 of the reunion went. Am I characterizing that correctly?
I was appreciative that we were given a platform, however large or small, to begin the conversation in a constructive way, because we had not before had that opportunity. Because it's also easy for them to just say, "Eh, we're good. We don't even need to address [it]. It's fine." But just from those two minutes — the amount of dialogue that has ensued, the amount of emails and gems and threads from here to Mexico that I have read — I think that was the goal.
Being a Mary J. Blige stan, when I saw that you were on the show recording with Chucky Thompson, I knew you were taking your music ambitions seriously. Much as I love the bops from Real Housewives like Countess Luann, I understand why there are skeptics out there, but at the same time, we've seen reality TV launch a lot of careers — particularly Black female R&B singers. Did you know there was space for a Real Housewife to be serious and be taken seriously?
1001%. So I've talked about this before: I prayed about the opportunity to have this platform. I knew the trajectory I wanted to take and I knew that, having watched and grown up watching reality TV, if positioned the right way, I could use this platform to do all the things that I wanted to do.
So in my prayer, I said, "Lord, if you give me this platform, I promise to try and use this to glorify your name and make something of myself and accomplish the goals that you have said that I'm supposed to accomplish and the things I'm supposed to have."
I'm not perfect, but I have done that. It was always the plan.
You have mentioned having a plan when it comes to using "Real Housewives" as a jumping point for other opportunities in the entertainment industry — including knowing when might be the right time to leave. I'm not going to ask you to share specifically about your timeline, but I am curious to know if this past season and how it impacted your husband has influenced your timetable on a potential exit in any way.
No, because for me and for my husband, one thing that you will never do is run us off. Right? If I'm fired, then OK, that's outta my control. But when it is time to go, it'll be time to go because myself and my family have made the conscious decision to say, as you said, we are no longer served [by] being here. Or it's just time for a shift. Because I'm eternally grateful for the way this platform has helped me to elevate myself and has allowed me to be who I am in these spaces. I would hope to be able to leave on great terms, and if I wanted to pop back in and say "Hey," I would like to be able to do that.
I plan a lot of things on the grander scale. Like, NBCUniversal is a wonderful home, and there are a lot of great things that can be done at that home. So it was more so, how are we going to attack this issue in the most diplomatic way, but also in a way that is beneficial to us in every way possible mentally, physically, emotionally, as it relates to our careers? How are we going to handle this and rise to the occasion of the challenge?
Popular in the Community