Buffalo Bills safety Damar Hamlin made his first public statement since his hospitalization after going into cardiac arrest during a game earlier this week.
"When you put real love out into the world, it comes back to you 3x's as much," he wrote in an Instagram post on Saturday evening. "The Love has been overwhelming, but I'm thankful for every single person that prayed for me and reached out."
The Monday Night Football game against the Cincinnati Bengals at Paycor Stadium in Ohio came to an abrupt halt after Hamlin collapsed during the first quarter and went into cardiac arrest. Medical personnel reportedly used CPR and a defibrillator to revive him while he lay on the field.
After his heartbeat was restored, Hamlin was transported via ambulance to a hospital, later prompting the NFL to cancel the game. The league posted a statement on Wednesday saying that Hamlin was in critical condition in the hospital's intensive care unit and showed signs of improvement each day. Hamlin's representative also said his recovery was heading in a "positive direction.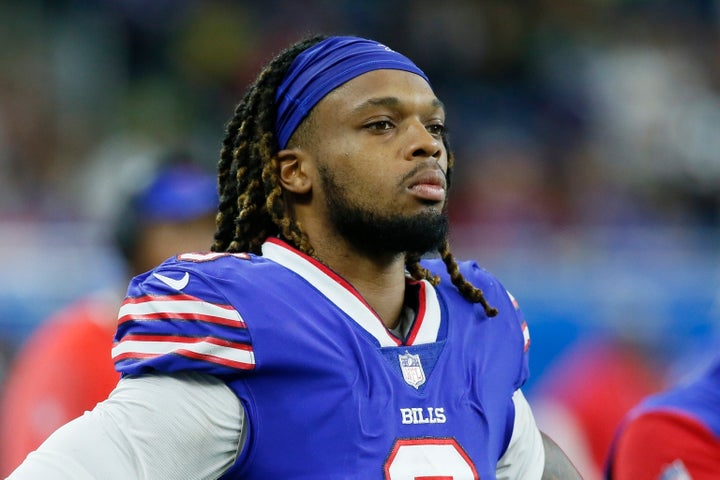 Hamlin's recovery continued to make remarkable strides throughout the week, with his doctors noting on Wednesday that, though still in critical condition, he appeared to be "neurologically intact." By Friday, Hamlin had his breathing tube removed and could speak to his teammates and coaches via Facetime.
The athlete's intense collapse and critical condition were met with an outpouring of support from fans, athletes, and coaches worldwide. In addition, President Joe Biden reportedly spoke to Hamlin's family on Wednesday afternoon over the phone.
"We brung the world back together behind this. If you know me, you know this only gone make me stronger," Hamlin wrote in his post. "On a long road, keep praying for me!"
Popular in the Community