Buffalo Bills safety Damar Hamlin visited Capitol Hill Wednesday to push lawmakers for better access to automated external defibrillators, or AEDs, in schools.
Hamlin suffered sudden cardiac arrest during a Monday Night Football game against the Cincinnati Bengals in January, and his survival is widely credited to the rapid use of CPR and a defibrillator on the field.
The scene shocked millions of NFL fans watching the game, but it's unfortunately a scenario that happens to many young athletes outside the national spotlight.
"Sudden cardiac arrest happens to more than 7,000 kids under the age of 18 every year in our country," Hamlin said, alongside Reps. Sheila Cherfilus-McCormick (D-Fla.) and Rep. Bill Posey (R-Fla.), who introduced the Access to AEDs Act this week. "The majority of the kids impacted are student athletes. Research shows that 1 in every 300 youth has an undetected heart condition that puts them at risk."
The bill would authorize a grant program to purchase AEDs; fund cardiopulmonary resuscitation and AED training programs in elementary and secondary schools for students, staff and volunteers; and promote the importance of defibrillation in schools.
"For schools that have AEDs, the survival rate for the children from sudden cardiac arrest is seven times higher," Hamlin said. "The Access to AEDs Act will help ensure that schools are just as prepared and trained to respond in a time of crisis as those on the sideline of an NFL game."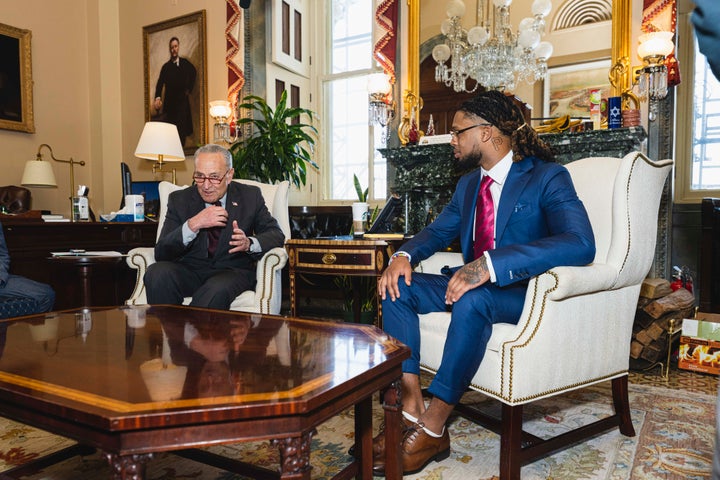 "We see so many students who have cardiac arrests on the field, and the first instinct for everyone is panic," Cherfilus-McCormick said. "The truth of the matter is we're not having annual trainings, we're not having enough AED machines at schools. Our goal today is to make sure we're normalizing heart health and life-saving access to AEDs."
A Scripps News investigation found that many schools across the U.S. are woefully unprepared in the case of a sudden cardiac arrest, though there's been a push for more equipment and training after Hamlin's near-death.
Kentucky father Matthew Mangine joined Hamlin on Capitol Hill to advocate for the bill. His son Matthew Jr. collapsed during soccer practice in 2020 and died from cardiac arrest. Several AEDs were nearby, but no one knew how to use the equipment that could have saved the teenager's life.
"That's why it's so important in this bill that we not only provide the equipment but the training, so people know how to use the equipment and it doesn't lie fallow, sitting there," Senate Majority Leader Chuck Schumer (D-N.Y.) said of the tragic incident. The senator pledged to get the bill passed this year.
In February, Hamlin partnered with the American Heart Association for the #3forHeart CPR Challenge to educate people about the life-saving technique.
Popular in the Community