Dana White, the president of the UFC mixed martial arts organization, was filmed slapping his wife, Anne White, shortly after midnight while celebrating New Year's Eve at the El Squid Roe nightclub in Cabo San Lucas, Mexico.
Footage obtained by TMZ showed the couple, who've been married for 26 years, gathered in a VIP area above the club's dance floor. Dana White is seen leaning toward his wife to tell her something, after which Anne White strikes him across the face — and White responds in kind.
Both have since issued statements to the outlet.
"You've heard me say over the years, 'There is never, ever an excuse for a guy to put his hands on a woman,' and now here I am on TMZ talking about it," said Dana White. "My wife and I have been married for almost 30 years ... We've obviously been through some shit together."
"This is one of those situations that's horrible, I'm embarrassed," he continued, adding that his current focus is on his three children. "We've shown the kids the video and we're more focused on our family right now."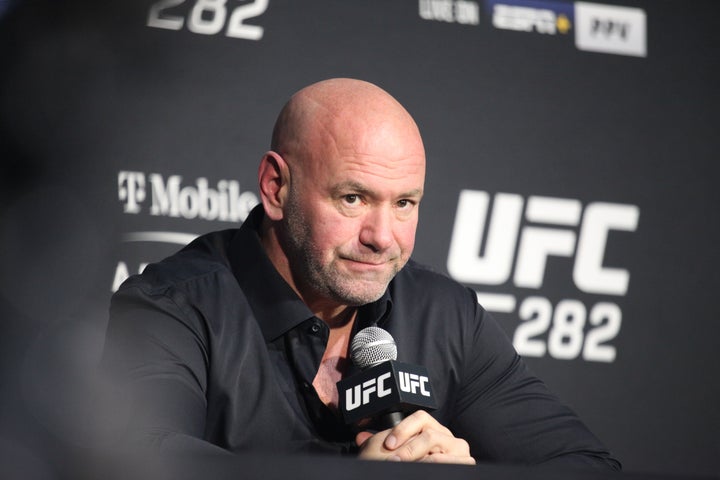 White's net worth has since reportedly reached around $500 million. The UFC head told TMZ he and his wife had been heavily drinking before their altercation and that he was "making no excuses," but that this has "never happened before" — which Anne White corroborated.
"Dana and I have been married for almost 30 years," she told TMZ. "To say this is out of character for him is an understatement. Nothing like this has ever happened before. Unfortunately, we were both drinking too much on New Year's Eve and things got out of control, on both sides."
Anne White added they've discussed the incident "as a family and apologized to each other" and told TMZ she hopes "people will respect our privacy for the sake of our kids." As for Dana White, he told the outlet that "people are going to say what they're going to say and it is what it is."
"Whatever people say is deserved," he said. "I deserve it."
Popular in the Community