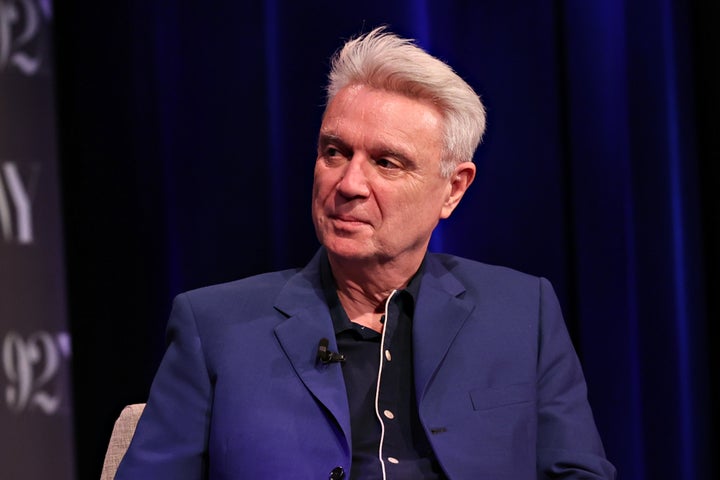 David Byrne, the renowned singer and guitarist from the Talking Heads rock group, is locked in a contentious labor battle with Broadway's musicians union as he seeks to produce an unprecedented musical production without live music.
Byrne's stance has surprised some connoisseurs of his music in famously union-friendly New York City. He is known as an advocate for investment in the arts, not least in New York City, where he lives.
But according to news articles first resurfaced by HuffPost, Byrne has a history of seeking to avoid employing union members, who typically command more generous pay and benefits than their nonunion counterparts.
During a 1986 press tour for "True Stories," a musical comedy film that Byrne directed and co-wrote, Byrne was open about Texas' status as a right-to-work state, where labor unions are weaker, playing a role in his decision to film there. In right-to-work states, unions must represent all workers in a given shop, but are forbidden by law from requiring due payment from workers for the services they provide. The system often undermines unions' ability to organize by encouraging workers to freeload, depriving unions of the financial resources they need to go to the mat with employers.
Asked by The Wichita Eagle-Beacon why he chose to film in Virgil, Texas, Byrne was candid about his preference for a state with weaker unions.
The Kansas-based newspaper, now called The Wichita Eagle, wrote that Byrne had chalked the idea up to "interested investors," who cited Texas' status as a right-to-work state, as well as the availability of an experienced production crew and a studio in Dallas.
"All that seemed like a good enough reason to at least go down and check it out," he told the Eagle-Beacon. "So I took a trip and just kind of said, 'This is it!'"
"I first was lured there for financial reasons because it's a right-to-work state, and they have experienced crews and a studio near Dallas," he said.
In the Herald interview, he added that after selecting the state for financial reasons, he developed a genuine fondness for it independent of that. "I really liked the place and the people," he said.
In a statement to HuffPost, Byrne described the decision to film in Texas as a "creative" choice.
"I wanted actors that had been in movies, performers who had never acted, singers who could act, downtown creatives who were new to the movie biz, Mexican American musicians, Shriners and other non-actors. That was part of the concept ― to mix 'downtown' with 'uptown,' amateur with professional, and emerging talent with seasoned performers," Byrne said. "I was advised that there were only a few places where I could mix all those folks, and Texas was one of them. I wanted to mix union and nonunion crew and cast in this movie. It was a creative decision more than a budgetary one."
Byrne is currently trying to use recorded music for a production, "Here Lies Love," about Imelda Marcos, the former first lady of the Philippines, that he would like to stage in an officially-designated Broadway theater.
"I would like to believe that he isn't a union buster, but it's hard for me to come to the conclusion that he's anything but a union buster at this point."
The American Federation of Musicians' Local 802, which represents members of the orchestras in New York City's official Broadway theaters, has a collective bargaining agreement with the Broadway League ― a group representing owners of theaters that host officially designated "Broadway" shows ― requiring them to use live music performed by Local 802 members for their shows. If a Broadway production company wants to use a smaller number of musicians than the one agreed upon by the union for that theater, they must ask for a "special situation" exemption. That request is then assessed by a panel that includes neutral third parties, along with industry and union representatives. Either the union or the producer can appeal that decision to a labor arbitrator whose ruling would be final.
The union's agreement with the Broadway Theatre, a larger venue where Byrne wants to stage his show, requires the use of 19 union musicians. The union has granted exemptions to producers for a smaller number of musicians in the past, but it is particularly angry about the effort to avoid using any musicians at all. The union is now going public with its objections after what it says have been failed efforts to quietly reach an accord with Byrne in private.
In 2022, actors in the limited-run Broadway show, "The Little Prince," sang songs to recorded music on the grounds that the show was more of an acrobatic, circus-type show.
But Local 802 maintains that a genuine musical production without live music is without precedent in the Local's history, which dates to 1921.
Tino Gagliardi, a longtime Broadway trumpeter who is now president of Local 802, describes himself as a fan of Byrne's music, and is proud that Byrne was once a member of the American Federation of Musicians. (Star musicians who are currently union members include Bruce Springsteen and Taylor Swift.)
"I am very disappointed about this," Gagliardi said. "I would like to believe that he isn't a union buster, but it's hard for me to come to the conclusion that he's anything but a union buster at this point."
"He is trying to avoid the requirements that have been put in place in order to maintain an artistic standard on Broadway," he added.
Byrne has claimed, through Adrian Bryan-Brown, the production's spokesman, that Byrne wants an exemption for "Here Lies Love" because the show's musical numbers involve karaoke.
"Since 'Here Lies Love' was first conceived 17 years ago, every production has been performed to prerecorded track; this is part of the karaoke genre inherent to the musical and the production concept," Bryan-Brown told The New York Times.
Byrne used union musicians for his recent hit musical "American Utopia." The show recouped its initial investment of $4 million in 2019 within 10 weeks of its first run.
The union nonetheless suspects that Byrne is once again prioritizing profit for him and his investors over both jobs for union workers and the quality of the experience for customers.
Musical producers "have reached a limit on how much they can charge for tickets," Gagliardi said. "So the only way they can improve their financial position is by reducing labor costs ― with musicians, stage hands or the actors."
Popular in the Community