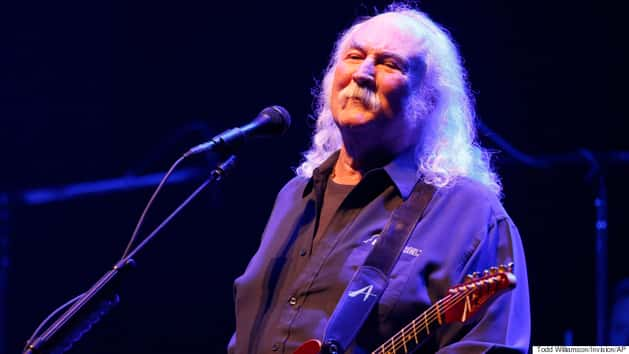 After the news of the two-time Rock & Roll Hall of Famer's death broke, many celebrities took to Twitter to sing the praises of the former member of the Byrds and Crosby, Stills, Nash and Young.
Some of the Twitter tributes ...
I don't know what to say other than I'm heartbroken to hear about David Crosby. David was an unbelievable talent - such a great singer and songwriter. And a wonderful person. I just am at a loss for words. Love & Mercy to David's family and friends. Love, Brian pic.twitter.com/Hjht7LeGiv

— Brian Wilson (@BrianWilsonLive) January 19, 2023
Grateful for the time we had with David Crosby. We'll miss him a lot.

— Jason Isbell (@JasonIsbell) January 19, 2023
David Crosby stuck to his guns. A difficult and gifted man. Whose talent and taste was immense. His harmonious voice still echoes in Laurel Canyon. A proud man who said what he said, and felt what he felt with no apology. A brilliant songwriter, and an American Icon, RIP. pic.twitter.com/lwL5emAdQ3

— Michael Des Barres (@MDesbarres) January 19, 2023
I can't begin to say how influential Crosby, Stills and Nash were for me. I'm grateful David Crosby lived, and so very sad he's gone.

— rosanne cash (@rosannecash) January 19, 2023
David Crosby's legend starts and ends with the music—but he also dabbled as an actor, appearing in "Hook," "Thunderheart," and in the opening flashback scene in "Backdraft" as "70s Hippie." pic.twitter.com/y0zboEHTvT

— Richard Roeper (@RichardERoeper) January 19, 2023
Tonight at 7pm PST my friends and neighborhood will howl and then blast CSN to honor this beautiful soul and legend. If you do this, please send me videos RIP David Crosby!! We love you. pic.twitter.com/F2LKMmm9LY

— christina applegate (@1capplegate) January 19, 2023
As much as I loved his music I loved his thoughts on Twitter as well. Rest In Peace David Crosby ✌️ thank you for the lifetime of inspiration https://t.co/Vdoc6j6LdL

— Sebastian Bach (@sebastianbach) January 19, 2023
RIP David Crosby. As a member of The Byrds, 1 of the historically essential Artists that created the Artform of Rock. The Byrds, Bob Dylan, Beatles, Stones, Kinks, Who, Beach Boys & Yardbirds, showed future generations like us what was possible. We owe him, and them, everything.

— 🕉🇺🇦Stevie Van Zandt☮️💙 (@StevieVanZandt) January 20, 2023
Do you have info to share with HuffPost reporters? Here's how.
Popular in the Community