A high-ranking lieutenant in the Washington, D.C., police department was indicted by a federal grand jury Friday morning for allegedly obstructing justice and making false statements about his relationship with Enrique Tarrio, the longtime chairman of the far-right Proud Boys.
The indictment, which was filed in U.S. District Court in Washington, alleges that Lieutenant Shane Lamond and Tarrio exchanged hundreds of messages as Lamond helped Tarrio understand police investigations into his group, particularly around the time of the riot at the Capitol on Jan. 6, 2021.
Lamond could not immediately be reached for comment, and federal court records did not yet indicate who will represent him in court.
In an unsigned official statement, the Metropolitan Police Department of the District of Columbia (MPD) said that Lamond was placed on administrative leave in February 2022 and that the department cooperated with the investigation.
"We understand this matter sparks a range of emotions, and believe the allegations of this member's actions are not consistent of our values and our commitment to the community," the statement said. "This is only part of the process, and upon conclusion of the criminal proceedings, our agency will complete an internal investigation into this incident."
In the messages, Lamond was frank about his support for the Proud Boys.
"Of course I can't say it officially, but personally I support you all and don't want to see your group's name or reputation dragged through the mud," Lamond allegedly texted Tarrio on Jan. 8, just two days after the insurrection attempt.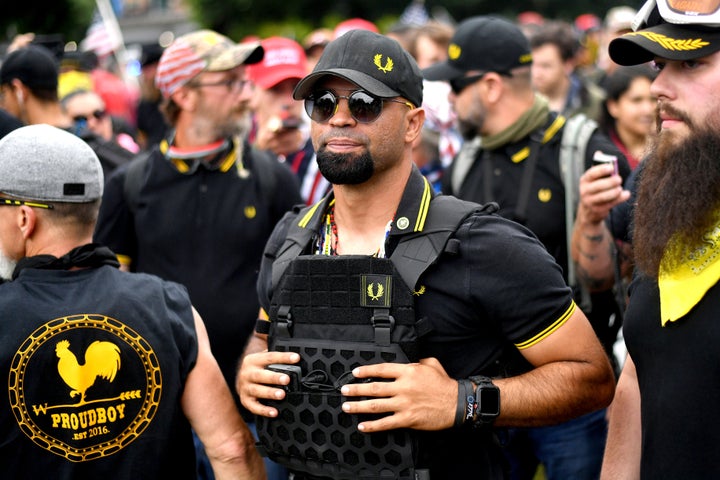 Four leaders of the Proud Boys, including Tarrio, were convicted earlier this month of seditious conspiracy and other charges for their roles on Jan. 6.
Lamond had a critical role in the city's Metropolitan Police Department ― he oversaw intelligence gathering related to upcoming protest activity in the city. The indictment alleges that for almost a two-year period beginning in July 2019, Lamond and Tarrio were in frequent contact ― exchanging at least 500 messages, some on encrypted platforms ― as Lamond shared information about MPD's investigations into the Proud Boys.
On Nov. 7, one day after the 2020 presidential election, Lamond allegedly texted Tarrio: "Hey brother, sad, sad news today. You all planning anything?" Tarrio responded, "Yep." Later that day, the indictment alleges Lamond alerted Tarrio to the fact that law enforcement was monitoring social media accounts belonging to the Proud Boys and that they needed to switch to communicating on an encrypted platform.
The indictment alleges that Lamond fed Tarrio information about police investigations into the burning of a Black Lives Matter banner in Washington the following month. Tarrio claimed credit on social media for burning the banner after the incident and was later sentenced to five months in prison.
According to the indictment, Lamond kept Tarrio abreast about whether law enforcement had video or images of him during the destruction of the banner. It also alleges that, as Tarrio traveled to Washington on Jan. 4, 2021, Lamond warned Tarrio that a judge had signed an arrest warrant for him ― but didn't tell his colleagues inside MPD that Tarrio knew about the warrant. He was arrested without incident as he entered the city that day.
In the aftermath of the Jan. 6 insurrection attempt, Tarrio was concerned that a member of his group would be arrested for entering the Capitol. The indictment alleges that Lamond used his law enforcement sources to find out who the FBI had identified as suspects by that point ― and told Tario that the person was in the clear. "Nope. Not on our list," he texted on Jan. 7.
Lamond sent another message the next day: "Looks like the feds are locking people up for rioting at the Capitol. Hope none of your guys were among them."
Tarrio responded: "So far from what I'm seeing and hearing we're good."
"Great to hear," Lamond responded, according to the indictment, and offered his personal support for the group.
Lamond also faces charges for lying to investigators about his relationship with Tarrio. Federal law enforcement interviewed Lamond in June 2021 about whether he fed sensitive information to Tarrio. (By then, they had likely seen the communications on Tarrio's devices.) Lamond denied it, according to the indictment, saying, "It was more, you know, one-sided with just him telling me, You know, what their plans were."
At their recent seditious conspiracy trial, Tarrio and other Proud Boys leaders ― Ethan Nordean, Joseph Biggs, Zachary Rehl and Dominic Pezzola — planned to highlight Tarrio's relationship with Lamond as evidence that their activities were sanctioned by local authorities.
Lamond invoked his Fifth Amendment right against self-incrimination during the trial, and prosecutors indicated that he could soon face charges.
Read the indictment here:
Popular in the Community