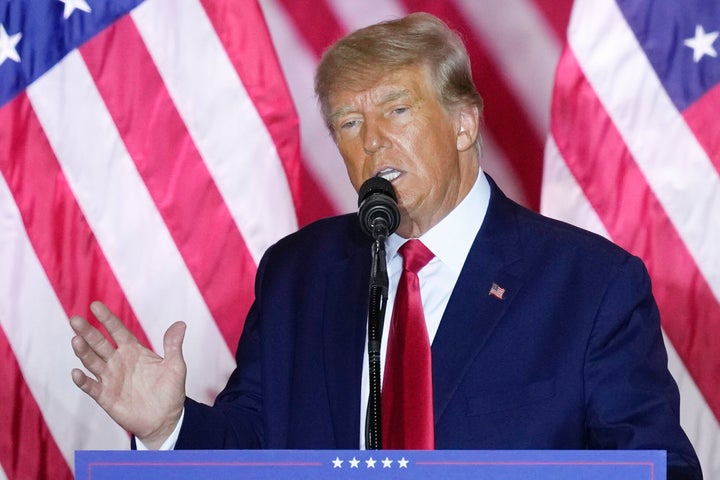 For a presidential candidate, how many indictments are too many indictments? For most candidates, the answer is almost certainly one. For Donald Trump, the limit does not exist.
The 45th president, already the presumed frontrunner for the 2024 GOP nomination, announced last night that he's facing a federal criminal indictment over his handling of classified documents at his Florida home. Trump, predictably, says he's innocent.
It's the first federal indictment lodged against a former president and Trump's second recent indictment, following the state charges he faces in Manhattan over alleged payments he made before the 2016 election to porn actor Stormy Daniels to stay silent about their affair.
For a swing voter in the general election, the legal drama dogging Trump might simply be too much after four years of a chaotic presidency that included two impeachments, the legislative equivalent of an indictment.
The GOP primary, however, is a much different story. Trump has sufficiently conditioned the MAGA diehards who dominate the GOP's electorate to disregard any attack as the plotting of his enemies and to respond by rallying to his side.
GOP strategist Sarah Longwell, who conducts focus groups of Republican voters, offered proof of this phenomenon on Friday: "We've been asking Trump voters in focus groups whether or not additional indictments would make them more or less likely to support Trump," she tweeted. "Many people say more. Many say it doesn't change things one way or another. Almost no one says, 'less.'"
This type of knee-jerk MAGA conditioning creates problems for Trump's growing field of opponents: If any attack on Trump is the result of the liberal establishment's plot against him, it's their duty to rush to Trump's side and condemn the attack. Not only does that make Trump virtually untouchable in the primary, but it also forces his opponents to act as a guard for the guy beating them in the polls.
Trump's first indictment shows the pattern at work. As Trump himself often brags, his poll numbers shot up following the announcement of charges in the hush money case in early April, expanding his lead against Florida Gov. Ron DeSantis, his closest rival. The trend has continued: Trump is beating DeSantis by about 30 points in FiveThirtyEight's national average, with everyone else trailing in the single digits.
Polls taken since the first indictment tend to tell the same story. While most Americans believe it was the right decision to charge Trump in the hush money case, opinions diverge sharply across party lines. Nearly two-thirds of Republican primary voters said they stand behind Trump, regardless of his legal troubles, according to an NBC News poll from late April.
And there very well could be more legal trouble to come. Trump is still under federal investigation for the Jan. 6, 2021, riot at the U.S. Capitol, and an Atlanta prosecutor is expected to unveil the findings of a grand jury investigation into Trump's alleged interference in Georgia's presidential election in 2020 later this summer.
Looking ahead to next year, the travails will continue: Trump's New York case is set to go to trial in March, and the appeals and other squabbling over his legal issues are likely to dominate the news cycle throughout an election year. With the trials will come more damning evidence that, even if Trump makes it through the primary, won't help him win a rematch against President Joe Biden.
It doesn't help that Trump's rivals haven't figured out how to wield Trump's legal mess against him. They're sticking close to the sentiments of Republicans writ large by denouncing the charges as baseless and politically motivated.
Only one of his primary opponents — former Arkansas Gov. Asa Hutchinson, who has no real path to the nomination — has called on Trump to drop out of the race, lamenting his "disrespect for the rule of law" and calling his campaign a "major distraction."
Former Vice President Mike Pence canceled a planned interview with Fox News' Sean Hannity — normally a big opportunity for a GOP primary candidate — shortly after the news, presumably to avoid talking about his former boss.
Trump's biggest rival, DeSantis, blasted the charges as the product of a politicized administrative state while also subtly lumping Trump in with Democrat Hillary Clinton, demonized for her use of a private email server as secretary of state, and President Joe Biden's embattled son, Hunter Biden, whose ill-fated laptop has launched a thousand Fox News chyrons.
"We have for years witnessed an even application of the law depending upon political affiliation," DeSantis tweeted at 10 p.m. Thursday, a good two hours after the indictment broke. "Why so zealous in pursuing Trump yet so passive about Hillary or Hunter?"
More than any other candidate, DeSantis is selling his candidacy as Trump minus the drama. Except, the cycle Trump creates makes it impossible for DeSantis to engage with the most glaring example of that drama. The result is that Trump's own self-martyring becomes the party line. On Thursday night, after everyone had a chance to digest the news and weigh in online, Trump's campaign sent out a press release with links to dozens of prominent Republicans coming to his defense, firmly establishing the former president as the center of the GOP universe, as he's always been.
Popular in the Community