Donald Trump cried "prosecutorial misconduct" again this weekend while denying new allegations from federal prosecutors, who say the multiply indicted former president and his team tried to destroy surveillance footage from his Mar-a-Lago estate in Florida.
"MAR-A-LAGO SECURITY TAPES WERE NOT DELETED," Trump declared in an all-caps rant posted to Truth Social on Sunday. "THEY WERE VOLUNTARILY HANDED OVER TO THE THUGS, HEADED UP BY DERANGED [special counsel] JACK SMITH."
"WE DID NOT EVEN GO TO COURT TO STOP THEM FROM GETTING THESE TAPES," he continued. "I NEVER TOLD ANYBODY TO DELETE THEM. PROSECUTORIAL FICTION & MISCONDUCT! ELECTION INTERFERENCE!"
In his next post, Trump accused prosecutors of targeting him with "fake crimes," writing: "Same as the Russia, Russia, Russia HOAX."
"They knowingly accuse you of a fake crime, a crime that they actually make up, you fight these false charges hard, and they try and get you on 'obstruction,'" the former president wrote. "We are dealing with sick and evil people!"
According to the federal investigation, the National Archive first became aware of missing Trump administration documents in May 2021. After Trump and his lawyers allegedly failed to return the materials, the FBI executed a search warrant on Trump's Mar-a-Lago property in August 2022.
Federal investigators say some 13,000 government documents were recovered, 337 of which were classified.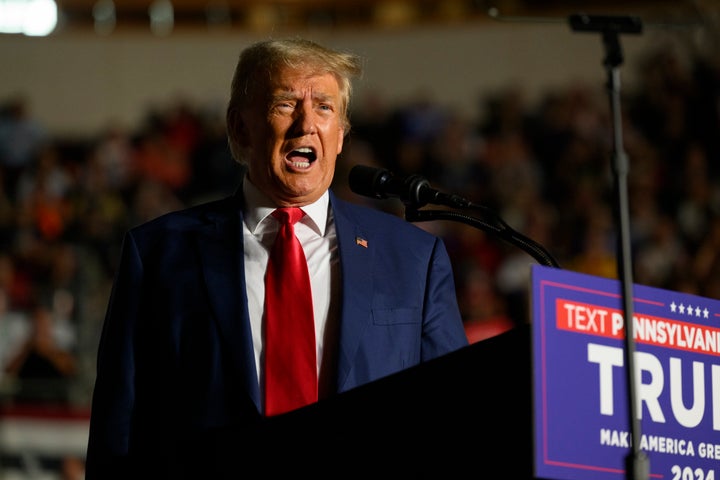 Three new charges were added to Trump's case on Thursday, accusing him of further efforts to obstruct an investigation into his alleged mishandling of classified documents. He pleaded not guilty to 37 related charges last month.
Investigators say that Trump, currently the front-runner for the 2024 Republican presidential nomination, ordered aide Walt Nauta and Mar-a-Lago property manager Carlos De Oliveira to destroy a server with sensitive video surveillance on it.
"If I weren't leading [President Joe] Biden by a lot in numerous polls, and wasn't going to be the Republican nominee, it wouldn't be happening. It wouldn't be happening," he went on. "Hopefully the Republican Party will do something about it."
Trump appeared resilient at a campaign rally in Erie, Pennsylvania, over the weekend, telling cheering crowds: "Any Republican that doesn't act on Democratic fraud should be immediately primaried."
Support HuffPost
The Stakes Have Never Been Higher
Popular in the Community