The former president reacted in a bombastic post on Truth Social, writing in all-caps, "GREAT NEWS FROM LIV GOLF. A BIG, BEAUTIFUL, AND GLAMOROUS DEAL FOR THE WONDERFUL WORLD OF GOLF. CONGRATS TO ALL!!!"
Trump, an avid golfer, has hosted LIV events at his golf clubs in Bedminster, New Jersey, and Miami, and will host more this year, despite widespread criticism that the Saudi government is using the league for "sports-washing," or trying to use sports to distract from its history of human rights violations. LIV is funded by the Saudi Arabia Public Investment Fund, which is controlled by the crown prince.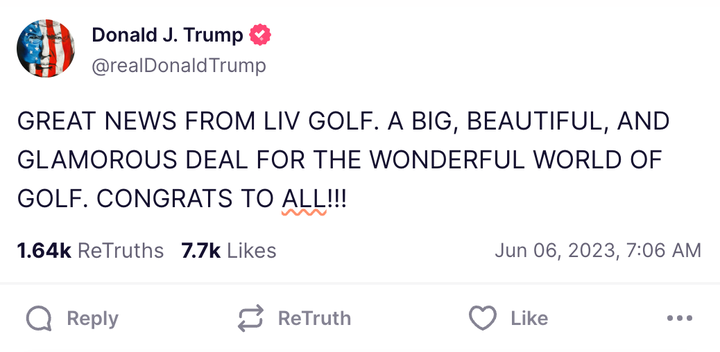 Last July, Trump rebuffed criticism from families of 9/11 victims who described their "deep pain and anger" over the former president hosting a LIV tournament.
Trump defended the Saudi government, saying, "We have human rights issues in this country, too," and, "Nobody's gotten to the bottom of 9/11, unfortunately."
Out of the 19 hijackers who carried out the attacks, 15 were from Saudi Arabia. While the kingdom has denied any connection to 9/11, an FBI investigation concluded it did funnel funds to al Qaeda, the terrorist group that carried out the attacks.
Trump described the PGA Tour-LIV merger as "inevitable" in another Truth Social post earlier that month attacking pro golfers who refused to switch leagues despite big cash offers.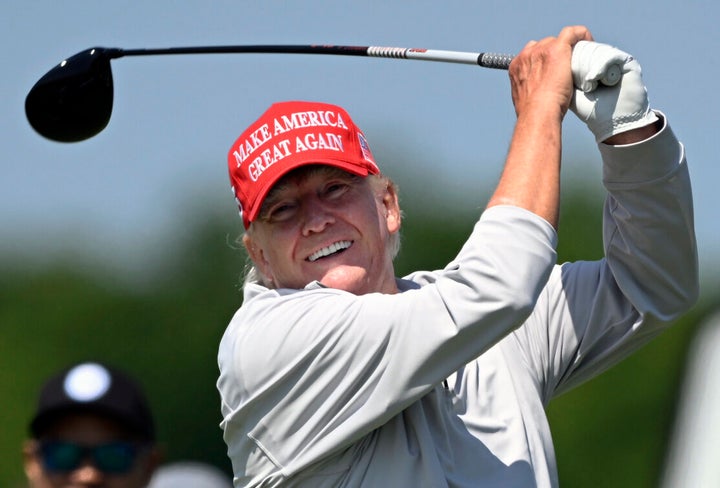 Sounding vindictive as ever, he questioned PGA Tour golfers' "loyalty" to the organization, writing, "All of those golfers that remain 'loyal' to the very disloyal PGA, in all of its different forms, will pay a big price when the inevitable MERGER with LIV comes, and you get nothing but a big 'thank you' from PGA officials who are making Millions of Dollars a year."
"If you don't take the money now, you will get nothing after the merger takes place," he added.
Trump's feud with the PGA Tour likely began after the organization decided not to host its 2022 championship in Bedminster following his supporters' Jan. 6, 2021, attack on the U.S. Capitol.
PGA of America CEO Seth Waugh explained the decision to The Associated Press at the time, saying, "Our feeling was given the tragic events of Wednesday that we could no longer hold it at Bedminster. The damage could have been irreparable. The only real course of action was to leave."
Popular in the Community