The self-designed ring of Tupac Shakur, which the late rapper wore during his final TV appearance at the 1996 MTV Video Music Awards before being gunned down in Las Vegas, was auctioned for $1.01 million this week — and purchased by Drake.
The "God's Plan" rapper reportedly revealed himself as the buyer on Friday by holding the ring in his fingers in an Instagram Story to promote his new song "Meltdown" with Travis Scott. The coveted bauble itself bears a gold, ruby and diamond-encrusted crown.
Shakur had formed Euphanasia Incorporated, a media company christened in a nod to him peacefully putting his "Thug Life" persona to rest mere months earlier. He hired his godmother, Yaasmyn Fula, to shepherd that transition — which was ushered in with a ring.
The duo developed the ring with jewelers in New York and settled on a combination of 10-carat cabochon rubies, pavé diamonds and a golden crown designed by Shakur himself. The outer side is inscribed in honor of his then-fiancée, Kidada Jones: "Pac & Dada 1996."
Shakur's mother, Afeni, was a dedicated Black Panther who taught him as a child to stand tall against racism, police brutality and economic inequality. Fula recalled Afeni reminding him: "You are our Black prince. You are my miracle, and you will make Black people proud."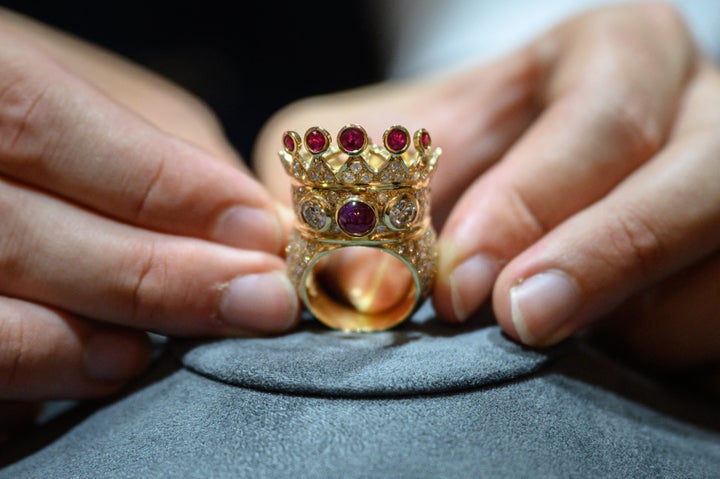 These were valued at $300,000 each, as the chain is adorned by 70 carats. Cassandra Hutton, Sotheby's Global Head of Science & Popular Culture, said the auction house is "thrilled" that the ring "has entered a new chapter in the hands of another legendary artist."
"This one-of-a-kind, custom ring was meticulously designed by Tupac and is among the final products of his boundless creative energy — a unique artifact … that is a testament to his enduring influence on both Hip Hop and global contemporary culture," Hatton added.
It's only fitting that hip-hop itself is currently celebrating its 50th anniversary. While Shakur's ring originally had a high auction estimate of $300,000, his life, legacy and undying ethos remain so powerful that a final price of $1 million was not only right — but fit for music royalty.
Support HuffPost
The Stakes Have Never Been Higher
Popular in the Community