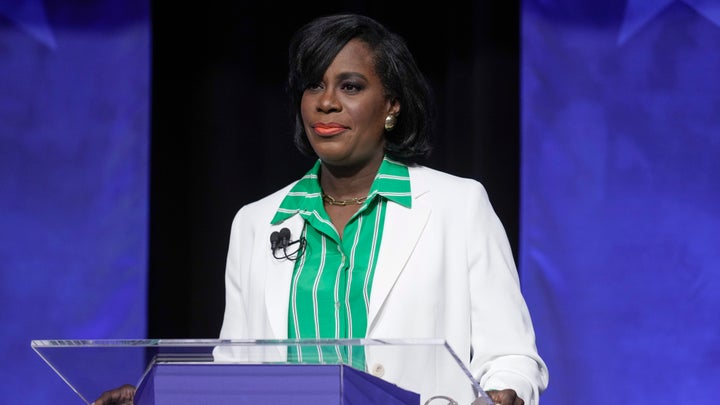 Cherelle Parker, a Democrat with a long political history in Pennsylvania, won Philadelphia's mayoral primary on Tuesday, likely setting her up as the city's 100th mayor and the first woman to serve in the role.
Parker, 50, who served for 10 years as a state representative for northwest Philadelphia before her election to the city council in 2015, asserted herself as a leader whose government experience would allow her to address gaping problems with public safety and quality of life in the nation's sixth-largest city.
Parker emerged from a crowded field of five front-runner Democratic candidates vying to replace Democrat Jim Kenney, who is term-limited. She beat out other former city council members who resigned from their seats to throw their hats in the ring; a state representative; a former city controller and a political outsider businessman.
Parker will go up against Republican David Oh in the Nov. 7 general election.
THIS IS A BREAKING NEWS UPDATE. AP's earlier story follows below.
Cherelle Parker, a former Philadelphia city council member, had an early lead in a crowded field of Democratic candidates vying to lead the nation's sixth largest city in a contest that centered on how to combat gun violence and quality-of-life issues that make people feel unsafe.
The results could still change as the city counts in-person ballots that were cast on Tuesday. Election Day ballots counted so far have largely come from Parker strongholds. If her lead holds, it could prove a disappointment to progressives who rallied around Helen Gym, who was backed by Vermont Sen. Bernie Sanders and New York Rep. Alexandria Ocasio-Cortez.
Only one Republican, former city council member David Oh, is running. He and the Democratic nominee will face each other in the Nov. 7 general election. Because Philadelphia is heavily Democratic, it is likely that whoever wins the primary will become the next mayor.
Philadelphia voters were choosing between front-runner Democratic candidates including former council members Parker, Gym, Rebecca Rhynhart, Allan Domb and Jeff Brown. They are vying to replace Democratic Mayor Jim Kenney, who is term-limited.
The Democrats have pledged to tackle the city's violence and crime, and address the rampant quality-of-life issues, but how they plan to get there varies. The candidate who is able to muster their base and appeal to the widest cross-section of voters will ultimately tip the scales in a tight contest.
Jamie DeAngelis cast her ballot for Gym after taking an online quiz and matching with her platform the most. She said it was difficult with so many in the race, and she predicts anyone who takes the helm of the city will face tough headwinds.
"Especially with the way the Democratic Party is a little bit fractured this time around, I just think that there's going to be a lot of pushback on whomever gets voted in," she said.
James Perelman had narrowed down his mayoral candidates to Gym, Parker and Rhynhart, ultimately casting his ballot for Rhynhart. He described her as having the plans that best match his concerns, particularly what he sees as a need to address gun violence and improve the city's public schools. He also felt her background suited her for handling any potential economic downturns.
"But it was still difficult," he said. "I think myself and I think a lot of Philadelphians feel like ... maybe it's time to consider ranked choice voting or something where we're not having such a small percentage of the city deciding who's mayor."
Voters on Tuesday will also elect seven out of more than 30 total Democratic and Republican candidates for city council-at-large seats and three contested district seats.
Voters in Allegheny County, which encompasses the state's second largest city of Pittsburgh, picked sitting state lawmaker Sara Innamorato as their Democratic nominee to face the lone Republican contender, Joseph Rockey, in the November general election. Unlike in the Philadelphia mayor's race, the primary winner will not necessarily be the person most likely to fill the county executive's seat.
"Allegheny County, I'm going to make one promise to you: I will build a team of leaders who will usher in the future of this region and build a more equitable and just county," she said at a campaign event Tuesday, asking supporters to enjoy the victory and recharge. "We better get ready, because we have a lot of work to do."
Our Revolution, a movement born during U.S. Sen. Bernie Sanders' 2016 presidential race and now one of the largest progressive organizations in the country, had endorsed Innamorato — a win for the movement, even with a potential setback in the Philadelphia mayoral primary.
Associated Press video journalist Tassanee Vejpongsa in Philadelphia contributed to this report.
Popular in the Community