Twitter CEO Elon Musk finally apologized for promoting a baseless conspiracy theory to his 126 million social media followers about the vicious hammer attack on Paul Pelosi inside his home last October.
"I apologize," Musk said after a chorus of calls for him to do so Friday when the gruesome video footage captured by the body cams of police arriving on the scene of the assault was released.
Yet Musk pointedly did not denounce or discredit the conspiracy theory that the attack was part of some kind of spat with a male escort. In fact, he indicated in a tweet he still believed it could be true.
Paul Pelosi was rushed to a hospital, where he underwent surgery for the skull fracture and to repair serious hand and arm injuries. Former President Donald Trump expressed skepticism about the attack.
Others, like Musk, amplified the conspiracy theory that the ugly attack was committed by a man the 82-year-old Pelosi had picked up at a gay bar in San Francisco rather than by a home invader. Their baseless "proof" was that Pelosi appeared to be in his underwear. In fact, he was in his pajamas, in bed, when his home was invaded.
David DePape is currently in prison awaiting trial on several charges in the attack, including attempted murder and elder abuse. In a call from prison Friday to a San Francisco TV station, he reportedly said he regretted that he "didn't get more of them," apparently referring to Democratic lawmakers. Investigators said he was after Nancy Pelosi when he broke into the couple's San Francisco home.
Immediately after the violence, Musk linked to an article in the Santa Monica Observer claiming the attack occurred as a drunk Pelosi was arguing with a male escort. None of that was true. Yet Musk wrote: "There is a tiny possibility there might be more to this story than meets the eye."
Former Illinois Republican Rep. Adam Kinzinger tweeted on Friday: "Hey @elonmusk care to react to the Pelosi video? You spread the big conspiracy…"
MSNBC's Stephanie Ruhle also tweeted: "This would be a perfect moment for @elonmusk to apologize to the Pelosi family."
It could not immediately be determined if Musk had reached out to the family to apologize — or if such an apology was accepted, given that he hadn't denounced his lie.
One Twitter user wrote: "Idiots on the left want @elonmusk to apologize to the Pelosis. For what? It is still a questionable and bizarre situation between two men in their underwear."
Rather than discredit the conspiracy theory, Musk responded: "Nonetheless, I apologize."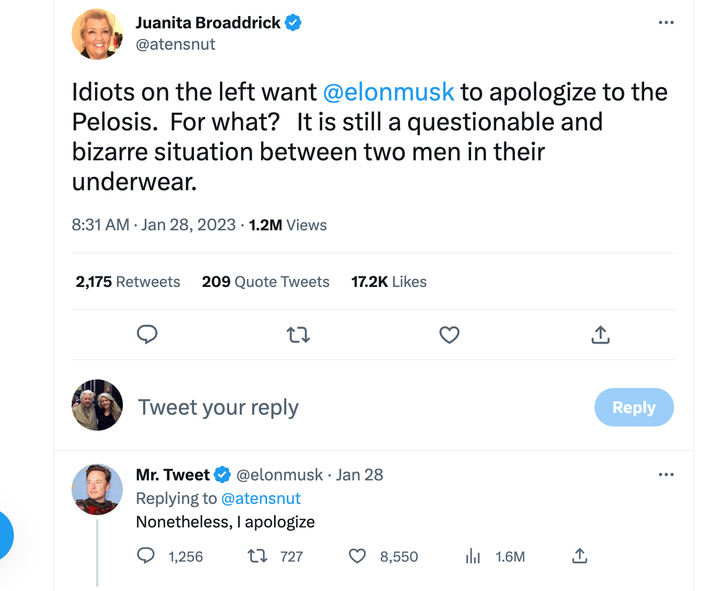 Musk's ugly attack on Pelosi was reminiscent of his shocking slam on British cave explorer Vernon Unsworth, who risked his life participating in the rescue of 12 boys and their soccer coach trapped for weeks in a flooded Thailand cave in 2018. Amid a Twitter spat about how to rescue the boys, Musk called the rescuer a "pedo," short for "pedophile."
After he was sued for defamation in that case, Musk testified in a Los Angeles Court that he used the word "pedo" merely as an "insult" — not as a statement of fact. He only intended to insult the "creepy old man," Musk insisted.
The jury found that Musk did not defame Unsworth.
Popular in the Community