A 28-year-old Virginia man was arrested on suspicion of murder more than three months after a New Jersey councilwoman was found fatally shot outside her home.
Middlesex County, New Jersey, prosecutors announced the arrest of Rashid Ali Bynum on charges of first-degree murder, second-degree unlawful possession of a handgun and second-degree possession of a handgun for an unlawful purpose in connection to the death of Eunice Dwumfour, who served on the Sayreville town council. The 30-year-old's body was found in her car on Feb. 1, and for months, her family and the community sought answers in her killing.
Sayreville business administrator Glenn Skarzynski told CBS News in April that the community was "anxious" and "frustrated" that her killer had not been caught at the time.
"We are frustrated as well, but we are confident that our law enforcement partners will identify a suspect and bring justice for Eunice and for the community," Skarzynski told CBS.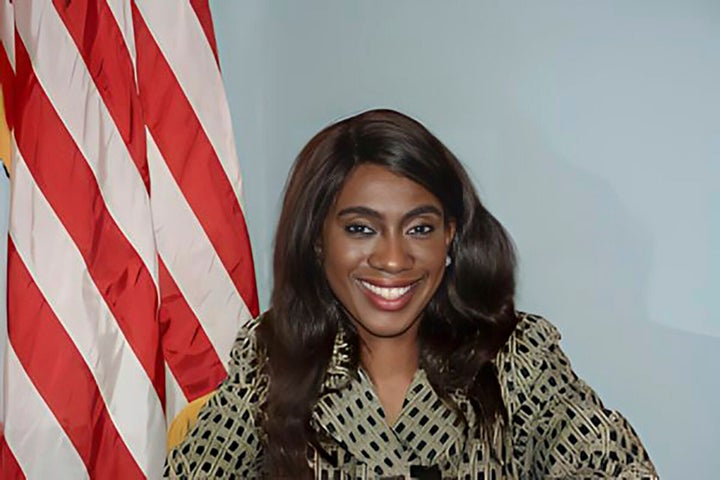 When prosecutors announced the arrest and charges on Tuesday, they did not offer a possible motive for the councilwoman's death. John Wisniewski, the attorney representing the Dwumfour family, said family members who attended the press conference did not recognize Bynum, local outlet My Central Jersey reported.
"For the family, there are as many questions now as to why did he target Eunice, what was the motivation behind him targeting Eunice, and those are all unanswered," Wisniewski told the outlet.
"This was a very complex, extensive case with painstaking police work every single moment until today, and it will continue after today," Middlesex County Prosecutor Yolanda Ciccone said at a Tuesday press conference.
Bynum and Dwumfour had attended the same church, but authorities did not provide details about their connection or how often they spoke. Ciccone said Bynum was a contact in Dwumfour's phone under the name FCF, which is believed to be an acronym for the Fire Congress Fellowship, an affiliated church of the Champion Royal Assembly. Dwumfour served as a pastor and treasurer, according to public records.
According to Ciccone, Bynum matched a witness's description of the suspect, and phone records revealed that he allegedly traveled from Virginia to New Jersey at the time of the shooting.
Ciccone said that Bynum's online search history in the days before the killing revealed that he was looking for what magazines were compatible with a specific handgun. On the day of her death, Ciccone said, Bynum was searching for more information on the Champion Royal Assembly church and the Sayreville area.
Dwumfour left behind her husband and 12-year-old daughter, who was home on the day of her murder. The girl told CBS in April that she tried calling her mother's phone before her death.
"We were waiting for my mom to look for a parking space, and then she was taking a lot of time, so we started calling her over and over again, but it wouldn't pick up. And then we heard gunshots, and we started calling the police," she said.
Dwumfour ran as a Republican candidate and was elected to the Sayreville Borough Council in 2021. In an interview with TAPinto, Dwumfour described her background working with software companies and nonprofits, as well as her work as an EMT while she was in college. She was also a member of the borough's Human Relations Commission.
Bynum, who was arrested Chesapeake City, Virginia, will be extradited to New Jersey, where he will be held at the Middlesex County jail ahead of a pretrial detention hearing, a spokesperson for the Middlesex County Prosecutor's Office told HuffPost.
Subscribe to our true crime newsletter, Suspicious Circumstances, to get the biggest unsolved mysteries, white collar scandals, and captivating cases delivered straight to your inbox every week. Sign up here.
Popular in the Community