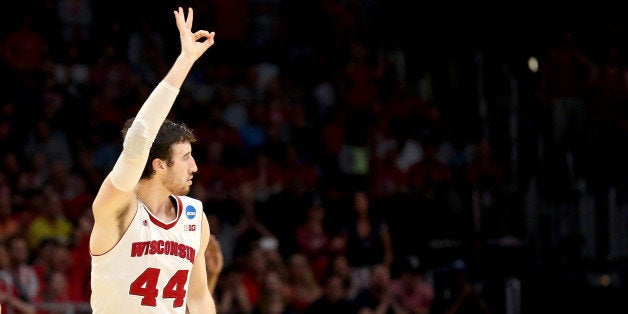 The Final Four is upon us, which likely means you've torn up all but one of the 116 brackets you filled out. The 2015 version of March Madness has been rather epic, with a record five one-point games on Day One, including one that gave us an early Father's Day moment. Three of college basketball's elite programs -- Kentucky, Duke and Michigan State -- have made it, along with Wisconsin, which is making a second consecutive trip. Here's what you need to watch out for when they head to Indianapolis.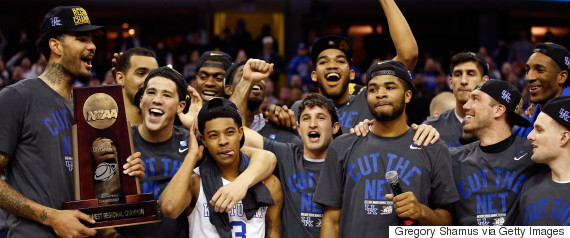 Kentucky, should it finish the season 40-0 by adding a ninth national championship banner added to Rupp Arena, could make an argument about being the greatest team in the history of the sport. Other teams have gone undefeated, but the most recent was Bobby Knight's infamous Indiana Hoosiers ... in 1976. But none of those teams had Kentucky's record nine McDonald's All-Americans, and none were as defensively dominant as these Wildcats. Despite a platoon system where no single player averages huge numbers or earns heavy minutes, John Calipari's team ranks first in field goal percentage allowed and adjusted defensive efficiency. As unselfish as they are talented, Kentucky features a splendid mix of size and skill, most notably in the rangy 6-foot-11 freshman center Karl-Anthony Towns, a physical specimen with quick feet and impeccable shot-block timing. Towns, along with Duke's Jahlil Okafor, will likely go first and second in June's upcoming NBA Draft.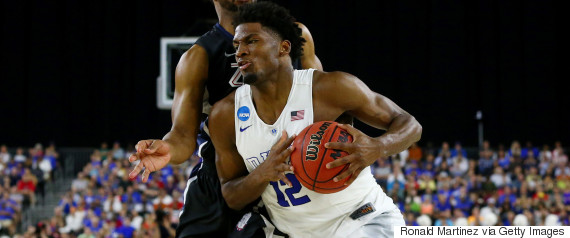 Coaches will tell you that freshmen are no longer freshmen this time of year. Regardless, the Final Four has a slew of really good ones. Okafor is 6-foot-10 and already has better moves and footwork than most NBA bigs. Justise Winslow (above) has emerged as one of the nation's premier two-way players. He is coming off a 21 and 10 game against Utah and a 16-point effort against Gonzaga -- plus he guards four positions. Tyus Jones has made Mike Krzyzewski look good -- an early season move to put senior Quinn Cook off the ball caused a little stir in Durham, but Jones has answered the bell, averaging 12 points and six assists while becoming a dynamite lead guard. We mentioned Towns, but don't sleep on UK's Trey Lyles either. He's a threat from 18 feet and in for Calipari because of his shooting ability. Sharpshooter Devin Booker, 6-foot-6, converts 41 percent from three and is a likely lottery pick should he enter the draft.
Speaking of shooters and point guards, the diminutive Tyler Ulis is Kentucky's smallest player at 5-foot-9, but one of its most important. Ulis -- who hit a monster three down the stretch against Notre Dame -- doesn't turn the ball over and consistently puts pressure on defenses with his attacking nature. He allows Cal to play either of the Harrison twins off the ball as well, another luxury that shouldn't be overlooked.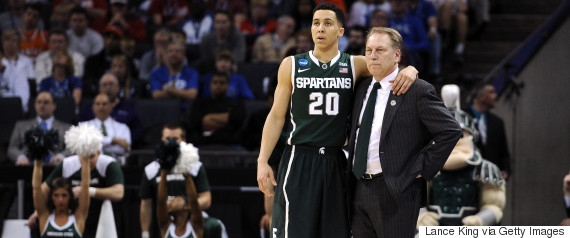 Together, the four coaches have combined for a stellar 26 Final Fours. Izzo (above) has been to seven since 1999, Cal has taken three different schools, Bo Ryan -- who won four Division III titles -- has now gone to back-to-back Final Fours, and Coach K, with his 12 Final Fours, has tied the immortal John Wooden for the most all-time. We are witnessing a quartet of men at the pinnacle of their sport, all of whom have much to gain. For example, if Michigan State wins its next two games, Izzo will make the massive leap from one title to two, putting him in the same category as legends like Dean Smith, Denny Crum and Roy Williams.
Ryan, meanwhile, at 67 years young, may be the most unique of the crew. Unlike most major college coaches, he doesn't comb through high school databases trying to find blue-chip recruits full of accolades. In fact, his best player, senior center Frank Kaminsky -- who is likely to win the Wooden Award as the nation's best player -- was so lightly regarded as a prep that three of his biggest suitors were Bradley, Southern Illinois and Northern Illinois.
It has been a wonderful year for Coach K, who eclipsed the seemingly insurmountable 1,000-win club while hoping to win his fifth national title. If he does so, Krzyzewski would cement his place as the most dominant head coach of the modern era, while also surpassing Adolph Rupp's four titles at Kentucky. And speaking of Lexington, Calipari is hoping to accomplish what no coach since Bobby Knight has done in nearly four decades: a perfect season. He's now just two wins away.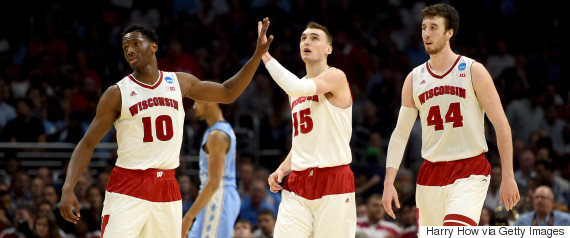 It's a phrase we don't seem to hear often enough these days, but take a look down these rosters, and you'll notice that a boatload of these guys came back to school. For Kentucky, it's the injured Alex Poythress, the Harrison twins, Willie Caulie-Stein, Marcus Lee and Dakari Johnson. For Duke, it's Cook. Wisconsin's two best players, Kaminsky and Sam Dekker -- who posted career scoring highs in consecutive games to help Bucky get here -- returned to school, as did intriguing prospect Nigel Hayes (all of whom are pictured above). And for Sparty, Denzel Valentine returned for his junior year alongside Branden Dawson, who returned for his senior season. And they all did it for one more chance to become national champs. Last April, Kaminsky even went so far as to say the NBA is "boring." I guess with a nickname like "Frank the Tank," he's allowed to say that.
CORRECTION: A former version of this article incorrectly stated that Denzel Valentine returned to Michigan State for his senior year. It has since been corrected to properly reflect that Valentine returned for his junior year.
Email me at jordan.schultz@huffingtonpost.com or ask me questions about anything sports-related at @Schultz_Report, and follow me on Instagram @Schultz_Report. Also, be sure to catch my NBC Sports Radio show "Kup and Schultz," which airs Sunday mornings from 9 to 12 EST, right here.
Support HuffPost
The Stakes Have Never Been Higher
Related
Popular in the Community