The voting technology company reached a $787.5 million settlement with the right-wing network on Tuesday, the same day the case was supposed to go to trial.
"As somebody who's also had a very high-profile lawsuit against the former CEO and chairman of Fox News, Roger Ailes, as somebody who's been silenced as a result of that ― [not] being able to tell all the facts of what actually happened to me ― you know, I was vicariously living through Dominion and hoping that they would be able to get to the truth," Carlson told CNN's Anderson Cooper in an interview Wednesday.
On Sunday night, amid swirling reports that Fox News was making a last-minute push to settle the case out of court, Carlson tweeted: "PLEASE Dominion — Do not settle with Fox! You're about to prove something very big."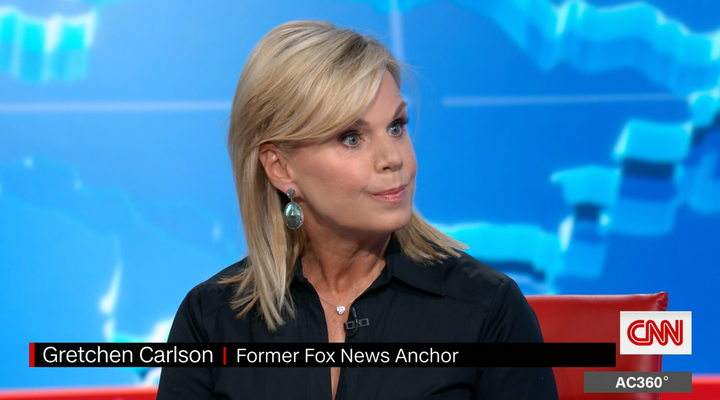 Carlson left the network in 2016 and subsequently received a reported $20 million settlement related to her allegations of sexual harassment against then-CEO Ailes. She received an apology from the network but was required to sign a nondisclosure agreement that prevents her from discussing many details about her case and what she experienced.
In its statement on Tuesday's settlement, Fox News vaguely acknowledged that it had broadcast "certain claims" about Dominion that were false, though it did not apologize and went on to hail the settlement as a reflection of its "commitment to the highest journalistic standards."
Carlson said she was unsurprised by the outcome.
Asked why she believed the media company settled, she said: "I think that they saw the writing on the wall."
"The judge had several rulings during hearings that were not in their favor," she said. "And it could have also been the makeup of the jury. I mean, remember the jury was seated, and maybe they didn't like what they saw."
"And also, I think that they obviously did not want their top hosts to be ... media fodder for five or six weeks under oath," she added.
Dominion had sued for $1.6 billion, accusing Fox News of defaming it by promoting lies that its voting equipment was partly responsible for former President Donald Trump's loss of the 2020 election, despite knowing those accusations were untrue.
Popular in the Community