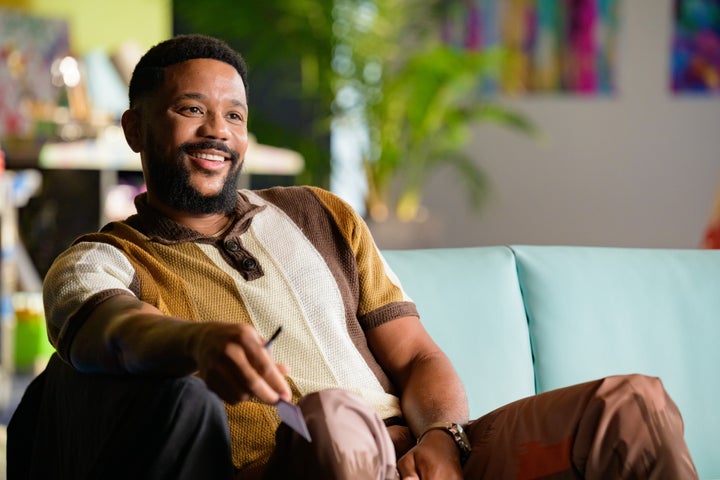 Actor Hosea Chanchez has had a lot of wins in the past two decades with "The Game."
The 41-year-old actor-producer-director has kept the series going into overtime — on BET and again on Paramount+ after starting off as a three-season sitcom on the CW in 2006. As Malik Wright, he has portrayed the galvanizing quarterback who leads his team to championships, the extravagant playboy whose charisma can charm any woman he seeks, and the mama's boy who gets into plenty trouble and falls back on agent mom Tasha Mack to bail him out.
But in the first two seasons of the new iteration of "The Game," Chanchez has finally gotten to show a different side of his character. In his expanded role on the series, he's been able to help develop the character in a new and exciting way. This season, he is battling past traumas and trying to hold together his team, which is in a nasty battle with owners over their union contract. He's also faced with his long lost love, Shannon, and is forced to reckon with his own inability to build intimacy in his relationships. Malik has long been a fan favorite of the series, with his punchy jokes and wild antics, but Chanchez has been using this revival to expand his character's universe and go after his own career desires.
"I see Malik from a completely different perspective now," Chanchez said. "Most of these men find a way to let their life evolve past football. Malik never did. So it was something that I needed to happen for me and my own personal goals as an actor and producer. As a fan, I was invested in him, and I really wanted to see more."
The series, now more like a dramedy instead of its original sitcom format, is decidedly — and effectively — covering some serious issues. In its second season, storylines focus on the health and safety of professional football players, Black women's fight against uterine fibroids and the value of investing in your mental health.
"It was imperative, in my opinion, that we'd be able to tell the stories about mental health," Chanchez said. "Thankfully that has been something [showrunner and executive producer] Devon Greggory has made his personal mission to keep as authentic to the real world as possible."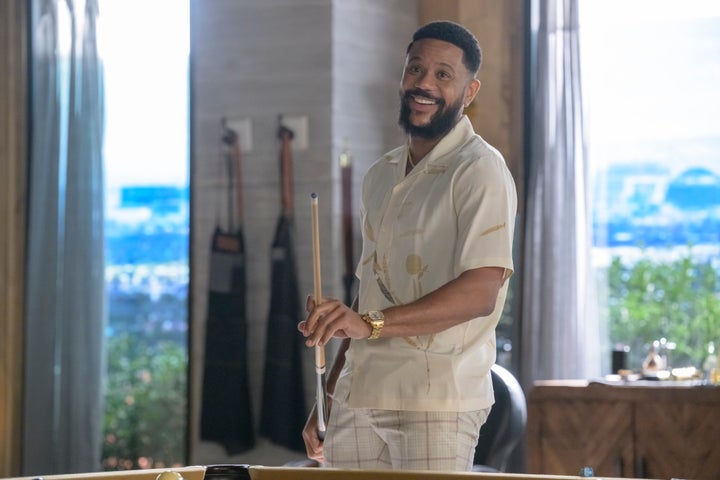 For Chanchez's character, that has meant talking to a therapist and using art therapy to address his up-and-down relationship with his mom, his personal issues with love and commitment and the mounting pressure of leading his team. In Season 1, Malik was seeing visions of his dead childhood best friend Caleb; and when confronted by Geno, a homeless former football player who was also seeing hallucinations (of Prince, no less), he realized how important it is to take care of players when they're on and off the field. He said his character exposed a lot of his own personal traumas that he is trying to deal with today.
But that hasn't meant that all the fun is gone from "The Game." Audiences still get their laughs from Tasha and Malik's one-liners, and their comedic timing never misses; the season even somehow executes a musical episode, with OG fans seeing Malik tap back into his rap aspirations. Even another fan favorite, Tee Tee (Barry Floyd), makes his return to the show.
The series has given Chanchez an opportunity to fulfill a career desire: the actor directed the seventh episode of the season, "Here Comes The Sun." He took special care in approaching the role, with extensive research on each character to build upon his relationship with his castmates.
"As an actor, we often just think about our work, our scenes, and what we contribute. Now I think about the show as a whole," he said about taking on the role of producer and director. "I think about the legacy that the show lives with. I think about every character, every set piece, every article of clothing."
The episode hits at the apex of the season: Brittany (Adriyan Rae) catches Jamison (Vaughn Hebron) popping pills, Raquel's (Analisa Velez) music career is on the verge of taking off, and Garret (Toby Sandeman) has a very uncomfortable meetup with his father. Malik and Shannon (Shannon Kane) get closure, and perhaps a new beginning.
But it's Tasha's (Wendy Raquel Robinson) arc that really stands out as an unforgettable moment in TV history. Tasha has been dealing with uterine fibroids since the start of the season. The storyline is a rare feat, as uterine fibroids are hardly ever discussed in fictional content. (Prime Video's "Harlem," centered on four Black best friends in New York City, included a character arc about fibroids in 2021.) But uterine fibroids are a common condition, and Black women are more likely to have higher fibroid growth than other racial groups, NBC News reported.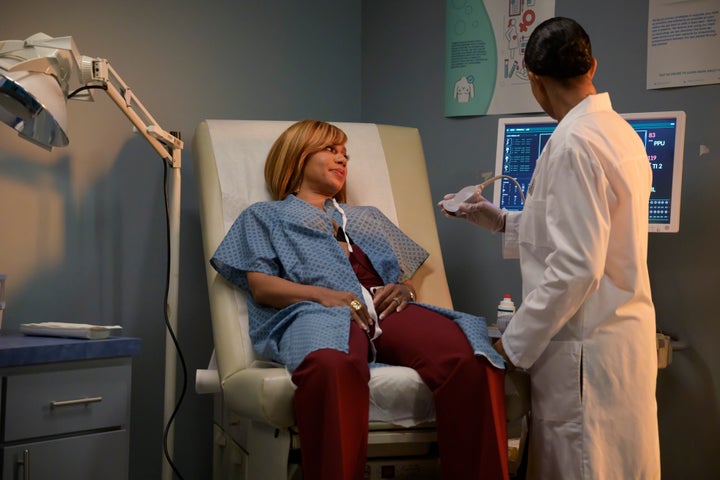 Directing has been the greatest joy of Chanchez's professional career, he said. And getting to direct veteran actor Robinson, his partner-in-crime and the only other original cast member to continue as a series regular, was a dream come true.
Chanchez said Robinson was the perfect person to tell that story — because she could bring a levity to it suitable for TV, but also ground it in the real seriousness of the issue. Robinson shared recently on an Instagram Live conversation that she dealt with fibroids during one of the early seasons of "The Game." Tasha struggles with balancing her work and taking care of her health, while not revealing her diagnosis to those closest to her.
"Seeing her being able to discuss that and find healing through her character and for her own self really brought such great joy to me," Chanchez said. "I just felt honored that we could tell that story, still bring some lightheartedness, yet still ground them in the truth and not make a joke of it."
Chanchez hopes to normalize conversations about mental health with his character — and in real life.
"Malik has actually taught me one of the most pivotal things in my life and that is about mental health," Chanchez said. "I'm still a little Black boy from Alabama, and we believe in praying about everything; therapy isn't the first tool in our toolbox. So I had to dive in and do a lot of research about what Malik was going through last year and this year."
In February, he launched a trailer for "The Good Fellas," a talk show "by Black men and for everyone." Chanchez hosts the show and hopes to offer an outlet for Black men to talk about their issues, build community with other Black men and to help each other heal.
In 2019, Chanchez realized he had experienced some trauma that he'd left behind. He was molested at a young age and never had addressed it with anyone.
"It was something that had stayed with me for a very long time in my life," he said. "I needed to be able to get to a place in my life where I wasn't bound by the secrecy of it, because the secrecy of it didn't allow me to really unpack those things and heal from them."
Chanchez is hoping to take on a new role soon. In February 2022, Deadline reported that Chanchez would co-star in "Remember," a dramedy created by actor Bernard David Jones, which features five best friends navigating "queer love, rocky careers, and the ups and downs of friendship."
In the meantime, he and fans of "The Game" are hoping the show is picked up for a third season on Paramount+. Chanchez and his team still have a whole lotta game left to play.
Popular in the Community