Although many travelers swear by short-term rentals due to their space, privacy and price options, these types of accommodations have also gotten bad press, thanks to reports of fraudsters using fake listings to swindle families out of their hard-earned vacation dollars.
Last summer, New York Attorney General Letitia James and Florida Attorney General Ashley Moody both issued warnings to travelers about vacation rental fraud and urged would-be-renters to stay vigilant as they assess listings.
"Vacation rental scams can happen on any online platform," travel blogger Rocky Trifari told HuffPost. "Scammers are constantly testing new methods of deception with hopes of luring in unsuspecting victims."
Of course, the vast majority of vacation renters experience straightforward and scam-free trips. But it's always best to go into booking travel with your critical-thinking cap on.
To help would-be guests, HuffPost asked travel experts to break down the common indicators of a potential vacation rental scam. They also offered advice for avoiding fake listings and dealing with the aftermath if you fall victim.
The listing seems too good to be true.
"First and foremost, if a listing seems too good to be true, then it most probably is," said Aiden Joseph, senior editor at The Broke Backpacker.
As you search for vacation accommodations, you can quickly get a sense of the standard pricing for different areas. Take note of listings that seem like an impossibly good value for the location or that offer luxury features not in line with the cost.
"Whether it is the general price or the facilities on offer, I would highly recommend checking reviews for the property and host to truly grasp whether this deal is genuine," said Blake Walsh, a travel expert at Travel Lens. "Trust your gut!"
The host pushes for external communication.
"There are a few signs to look out for when booking a vacation rental, one of the main ones being the host pushing for external communication," Walsh said. "It is important to keep all communications on the booking site to ensure the best security and safety for your details and information."
A host might offer to share their phone number or a WhatsApp link just before or after you arrive at the property for ease of communication. But if they insist on talking solely outside the booking platform from the beginning, that's a red flag.
They request direct payment.
Just as you should be wary of requests for external communication, you should not agree to send direct payments outside the booking platform.
"A lot of times, scammers will ask guests to pay them directly for the trip via Venmo, PayPal, Zelle, a wire or a bank transfer, so it's important to book straight through the listing's owner, such as Evolve, Airbnb or Vrbo, using a secure method," said Mike Keenan, general counsel at the vacation rental company Evolve. "Scammers will offer a variety of reasons for why they need to be paid directly, so we recommend travelers always stay vigilant and only book and pay through established platforms."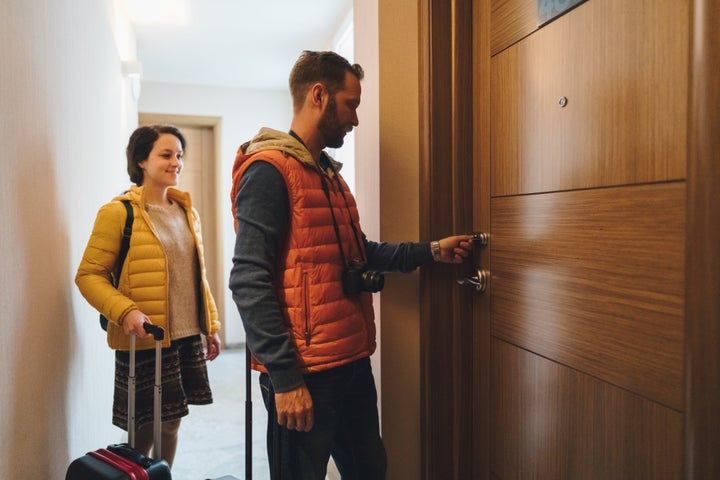 Remember that trusted booking platforms offer security and other protections that can't help you if you pay a host independently, so don't allow yourself to be swayed.
"The host may offer the customer a lower price if they agree to leave the platform, they may craftily sneak a link that takes the customer away from the platform, or they may alternatively ask the money by bank transfer or especially a pay app such as Zelle," Joseph said.
The reviews are questionable.
"By booking through a reputable platform, the traveler has the opportunity to look at ratings on this property which come from other guests that have stayed there," said Pamela Knudsen, senior director of compliance services at Avalara MyLodgeTax. "Also, look at other review sites like TripAdvisor and Yelp."
If a rental property has no reviews, that could indicate it's best to steer clear. But it may also simply mean it's a new listing, so your best bet is to examine the host's profile and their other properties to see the reviews.
Even if you see multiple reviews and they all seem positive, you should keep looking critically as you read through them.
"To protect themselves, vacationers should look for rentals with a lot of reviews and then actually read those reviews and check the dates to get a feel for whether they seem legit," Joseph said. "If a lot of reviews were written in short succession or if they all use a lot of the same language, then that's a huge red flag."
There's added pressure to book.
It's one thing for a potential host to let you know about high demand, but if they seem to be constantly pestering you to book quickly, that could be a sign of a scam as well.
"High-pressure sales tactics should always be your number one red flag," Trifari said. "If somebody is putting a lot of intense pressure on you to get you to pay for something quickly or to sign a lease agreement before you feel prepared to, you should always stop, take a step back, and ask yourself why."
A Google search shows discrepancies.
"It's not uncommon for vacation rental owners to list on multiple marketplaces, which is why we recommend searching for a listing on multiple platforms to make sure it's consistent on each one," Keenan said.
Make sure the details like location and amenities are the same on every platform where the property is listed. Conduct a reverse image search for the photos in the listing to make sure they're not stock images or otherwise misrepresentative.
"You can also always reach out to the booking platform to inquire about the property and confirm it's legitimate," Keenan added. "You can even Google-search the property address to make sure the street view is the same as the listing."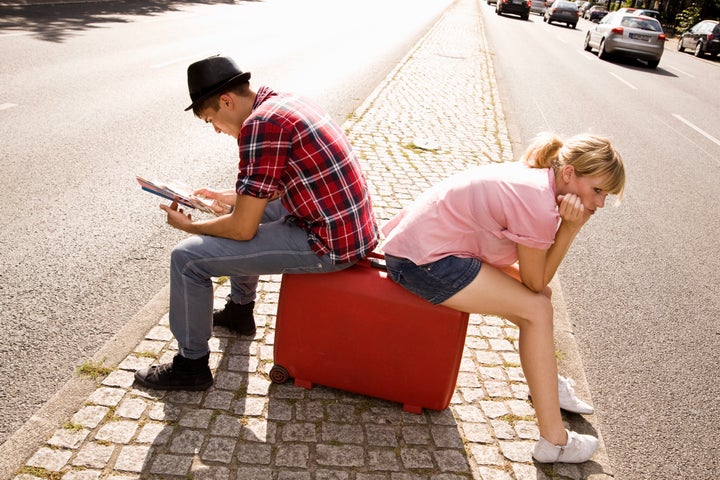 Questions go unanswered leading up to your trip.
"On the lead-up to the trip, I would recommend contacting the host to make sure everything is still in order and to ask any questions you may have about the property," Walsh said.
Ensure you've received a confirmation email and keep up to date with new reviews that get posted on the listing. If you have any concerns, figure out what information might ease your worries and request it.
"If you are working with the supposed property owner directly, ask for a copy of their short-term rental permit and registration," Knudsen advised. "This would ensure they are registered with the local jurisdictions to operate a short-term rental and collect and remit the necessary lodging fees and taxes, which are required everywhere."
Knudsen noted that verifying that your host has the appropriate permitting can minimize the chances you'll fall victim to a scam or receive an unwelcome visit from some authority while vacationing at a rental property.
"These documents are public record, so the property owner should not hesitate to provide this," Knudsen said. "If you want to go the extra step, you can take this information and double-check with the local government agencies."
The links and language are slightly off.
If your workplace conducts trainings to help employees spot phishing attempts and other scams, you've likely learned the importance of reading closely before you click links or respond to emails.
"Look for a heavy presence of typos of odd sentence structures, which are common with scammers," Keenan said.
Aaron Swor, an Airbnb spokesperson, emphasized that you should ensure you're using the verified Airbnb app or website.
What to do if you suspect you're being scammed.
"If you fall victim to any type of vacation rental scam, it's important to report it immediately to the site where you found the listing and local or state authorities to help identify the scammer, seek resolution and prevent it from happening to someone else," Keenan said.
Major rental companies have procedures for dealing with these instances. If you identified the scam before sending any money or sensitive information outside the platform, you should be quickly reimbursed and directed to an alternative listing with a trusted host.
Swor pointed to Airbnb safeguards against scam listings and the site's four major protections for guests, including get-what-you-booked and check-in guarantees.
"In the rare event a guest spots what they believe to be a fake listing on Airbnb, they should flag it to us immediately by contacting our support team or clicking the 'Report Listing' button just below the price breakdown box," Swor explained. "When a guest flags a listing, these are fed directly into our risk model to reevaluate whether a listing should be automatically removed or further reviewed."
"As long as you are booking on Airbnb, communicating on Airbnb and paying on Airbnb, you're covered by our protections and we can help you to avoid malicious third-party travel scams," Swor added.
Vrbo also has measures in place to prevent fraud, and representatives offered tips for travelers to protect themselves when booking vacation rentals, like choosing properties from top hosts and purchasing travel insurance.
"Even though cases of fraud are extremely rare, Vrbo has a Book with Confidence Guarantee that protects travelers that book and pay for a property through the Vrbo app or site," they stated in an email. "This guarantee includes payment protection against fraudulent listings, lodging assistance if travelers are unable to check in, and rebooking assistance if the host cancels at the last minute. "
If you already paid the scammer through an external service, the booking platform likely won't offer reimbursement, so you'll have to involve your bank.
"You might want to reach out to your credit card company to dispute the charges until you can verify," Knudsen said. "If you booked it through a platform, contact the platform with your concerns. While they don't have control over the properties, they are concerned with their reputation, so may have other courses of action that either you can take or they are willing to look into."
Before You Go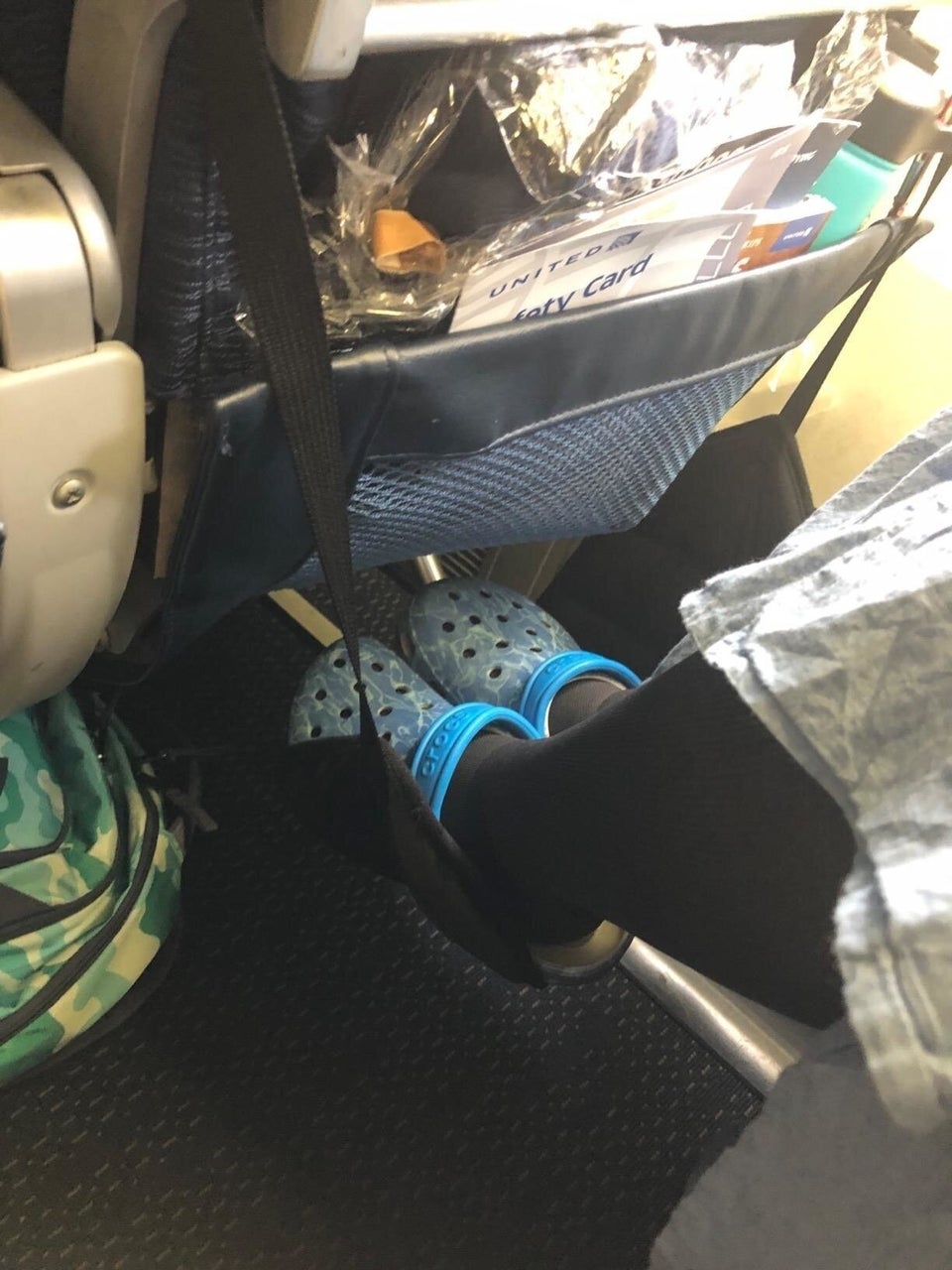 35 Travel Items That Are Worth Purchasing Because Frequent Travelers Swear By Them