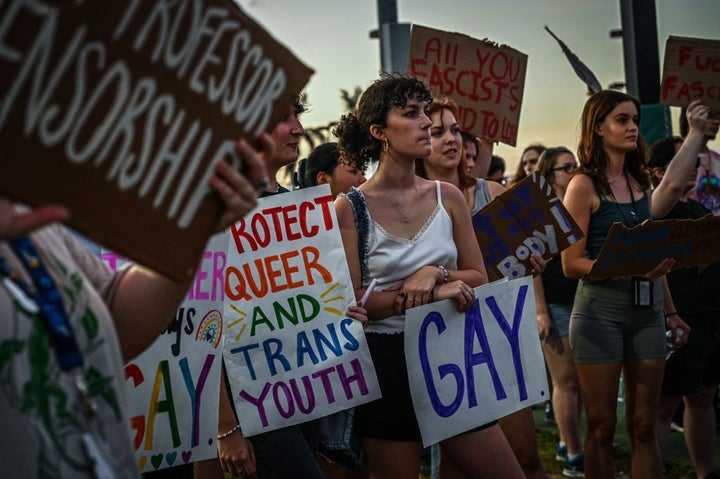 For the first time in its 40-year history, the Human Rights Campaign, the country's largest LGBTQ+ advocacy group, has declared a state of emergency for the queer and trans community after this year's wave of discriminatory legislation.
"LGBTQ+ Americans are living in a state of emergency. The multiplying threats facing millions in our community are not just perceived — they are real, tangible and dangerous," Kelley Robinson, the group's CEO, said in a statement.
"In many cases they are resulting in violence against LGBTQ+ people, forcing families to uproot their lives and flee their homes in search of safer states, and triggering a tidal wave of increased homophobia and transphobia that puts the safety of each and every one of us at risk."
HRC also released a report on Tuesday that details the real-life impact of the more than 500 anti-LGBTQ+ bills that have been introduced across state legislatures this year. Nearly half of the bills targeted transgender people.
More than 75 anti-LGBTQ+ bills were signed into law this year alone. This legislation has already made everyday life difficult for LGBTQ+ people as Republican-controlled legislatures have banned trans athletes from participating in sports, restricted access to gender-affirming care for trans youth and some adults, and banned the discussion of gender and sexuality in classrooms.
HRC estimates that 31% of transgender youth ages 13-17 currently live in states where they can no longer access gender-affirming care, and approximately 243,000 transgender people ages 13 and up live in states where they face significant barriers to using bathrooms and other public facilities that align with their gender identity.
Last week, Texas became the largest state in the country to bar trans youth from accessing gender-affirming care like puberty blockers and hormone replacement therapy, which has been deemed medically necessary by most major medical associations.
In May, days before announcing his presidential campaign, Florida Gov. Ron DeSantis (R) signed into law a slew of bills aimed at targeting trans youth and adults on state insurance from accessing gender-affirming care, as well as an anti-trans bathroom ban that carries criminal penalties. (On Tuesday, a federal judge issued a preliminary injunction against the state's ban on gender-affirming care.)
In response to DeSantis' conservative crackdown, HRC issued a travel notice for Florida. The NAACP and Equality Florida also issued advisories for Black people, people of color and queer and trans visitors to the Sunshine State.
HRC says in the report that this tide of anti-LGBTQ+ legislation is not a fluke. The language used in these bills is often copy-pasted from bills drafted and funded by far-right organizations like the Alliance Defending Freedom and the Heritage Foundation.
The report also examines how the country arrived at this moment, arguing that anti-LGBTQ+ Republican officials "subverted the democratic process" in myriad ways to push through discriminatory legislation, pointing to the censure and removal of trans legislators like Oklahoma state Rep. Mauree Turner and Montana state Rep. Zooey Zephyr, who spoke out against anti-trans bills earlier this year.
The group also published a guidebook that lays out resources and best practices for people who live in states that have anti-LGBTQ+ policies and key factors for individuals and families to consider when relocating to more queer- and trans-friendly states.
Though HRC warns about the rise in anti-LGBTQ+ legislation and violence, the group insists that, overwhelmingly, American voters oppose restrictions on access to health care and support LGBTQ+ rights.
"It's also incumbent on our allies across the country to stand with us and make it clear that they won't sit idly by while extremists attack and malign LGBTQ+ people and our families. We'll fight tooth and nail to ensure the safety and dignity of every LGBTQ+ person is respected and protected — without exception," Robinson said.
Popular in the Community