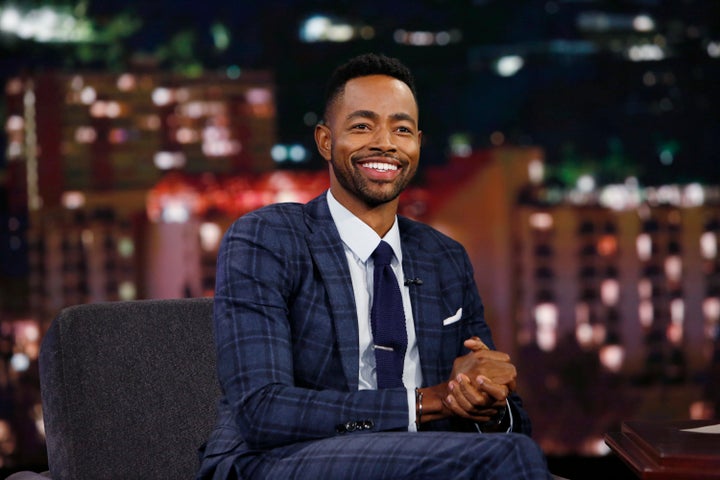 Hate him or love him, Lawrence from "Insecure" isn't like too many other black male characters on screen today.
Since breaking up with Issa, Lawrence has had a journey of ups and downs in season two of the HBO show. So far, he's had sex with his ex, been called a "f**k n***a who thinks he's a good dude" by his rebound fling, moved out of his friend's living room into his own place, been fetishized by two non-black women he had just met, Facebook-stalked his ex and experienced racial passive-aggression at work. Overall, he's been slowly descending from the pedestal his fan club (the Lawrence Hive) placed him on after the explosive ending of season one. Lawrence is a hurt mess.
Jay Ellis, the actor who plays Lawrence, appreciates this about his "thought-provoking and messy" character. On the red carpet for Black Girls Rock! 2017, Ellis told HuffPost that Lawrence is important, especially for black men, because his flaws and hiccups aren't commonly seen in black men on television, if ever.
"I think back to when I first read the script and one of the things that popped into my head was like I had never seen a black dude like this on TV," he said. "I love the 'Fresh Prince of Bel-Air,' I love everybody, I loved every single person in the Cosby house, I loved every single person who went to Hillman. But I never felt like I saw a 25-year-old, 28-year-old version of me who was messy, who was trying to figure it out, who was, 'Am I gonna be able to pay this rent next month ... Am I still in love? Am I not in love? Am I using my words?' Like those are things I can relate to and so many of my friends can relate to and this was the first time I ever got to see that person on TV."
Ellis said that though the #LawrenceHive's base are men, he thinks there's a little Lawrence in everybody. He added that like Issa, Lawrence is "lost."
"I think they're both hurt and they're both in pain and they don't know how to deal with it and that is a human quality," he said. "That's a thing that all of us have dealt with as humans regardless of age, race, shape, size, we've all dealt with that and to see two black people deal with it is a first on television."
Ellis also sang the praises of Issa Rae, whom he presented with an award at Black Girls Rock!, for creating a show that depicts the real-life complexities of black women.
"There is a strength, there is a power, there is a resilience, there is a kindness, there is a sensuality, there are so many things [in black women] that I think are so overlooked a lot of times," he said, adding how much Rae's show has touched others.
"Insecure," which follows black millennials who are awkwardly navigating life, love and work, has received much critical acclaim for telling real-life black stories since it premiered last year. In a 2016 interview, Rae told HuffPost that it was important for her to show black people living everyday life without it being hyper-politicized.
"Black people don't really get a chance to just be regular and boring and go through everyday things and this is very much a slice of life show," she said. "We're reclaiming our narrative in a way that we haven't done in a long time collectively and it's just such an exciting time to be a part of this."
Popular in the Community