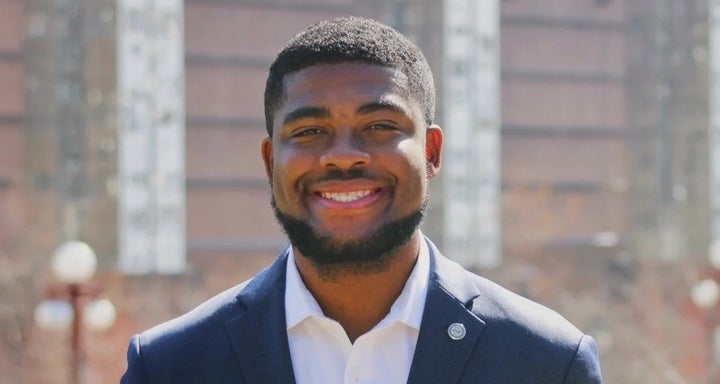 When Isaiah Martin, a 25-year-old Houston Democrat, launched his campaign earlier this month to become the "next Gen Z member of the United States Congress," there was one thing he needed: a clearly defined position on Israel.
Martin said on his campaign website that he would support a broadly worded, pro-Israel resolution — the last of 26 bills he promised to back in Congress. Progressive Rep. Ilhan Omar (D-Minn.), a critic of Israeli policies, joined ardent Israel allies in co-sponsoring the resolution, H.Res.92, in February in a failed effort to preserve Omar's seat on the House Foreign Affairs Committee.
Left-wing critics jumped on Martin for bothering to outline his stance on the resolution while being comparatively quiet on climate change, arguing Martin does not speak for the progressive values of Generation Z. Martin responded by taking down the "issues" page of his website.
Martin's campaign did not respond to a request for comment. And the kerfuffle did not stop him from raising more than $230,000 in the first week of his campaign. It did, however, highlight how more conservative pro-Israel groups' aggressive spending against progressive candidates in the 2022 election cycle, has made Israel an issue of paramount importance for Democratic candidates and activists, even if it is rarely a top issue for voters.
U.S.-Israel policy, and making a candidate's stance on it clear, now occupies a lot of headspace for campaigns embarking on contested Democratic primaries. Candidates must prove their pro-Israel bona fides — or lack thereof — in a policy position paper, usually at least two pages, that has quietly become a rite of passage for candidates for the U.S. House or Senate from both major parties.
While many interest groups assess candidates based on their answers to detailed questionnaires, only pro-Israel groups demand a single-issue policy paper and often play a hands-on role in its drafting, according to a number of seasoned political operatives.
"The Israel lobby's very organized. And unlike other lobbies, they're very strategic, and often get these folks on the record really early in their careers," said a former manager of several mainstream Democratic congressional candidates' campaigns who requested anonymity for professional reasons. "People wouldn't be talking about Israel much if there wasn't a real political consequence for not doing so."
In the current political environment though, Republican candidates virtually all espouse hardline pro-Israel views.
But as the blowback Martin faced shows, there is a real debate over U.S.-Israel policy on the Democratic side. That has in turn increased the significance of the policy paper as a tool that groups on rival sides of the Israel policy divide use to assess a candidate.
"On the plus side, it pins people down. It confirms that they will agree to certain things."
"On the plus side, it pins people down. It confirms that they will agree to certain things," said Adam Loewy, an Austin, Texas, personal injury lawyer and longtime activist with the American Israel Public Affairs Committee, or AIPAC. "I guess you could say it's part of AIPAC's success."
With President Joe Biden and the Democratic establishment moving closer to the activist left on a host of domestic policy issues, the nature of U.S. policy toward Israel and its military occupation of some 5 million Palestinians has become a key source of tension between the hardcore left and the Democratic mainstream. Increasingly, candidates that style themselves "progressive," come under some form of pressure from a vocal minority of activists to take a more critical approach to the Israeli government, perhaps by embracing calls to impose stricter conditions on the U.S.' annual military aid to the Jewish state.
Meanwhile, the deep-pocketed pro-Israel groups that brook no dissent from the bipartisan, pro-Israel consensus have spent millions of dollars pushing back on Israel critics' electoral gains. Progressive candidates who hope to avoid the onslaught of a pro-Israel super PAC — or even win their support — have begun toning down their policy positions and rhetoric, accordingly.
AIPAC, the largest and most influential pro-Israel group in the country, begins its outreach process early on in a candidate's campaign. If a candidate jumps into a race, a representative from AIPAC's nearest regional office typically contacts the candidate to request an in-person meeting.
AIPAC then asks candidates to draft a policy paper that outlines their views on the U.S.-Israel relationship. Candidates receive copies of papers written by past candidates aligned with AIPAC as models to emulate, and are encouraged to share their personal experiences with Israel as part of their articulation of their pro-Israel views. Congressional hopefuls are also expected to discuss their support for U.S. aid to Israel, especially the Iron Dome technology that Israel uses to defend its civilians against rocket attacks by Palestinian militants, without additional conditions.
AIPAC did not respond to a request for comment on its exact criteria for an endorsement.
Democratic Majority for Israel, or DMFI, a newer group formed in 2019 specifically to arrest the growing strength of the deeply Israel-critical left within the Democratic camp, shared its specific endorsement criteria with HuffPost.
For a Democrat to receive DMFI's blessing, they must express a general appreciation of the importance of the U.S.-Israel relationship and a desire to broaden that relationship as an elected official; support for the current package of U.S. military aid without additional conditions; opposition to the Boycott, Divestment and Sanctions (BDS) movement against Israel; support for Israel's right to defend itself against security threats; and a conviction that Iran is an existential threat to Israel and cannot be allowed to have nuclear weapons. DMFI-approved candidates must also back a two-state solution to be negotiated between Israel and Palestinian representatives "without preconditions" and support the Abraham Accords ― treaties negotiated by the Trump administration between Israel and a host of Arab nations.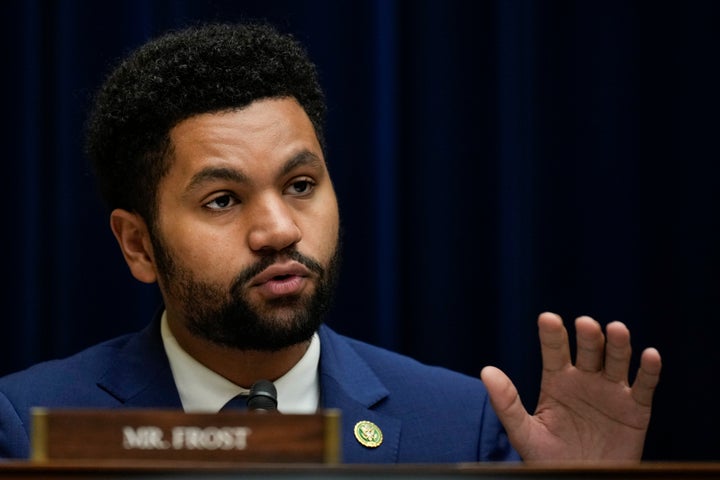 If Martin is seeking a template for at least avoiding the wrath of the less liberal parts of the Israel lobby, he might look to the first Gen Z member of Congress, Rep. Maxwell Alejandro Frost (D-Fla.). As a candidate in 2022, DMFI told HuffPost that Frost consulted the group about how best to write his pro-Israel policy paper.
Frost's campaign said only that he consulted a variety of groups on both sides of the issue. HuffPost separately confirmed that J Street, a more progressive alternative to AIPAC and DMFI, was one of them.
In his four-page paper, Frost condemned Israeli settlement expansion in the West Bank and any potential annexation of those lands, as well as the displacement of Palestinians from their homes through eviction and home demolition.
But Frost also listed threats to Israel's security, such as the militant Islamist group Hamas' commitment to eradicating Israel and gaining control inside Gaza, as a reason not to add more conditions to U.S. aid ― one of DMFI's key demands.
DMFI endorsed Frost's opponent Randolph Bracy and contributed $2,000 to Bracy's campaign but did not activate its super PAC to spend money in the race. Given DMFI's history of using million-dollar ad blitzes to defeat candidates hostile to its agenda, its insignificant spending in the race is its own blessing for an aspiring Democrat.
Martin, who is hoping to succeed Rep. Sheila Jackson Lee (D) in Texas' 18th Congressional District, has already indicated that he is sympathetic to DMFI's worldview. "Iran sponsors terror worldwide," Martin wrote in a quote-post of DMFI on social media. "In Congress I'll continue this critical work to curb the influence of Iranian terrorism."
This election cycle, Martin is already one of many Democratic candidates scrambling to curry favor with pro-Israel groups. HuffPost obtained a paper submitted to AIPAC by Texas state Rep. Julie Johnson, a Dallas-area Democrat running to succeed U.S. Rep. Colin Allred (D), who is running for Senate.
In her two-page paper, Johnson fondly recalled a trip to Israel with the Dallas Symphony in which she met with Israeli Prime Minister Benjamin Netanyahu. She expressed a general belief that the "U.S. can and should help bridge the deep divides between the Israeli and the Palestinian people, ensuring the fulfillment of both nations' rights to sovereignty and security in a two-state solution."
But Johnson also made clear that the United States' role as a broker between the two peoples should not include additional conditions on U.S. aid. "I trust our Israeli partners," she declared.
Efforts to shape candidates' U.S.-Israel policies are not limited to the more conservative part of the spectrum.
J Street, a more progressive organization that identifies as the "political home for pro-Israel, pro-peace, pro-democracy Americans," has responded to the position paper phenomenon by seeking to influence the process in its own way.
And what the group demands of its allies is no less specific than AIPAC. To receive the group's endorsement, candidates must draft a position paper that backs U.S. aid to Israel, but also expresses support for: humanitarian aid for Palestinians; a two-state solution, including by condemning "incitement" and the expansion of settlements on occupied Palestinian lands; a diplomatic approach to preventing Iran from getting nuclear weapons; and a "pluralistic, non-discriminatory democracy and the rule of law in the United States and Israel."
One criterion that J Street shares with DMFI is its insistence that candidates it supports oppose BDS, even if J Street candidates may not articulate it with the same level of gravity as AIPAC allies. In fact, J Street and AIPAC endorsed 48 of the same Democratic candidates in the 2022 election cycle. (J Street has rarely endorsed Republicans.)
"AIPAC's thing is: 'If you're with us, we want you to have all of our support. And if you're not with us, we want to know how not with us you are.'"
The gulf between the groups is perhaps greatest on the question of conditioning U.S. aid to Israel, which a growing number of progressives see as an essential source of potential leverage over what is now the most right-wing government in Israeli history. These progressives warn that absent real consequences for Israeli policies that they believe endanger a two-state solution, U.S. support for that solution is little more than a formality.
While J Street does not actively push candidates to embrace stricter conditions on U.S. aid to Israel or restrictions on its use, it has supported such plans and the candidates who are leading drivers of them. For example, J Street has endorsed a bill sponsored by Rep. Betty McCollum (D-Minn.), which would bar U.S. aid to Israel from being used to, among other things, subject Palestinian children to military detention. J Street's PAC has also endorsed McCollum's reelection bid.
By contrast, the Working Families Party, a multi-issue left-wing organization, not only supports McCollum's bill, but also asks prospective endorsees about their position on it in its candidate questionnaire.
The WFP does not make an endorsement contingent upon an affirmative answer to the question any more than it does other individual questions in the questionnaire, the group told HuffPost. Candidates are instead assessed on the totality of their views, values and, where applicable, record.
For the congressional candidates that have undergone the Israel policy paper gauntlet, completing the paper is only the beginning of one's relationship with pro-Israel groups. Even when it becomes clear to AIPAC that a candidate is more aligned with J Street, or vice versa, the groups will maintain open lines of communication with all candidates.
"AIPAC's thing is: 'If you're with us, we want you to have all of our support. And if you're not with us, we want to know how not with us you are,'" said a senior campaign operative who has worked for progressive Democrats that did not win AIPAC's stamp of approval.
A completed position paper is usually not available to the wider public. Instead, Israel policy activists on either side of the debate will circulate it among donors and groups capable of spending millions of dollars in a Democratic primary, which then decide how to proceed in the race. The paper also serves as a kind of insurance policy for pro-Israel groups hoping to hold candidates to account once in office.
Then, it often comes time for congressional candidates to conduct an interview with Jewish Insider, a relatively new, pro-Israel outlet that has become the go-to platform for candidates to communicate with donors, activists and voters that care about U.S.-Israel policy.
"We're proud of our track record of interviewing hundreds of politicians — both candidates and elected officials — each year so that our readers can be better informed about where these politicians stand across a range of domestic and foreign policy issues," Josh Kraushaar, editor-in-chief of Jewish Insider, said in a statement. "We seek to interview and introduce these candidates and their views to our readers and we welcome any and all viable campaigns for federal office to reach out to our team to be interviewed."
Jewish Insider is where left-wing Florida congressional candidate Omari Hardy came out in support of BDS. But it's also where Sen. John Fetterman (D-Pa.), then a progressive primary candidate, promised in April 2022 to "lean in" to deepening the U.S.-Israel relationship.
Asked to reconcile his staunch support for Israel with his ties to the activist left, Fetterman told Jewish Insider: "I'm not really a progressive in that sense."
Support HuffPost
The Stakes Have Never Been Higher
Popular in the Community