While she provided only vague descriptions of the man, Simpson wrote that he made "millions and millions per film" and that they met at the 2001 MTV Video Music Awards. Simpson said she "grew up thinking" about the actor — who was "undressing me with his eyes."
She "wasn't ready" for things to escalate, despite Simpson and 98 Degrees singer Nick Lachey, her then-boyfriend and eventual husband, being in the midst of a break at the time. Simpson writes that she didn't even call the A-lister back after she ran into him at a gym shortly after the VMAs. Their first kiss only happened after she and Lachey finalized their divorce in 2006.
"I felt this warm rush all the way down my body to the tips of my toes in my wedges," Simpson wrote.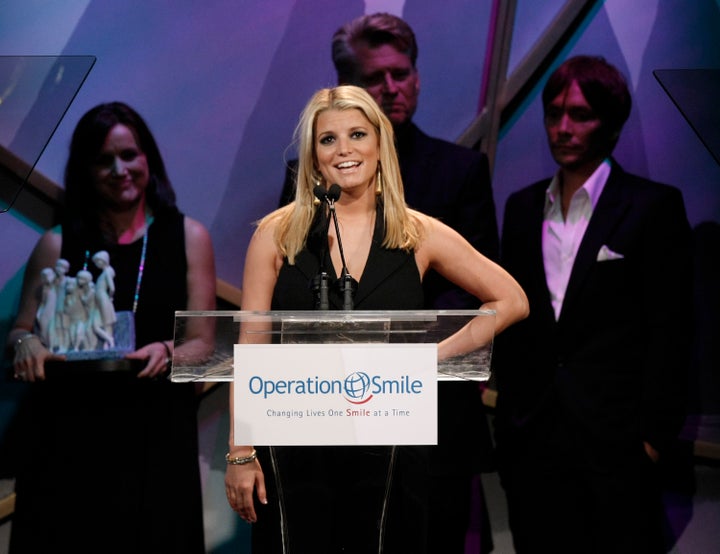 Simpson said the actor assured her that his relationship was "completely over" before he went for the kiss ― but she later came across red-carpet photos of him and his girlfriend. The affair briefly continued, but Simpson said she felt as though the actor was trying to "hide" her.
"The truth is I was scared to death and I wanted to leave," she wrote. "I still thought I was a total babe, but I was just not going to sleep with him. Yes, there was something sexy and enticing about all this, but there was also something demeaning about it. I felt like a call girl."
Simpson said she "didn't care if he was my teenage fantasy come to life" because the entanglement was not something her younger self "would be proud of." She vowed that she "was never in a million years going to be the other woman," and eventually called things off.
"I think the secret to a beautiful, loving marriage is just making out!" Simpson told People in 2020. "Don't forget to kiss. It's more intimate sometimes for a lot of people and if you forget that, you forget why you fell in love in the first place. It always begins with a kiss."
Support HuffPost
The Stakes Have Never Been Higher
Popular in the Community