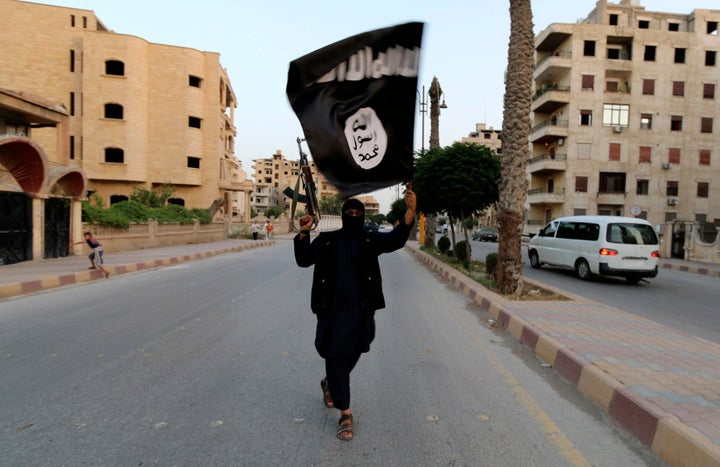 WASHINGTON — Faced with the prospect of having to defend its decision to imprison a U.S. citizen accused of fighting for ISIS, the Trump administration has settled on a different strategy: just letting the alleged terrorist go.
The U.S. has held the man, whose identity has not been revealed, without charge or trial since September, when a U.S.-allied Syrian militia group captured him and turned him over to American military forces. The next month, the American Civil Liberties Union filed a habeas petition on his behalf, asking a federal judge to give its lawyers access to the detainee — and arguing that the government had no legal basis for incarcerating him.
Since then, the Trump administration has moved to pre-empt a fight over whether it has a legal basis for holding the man by trying to release him, which would render the debate moot. FBI agents were unable to gather enough evidence to bring charges against him, so U.S. officials first considered sending him to Saudi Arabia, where he also holds citizenship, according to a December New York Times report. But the ACLU argued that transferring him to Saudi Arabia, a country with poor due process protections, would prevent him from exercising his right to challenge the legality of his detention. The judge sided with the ACLU, and an appeals court upheld the decision.
That process took months. On June 20, the ACLU and the Trump administration were supposed to meet in court and debate whether the U.S. government is lawfully detaining the man.
In a hastily scheduled hearing on Friday, ACLU lawyer Jonathan Hafetz asked Judge Tanya S. Chutkan of the Federal District Court of the District of Columbia to block the move. "What the government is offering our client is no release — it's a death warrant," Hafetz said in a statement.
Friday's hearing focused on whether dropping off an accused ISIS fighter in Syria would put the person in danger. Hafetz repeatedly referred to a State Department travel advisory that states that "no part of Syria is safe from violence" and directs U.S. citizens to draft a will if they decide to travel there. The unnamed detainee would be at even greater risk than most other Americans because he has no identification paperwork and the U.S. government has publicly accused him of fighting with ISIS, Hafetz said. The ACLU also says its client was beaten by members of the Syrian Democratic Forces before the group turned him over to the U.S.
Justice Department lawyer James Burnham insisted that the Defense Department has found a location in Syria that would be safe. He disputed that the SDF — a group the U.S. military has worked with closely in the fight against ISIS — mistreated the detainee.
By Friday it was clear that what started as a court case over whether the U.S. government had the legal authority to detain an American man suspected of fighting for ISIS had devolved into an argument over what obligations the U.S. has to ensure his safety upon release.
Chutkan said she needed more information before deciding whether to allow the administration to send the detainee to Syria. So on June 20, instead of arguing about the legality of imprisoning him, the two parties will argue about how dangerous it would be for him to be dropped off in Syria.
The U.S. has claimed for years that it is legally allowed to fight ISIS because of a 2001 Authorization for Use of Military Force (AUMF) against the groups that planned and carried out the Sept. 11 attacks. Even though that law was passed years before ISIS existed, Obama administration lawyers argued that the group is an offshoot of al-Qaeda and therefore covered by the 2001 authorization. Under this logic, suspected ISIS fighters can be held without charge as enemy combatants during hostilities.
Congress has refused to even debate a new AUMF applying specifically to ISIS. So the Trump administration has continued to rely on the 2001 legislation to justify bombing — and now detaining — alleged ISIS fighters.
But that legal argument is shaky and has yet to be tested in court. The administration seems eager to avoid litigating this issue, especially concerning this detainee, who has protections as a U.S. citizen and does not appear to be a high-level fighter.
"My view is that the government would win on the AUMF argument — but there's a lot at stake, and they don't want to roll the dice," said Robert Chesney, a former Justice Department official who has written extensively about this case. "That's why they're trying to part ways with this guy."
Popular in the Community