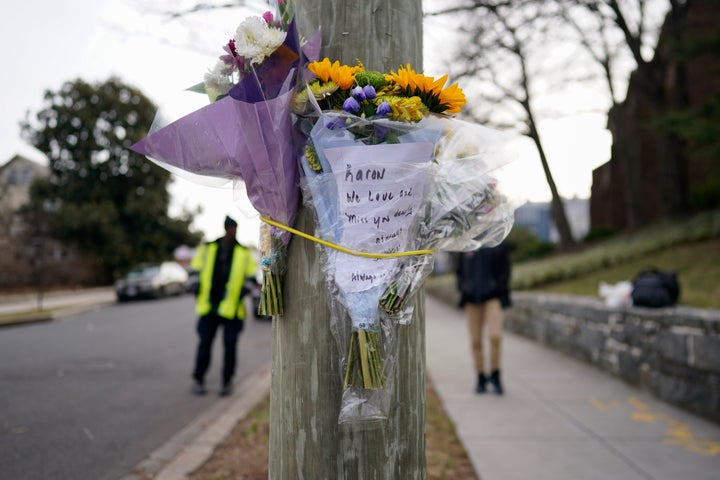 Residents of a Washington, D.C., neighborhood are outraged following the shooting death of a 13-year-old boy. Karon Blake was killed by an armed homeowner who accused the teen of breaking into nearby cars. Police have disclosed few details about the interaction — and have not asserted that the Black teenager was armed — nor have they made any arrests.
The man, who police have identified as a government employee, though not a member of law enforcement, approached Karon with a firearm after he said he saw the youth and other unidentified people "tampering" with cars in the neighborhood. Police said the man went to "further investigate," and there was an "interaction" between Karon and the man.
Much is unclear from the shooting, including the shooter's name, the title of his government job, and why he felt that deadly force was necessary on a barely teenage boy.
Karon's killing became a harsh reminder of the violence facing Black youth in America's biggest cities. Last year, 105 children were shot in Washington, D.C. A total of 18 teenagers were fatally shot. The city saw more youth killed last year than the previous year, and 2023 is already on pace to exceed that mark.
Local activists are also outraged at police inaction.
"We are appalled by the way the Metropolitan Police Department and Bowser Administration has handled this killing, and the narrative that property and material values are just as or more valuable than Karon's life," Black Swan Academy, a D.C.-based group focusing on empowering and engaging with Black youth, said in a statement.
"The violent act that Karon's killer took is vigilante behavior. It is simply another form of gun violence that youth across the city have continued to fight against. It is the same type of behavior that led to the death of Black people like Trayvon Martin, Ahmaud Arbery and Jordan Davis."
The Black Swan Academy added that Karon's shooter had no right to take the law into his own hands.
"Black children deserve to live," the local non-profit group's statement continued. "They deserve to make mistakes and learn from them."
Karon was a 6th grader who was a fan of football and fashion at an early age. He attended Brookland Middle School, where Principal Kerry Richardson described him as a "quiet and inquisitive scholar."
The school told D.C. affiliate NBC4 they would offer mental health services to students in light of the shooting.
Christina Henderson, a D.C. city councilmember-at-large, said she would follow up with the city's public school system and the department of behavioral services to make sure the school has the capacity to provide healing to the children.
"Property is not greater than life. Karon should be alive today. I'm checking in with DCPS and the Dept. of Behavioral Health to make sure the Brookland MS community has the appropriate support in the days and months ahead," Henderson tweeted.
During a rally for Karon, his grandfather, Sean Long demanded justice for his family at the local Turkey Thicket recreation center. Protests and demonstrations followed. D.C. residents, in outrage, protested near the home of Karon's alleged shooter.
Several other councilmembers, such as Councilwoman Janeese Lewis George (Ward 4) and Councilman Zachary Parker (Ward 5), joined forces to aggressively demand immediate transparency from police and the city's mayor.
Just days before Karon was fatally shot, five children were killed in the city in a span of 48 hours — including a 17-year-old gunned down outside a metro station on Jan. 2, marking the city's first homicide of the year.
In Washington, D.C., laws around protecting property do not specifically justify using deadly force against a person. The city's laws also point out that an individual only has the right to claim self-defense if the person has reasonable grounds to believe they are in "imminent danger" of bodily harm. However, D.C. police never explained the interaction between Karon and the government employee.
Police did release information detailing the homeowner's perspective of the incident. But much was left vague regarding the critical moment when Karon and the adult government employee came in contact with each other.
D.C. criminal jury instructions say people should take "reasonable steps," including stepping back or walking away to avoid the possibility of taking "human life." But a person does not have to walk away if they believe their life is in danger or will be seriously harmed.
Police never indicated the shooter was afraid for his life — only that Karon was shot in the early morning with other youth nearby.
The lack of transparency from city police and officials has concerned legal and criminal justice experts.
"Stepping back, it appears that the individual who killed Karon Blake is getting the benefit of the doubt in a way that in my experience, working in D.C.'s legal system, other folks do not get," Eduardo Ferrer, policy director of the Georgetown Juvenile Justice Initiative at Georgetown University, told HuffPost.
"In the District of Columbia, you are not allowed to use deadly force to protect personal property because we value lives over things, over stuff. And that has to be true for Black children, as much as it is true for everyone else," Ferrer said. "People should not be using lethal force in order to kill Black children they suspect might be involved in property crime."
Support HuffPost
The Stakes Have Never Been Higher
Popular in the Community