Katherine Heigl is opening up about being comfortable as the "villain" following comments in multiple interviews in the early 2000s that led to her being labeled "difficult."
Heigl gained notoriety for famously speaking out against her role in "Knocked Up," and for pulling her name from consideration from the Emmys and rallying against tough working conditions during her time on "Grey's."
"I got on my soapbox and I had some things to say, and I felt really passionate about this stuff. I felt really strongly," Heigl told Pompeo. "I felt so strongly that I also got a megaphone out on my soapbox. There was no part of me that imagined a bad reaction. I felt really justified in how I felt about it and where I was coming from."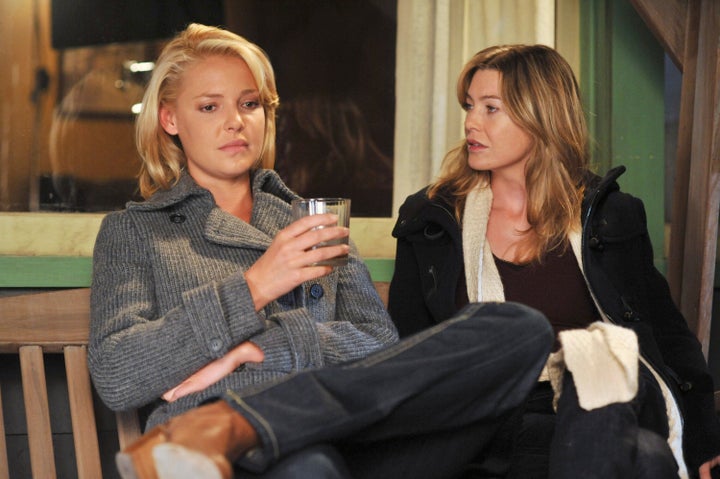 Heigl, who said she has spent most of her years in "people-pleasing mode," said she found it "really disconcerting when you feel like you have really displeased everybody."
"It was not my intention to do so, but I had some things to say, and I didn't think I was going to get such a strong reaction," she added. "I was in my late 20s."
Heigl said her success on the hit ABC show gave her a "false sense of confidence" to speak out.
"So then I started getting real mouthy, because I did have a lot to say, and there were certain boundaries and things that I was not OK with being crossed," she explained. "I didn't know how to fight that."
After questioning the reactions and labels she was faced with after speaking out about certain projects and roles, Heigl realized that only a few people's opinions truly mattered to her, and that she needed to tune out the other noise.
"That's when I got comfortable with my role as the villain and really enjoyed it." Heigl said, jokingly rubbing her hands together in a villain-like way, as Pompeo giggled.
Heigl has experienced something of a 180 in terms of public opinion over the years, as people have reexamined the backlash she faced at the time for speaking the truth.
"I remember Heigl said something on a talk show about the insane hours we were working, but she was 100% right — and had she said that today she'd be a complete hero, but she was ahead of her time," Pompeo said on her "Tell Me" podcast last August.
"Of course, let's slam a woman and call her ungrateful when the truth is she's 100% honest, and it's absolutely correct what she said," she added.
Support HuffPost
The Stakes Have Never Been Higher
Popular in the Community