House Speaker Kevin McCarthy (R-Calif.) on Thursday randomly mocked President Joe Biden for being old as he appealed to meet with him to discuss raising the debt ceiling.
"I would bring lunch to the White House. I would make it soft food, if that's what he wants," McCarthy, 58, said during a GOP press conference, as Republicans standing next to him laughed at the gratuitous jab. "It doesn't matter. Whatever it takes to meet."
House Majority Leader Steve Scalise (R-La.), 57, and House Majority Whip Tom Emmer (R-Minn.), 62, were among those laughing along with McCarthy.
When HuffPost asked Rep. Cathy McMorris Rodgers (R-Wash.), who was among those speaking at the press conference, what sort of soft food McCarthy might bring to Biden, she laughed uncomfortably. "Oh, you'll have to ask Kevin about that," she said.
A White House spokesperson did not respond to a request for comment.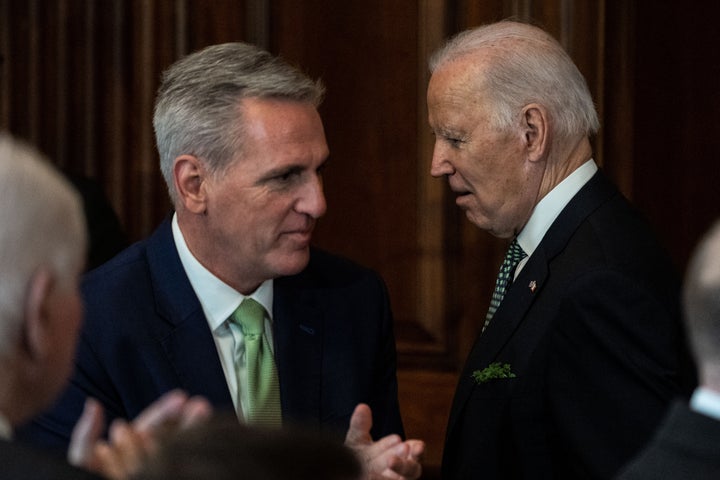 McCarthy took a shot at Biden, who is 80, as he argued that Republicans have been trying to meet with him for months for debt ceiling negotiations. The Treasury Department will exhaust its emergency measures to prevent a debt default between July and September unless Congress votes to raise the ceiling. The House GOP is vowing not to raise it without concessions.
"We have been reasonable, responsible," McCarthy said of Republicans threatening not to raise the debt limit — and potentially crash the economy — without Biden agreeing to their demands for trillions in spending cuts.
The president has said he's happy to host McCarthy to talk about the debt ceiling as soon as McCarthy releases the GOP's budget. The California Republican has not done this.
In a recent interview with the conservative podcast "Ruthless," McCarthy made fun of Biden for offering him cookies when they met privately earlier this year.
"Then he asked me if I wanted a cookie. Oh no, he was very excited. 'I fixed the border,' then at the end, 'Do you want a cookie? I'll get you a cookie,'" he said.
"He was very proud of his cookies," McCarthy added.
He's apparently taken a different tone when the cameras are off, though.
"Privately, Mr. McCarthy has told allies that he has found Mr. Biden to be mentally sharp in meetings," The New York Times reported last week.
Arthur Delaney contributed reporting.
Popular in the Community