Kim Kardashian continued her mission for criminal justice reform during a visit to a Southern California prison on Monday.
The reality star joined members of the Reform Alliance and several other high-profile advocates for a visit to California State Prison, Los Angeles, which houses 2,300 people in Lancaster, California, 90 minutes outside LA.
While there, Reform Alliance said Kardashian "met with incarcerated men in the facility to learn about their stories, hear about the challenges that led them into the criminal justice system and identify ways in which the system can better support safety and rehabilitation."
Following the visit, the star explained how she hoped to "leverage" her platform "to help change lives and laws," saying it is "always an honor to be able to visit the men and women living behind our prison walls."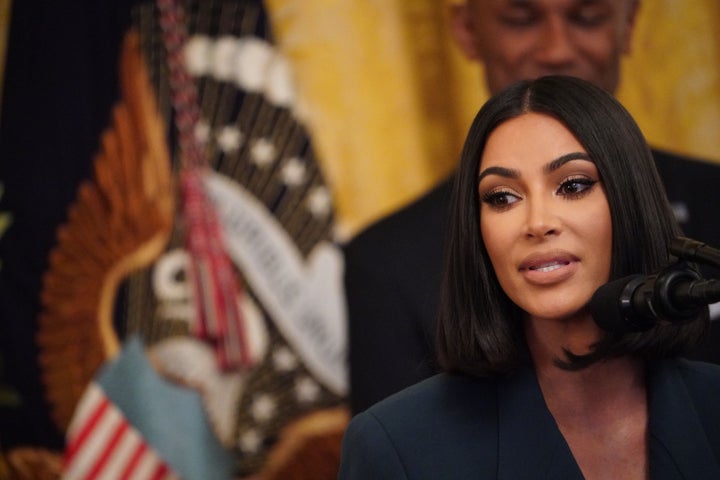 She also celebrated Reform's Future Shapers Advisory Council for Gen-Z activists, calling them the "next generation of leaders and influencers who will join us in this fight."
Along with the council, Kardashian was joined by sister Khloé Kardashian, rapper Lil Baby, influencer Dixie D'Amelio, Fanatics CEO Michael Rubin, California Assembly member Matt Haney, and Reform Alliance execs Jessica Jackson and Erin Haney.
Kardashian's history of advocacy goes as far back as 2018, when she went directly to the White House to ask then-President Donald Trump to vacate low-level drug offender Alice Marie Johnson's life sentence.
She also championed the First Step Act, which, according to the Federal Bureau of Prisons, seeks to improve criminal justice outcomes and reduce the size of the federal prison population while maintaining public safety.
"I never in a million years thought we would get to the point of getting laws passed," the celebrity told Vogue of the bipartisan legislation, which was signed in 2018. "That was really a turning point for me."
Kardashian has been working towards a law degree since 2019, when she started an apprenticeship at a San Francisco law firm.
She passed California's "baby bar" exam in May 2022 after her third try.
While celebrating her accomplishment on Instagram, she paid tribute to her late father Robert Kardashian Sr., who was a member of O.J. Simpson's defense team during his 1994-95 murder trial.
Popular in the Community