LeBron James celebrated his son LeBron James Jr., aka Bronny, after a special night honoring his last season of high school basketball at Sierra Canyon School in the Chatsworth neighborhood of greater Los Angeles, California, earlier this week.
The Los Angeles Lakers star posted on Instagram Thursday a touching note after the 18-year-old's participation in his team's senior night, which celebrates high school senior athletes before their last home game of the season.
"So Damn Proud of the Young Man you've become, @bronny!!" James wrote in the post's caption. "Yesterday we celebrated you for Senior Night! Can't believe how fast time is flying by but at the same time, I haven't taken 1 second for granted being your dad! Love you, kid!"
He continued: "Keep leading, being an example to/for your siblings/ your peers and most importantly, simply just keep being YOU!!!!"
James posted a slideshow of photos from the night that featured him with his wife Savannah James, Bronny and their other two children: Bryce, 15, and Zhuri, 8.
Bronny's siblings can be seen in one photo holding big head cutouts of the high school senior when he was younger. Bryce, a sophomore, plays on the same team as Bronny.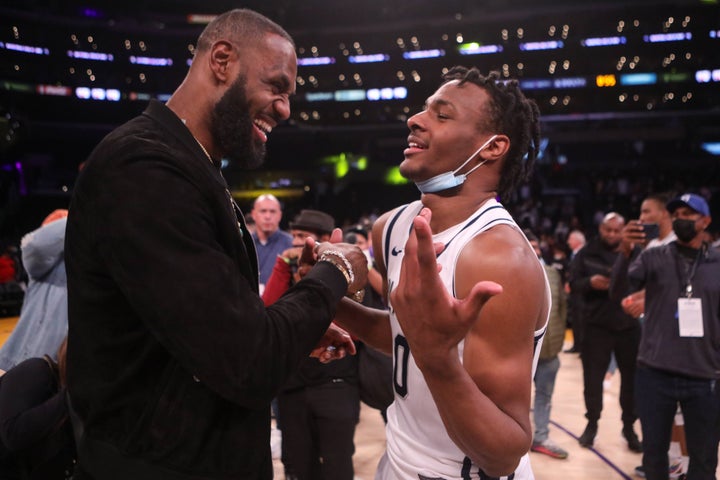 When asked by a Twitter user in May if he still planned to play alongside his son, James replied, "That's the plan! God willing."
Popular in the Community