Hey yo! Have you guys heard that kimchi is the new Tabasco? The new salsa... the new go-to condiment! Yeah, we're basically saying it's going to take over everything you eat. I grew up with the stuff so naturally, I'm biased.
But guys, kimchi is COOL! And it's worth the incredible garlic breath you will wear as a badge of coolness throughout the day and yes your KIDS WILL EAT IT especially if you let them make it!
I have this memory, as a kid, sitting at the dinner table with my family. We were having spaghetti one night and here I am casually twirling some noodles around my fork, when in the corner of my eye, I spot my dad top his fork of spaghetti with a healthy heaping for kimchi. I remember thinking - "EW!!! OMG, that is SO gross!!" Um, how wrong I was! Kimchi and spaghetti?? Um, YES!! But what did I know? I was just a kid.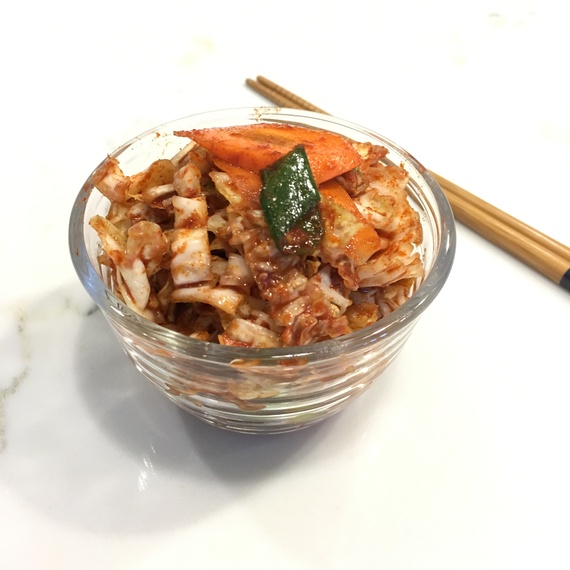 So check it out. This kimchi can be made in about 30 minutes. This is like" I-gotta-have-kimchi-like-right-now" kimchi, because traditional kimchi takes muuuuuch longer to come together and ferment. But in a pinch, this is delish! Try it and top it on everything you would normally top with spice!

*Tip ~ for those of you with kids who would like to dabble in some kimchi, you can try and wash off some of the heat in a little dish of water.
Quick Kimchi

Ingredients:

2 pounds savoy cabbage ~ this is about 1/2 a large head of cabbage (traditionally you use napa cabbage, which might be harder to find in grocery stores)
1/4 cup hot pepper flakes
10 cloves of garlic, minced
3 stalks of green onion, julienned
1 large carrot, julienned
Method: (Note: 1-4 are steps a kid can and should do!)
Slice up the cabbage into thin 2 inch strips and thoroughly wash (you can use a salad spinner here - kids love it!)
Place the cabbage in a large mixing bowl and add enough cold water to cover the cabbage, then mix in the kosher salt and set aside for about 10 minutes.
In a small bowl, add the hot pepper flakes, fish sauce, sugar, minced garlic, green onion and carrot and thoroughly mix using a spoon (you can also use food service type of gloves if you have them - just take great care not to get the pepper flakes on your hands so you don't accidentally rub your eyes).
Rinse the salted cabbage a few times under cold water and then drain all the water.
Thoroughly mix the red pepper mixture with the cabbage and then place the kimchi in an airtight container. It's ready to eat!
If you want more recipes and ideas on how to introduce flavor to your kids, visit us at Little Global Chefs!
Related