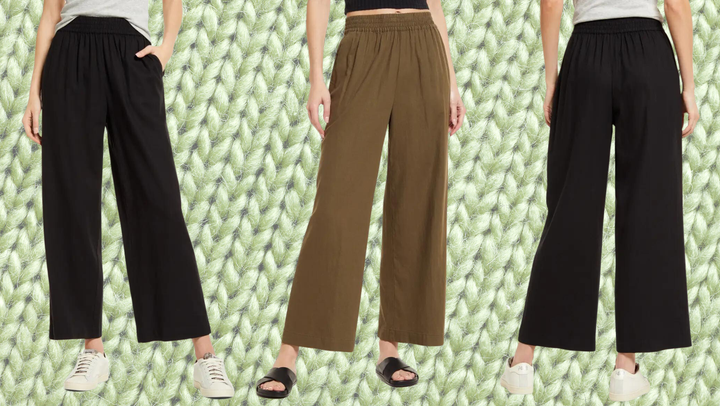 Given that the vast online shopping landscape can overwhelm even the most decisive of consumers, many of us can identify with the following habit: You find yourself bulk-buying that holy grail makeup product or easy-wearing dress, stockpiling every color or enough supply to last you for years to come.
When we come across online chatter that indicates shoppers have discovered such an item, we're obligated to investigate — and that very thing happened when we landed on these chic, lightweight linen pants that are currently on sale for up to 40% off as part of Nordstrom's Half-Yearly sale.
The linen-blend trousers are available in three colorways, and two of the coolest ones (in our humble opinions) are on sale: classic black and olive. The trousers feature a smocked elastic waist and a flowy, wide-cut leg with a 28-inch inseam that a reviewer (who gave the name FranktheCat and listed their height at 5' 8") said "hit above the ankle for a cropped fit." Other reviewers at shorter heights found them to hang longer.
Reviewers also found that the breezy linen-viscose fabrication was breathable and lightweight, and several admitted to owning as many as three pairs of the trousers. Even better, a number of them — especially those who referred to themselves as "curvy" or "pear-shaped" — claimed that the pants fared well on trips, providing a stylish building block for that comfy-chic balance that we're all looking to achieve when we're on vacation.
If that isn't enough of a selling point, the already-affordable almost-$60 price tag has been slashed nearly in half, to the tune of $35.40.
Check out what some the most satisfied Nordstrom reviewers had to say, or keeping scrolling to score these pants before they sell out.
"If you are pear-shaped, these are your palazzo pants. And they look cool. I'm typically a 8-10 (M-L) on the bottom, but a size small on the top and often have to get pants and shorts taken in at the waist, in order to buy a size that fits my bottom. But not these - they are perfect! I purchased a size M and they are not huge in the waist and was plenty of room for my hips/butt/thighs. Very comfortable and the fabric is a decent weight. Casual summer nights and cooler summer days will be spent in these." — KristynMak

"I bought these in 3 colors (black, rust, and ivory) because they are great to throw on with pretty much anything and they are stretchy so they work with all the weight I've recently gained. They do get wrinkled very quickly, which is annoying but not the end of the world. I am 5'8 165lbs and have both size medium and large which seem to fit pretty much the same." — Somethnglorious

"I got two pairs for a trip to Spain. Comfy, stylish, easy to wash and hang dry while traveling, breathable in the humidity. Current silhouette. I'm 5'4" and curvy. I wear them up on my natural waist and they fall to my shoe but don't touch the ground." — Kimchee Girll

"Super happy with these. Fit well over all my pear-shaped goodness, and the pockets did not pull like they sometimes do. A little bit of fabric puff in the tummy area but appropriate amount for this style of pant. Nice fabric, great waistband that flatters me. I have a 31″ waist and ordered a large. I'm 5′5″ and will wear these with flat shoes." — SeasonlessLA
Before You Go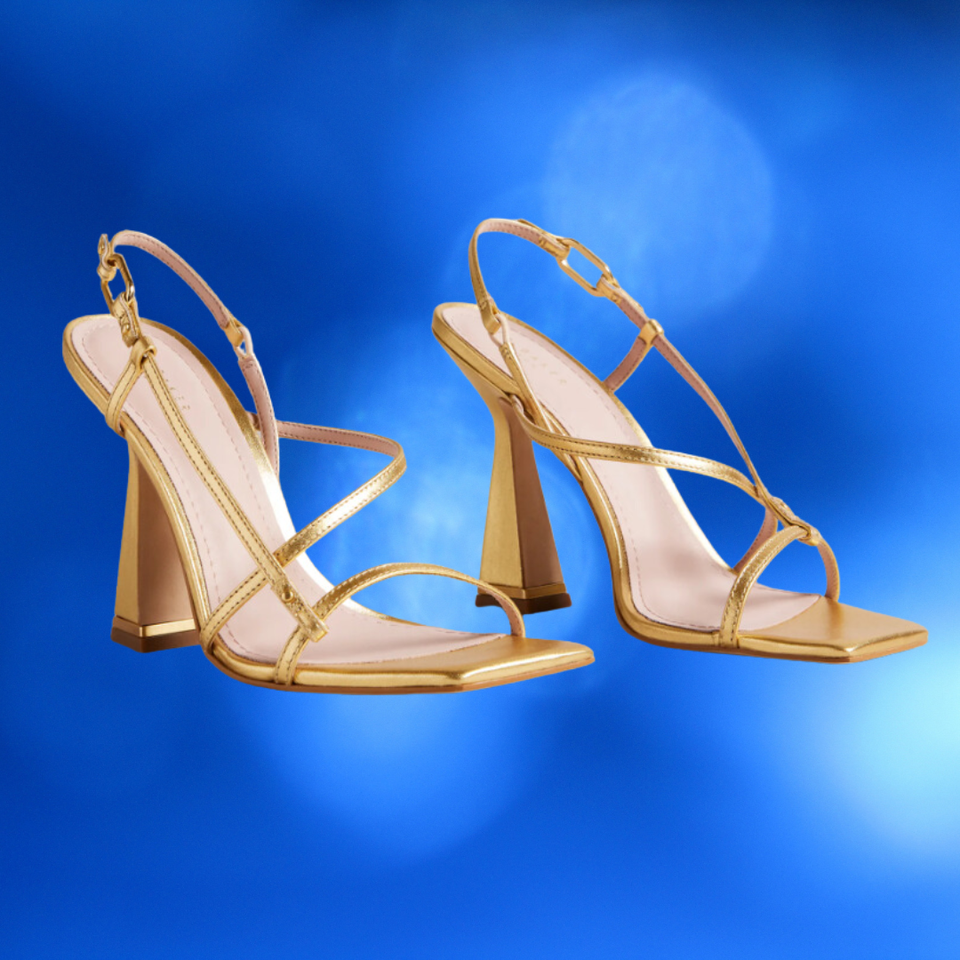 12 Wedding Guest Sandals Under $200