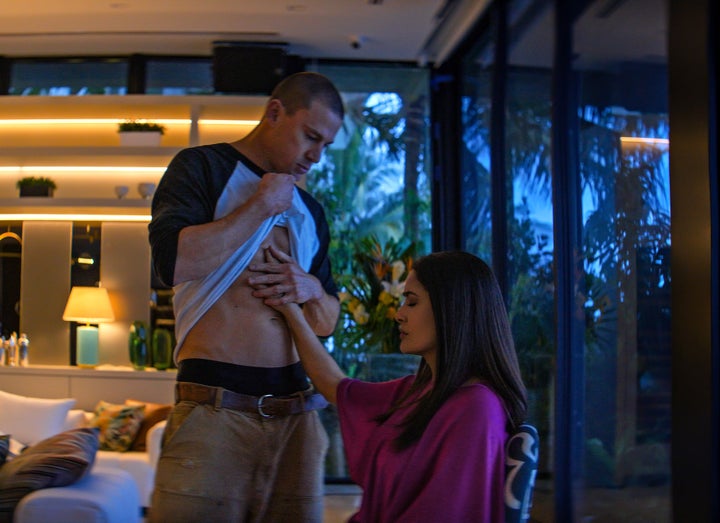 It takes about 15 minutes into "Magic Mike's Last Dance" for Channing Tatum's Mike Lane, a stripper-turned-gig-worker, to have Salma Hayek's wealthy businesswoman Maxandra Mendoza yearning for one of his personal lap dances. You know, he dims the lights, transforms the room, turns on [insert any baby-making R&B jam here], then grinds on her.
That goes on for several steamy minutes in the film, including up against Maxandra's ginormous glass window, on her table and after he swings — shirtless, of course, to reveal his defined abs — from a door frame and into her clutches.
Despite the two ending up in bed together after all this, it's uncertain whether either of them actually came or if sex even happened at all. All you see are big smiles as their glistening bodies lay perfectly shielded between her silk sheets.
But either way, you were probably aroused just by reading those paragraphs.
What director Steven Soderbergh and screenwriter Reid Carolin have presented us here is the impenetrable power of seduction, something not particularly new in the "Magic Mike" franchise that turned Tatum into a bonafide star and left millions of fans horny for more.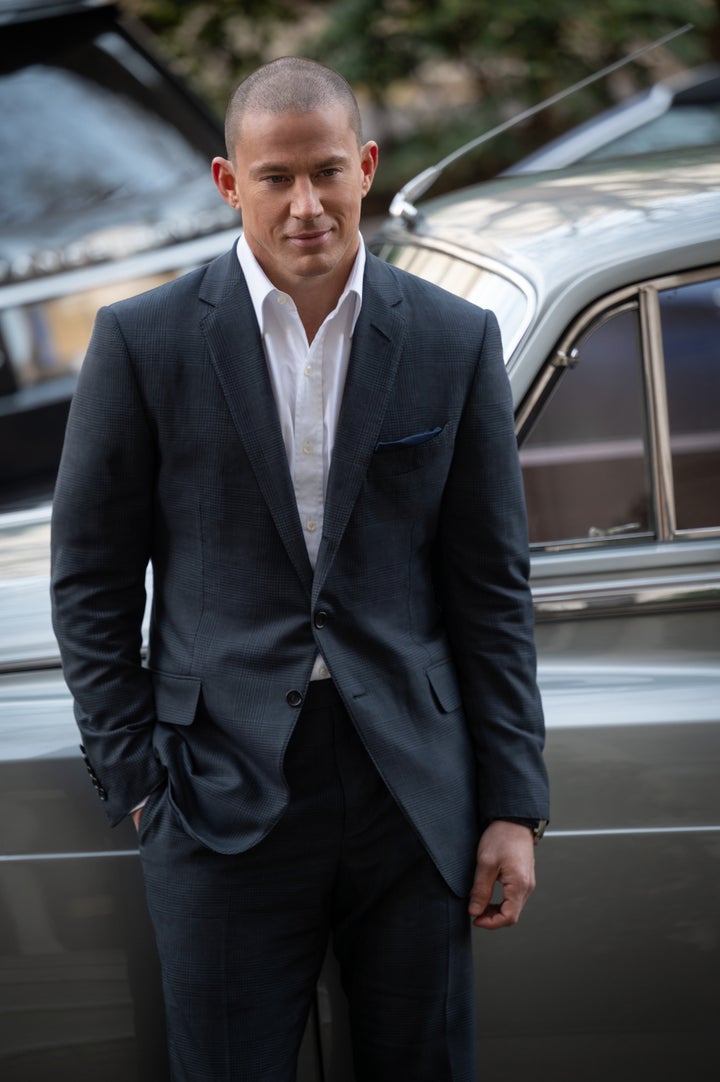 The first two films, 2012's "Magic Mike" and 2015's "Magic Mike XXL," are, respectfully, glossy and minimally layered offerings primarily catered to straight female libidos.
They follow similar beats: some fairly forgettable dialogue, Mike linking up with his fellow stripper pals — played by Joe Manganiello, Matt Bomer, Adam Rodriguez and Kevin Nash — to scheme their way into headlining an epic strip show, and other occasionally funny exchanges.
Interestingly, though, these movies rarely aim to gratify Black women. However, they are clearly aware of the effect Black music from artists Jodeci and D'Angelo — especially Ginuwine's "Pony" — has on their mostly Black listeners. Just not enough to centralize them in the movies. But I digress.
These movies are about what gets you... wet.
The strip show scenes where female characters, like some of their audiences, are invited to have the best time they could ever have with their clothes on (and the strippers' clothes off) and not much else. And honestly, bless them for that.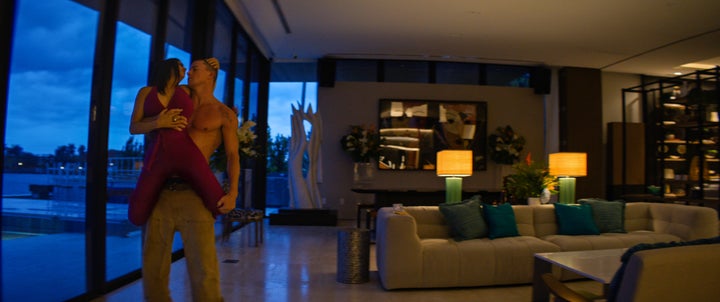 So many films and TV shows tantalize (very) desiring viewers with empty promises of erotic images that never occur ("Welcome to Chippendales") or mainly serve the straight male audience ("Deep Water"). The first two "Magic Mike" films actually delivered it.
But "Magic Mike's Last Dance" isn't only about getting its audience off. For the first time in the franchise, it puts its proverbial straight woman (in this case, Maxandra) in the driver's seat, asks her what she wants, and helps make it happen for her.
That concept, powered through a surprisingly feminist lens, is, sadly, a fantasy in and of itself on screen. But, add sexual allure like the opening sequence to the equation, and you get the kind of thoughtful, smart movie that leads with the idea of sex but is grounded by honoring the intricacies of modern female desire: professional clout, respect, love and yes, great orgasms.
"Magic Mike's Last Dance" lives in this space. Like Mike, Tatum, whose stripper past first inspired the character, looks more comfortable than ever in a role that, like the film, is in equal parts funny, playful, sexy and sincere — despite being in the business of fantasy.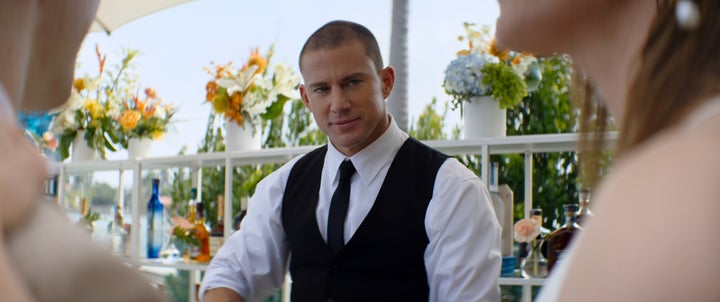 The film's opening moment is an example of that. When we catch up with Mike, he's pouring drinks at a fancy charity event in Florida for extra cash. Though he left the dancing world behind, or so he initially thinks, his reputation precedes him when a woman he once pleasured while wearing a cop uniform steps up to him.
She wants to let him know that she remembers him, and yes, she's being a good married woman right now. So, no need to call the authorities. *Wink wink.*
There, Mike also meets Maxandra, in a gorgeous fuchsia outfit, but miserable because the attending donors care less about the charity than their opportunity to hobnob. As a result, she feels alone, unheard and unfulfilled. That is until she finds out about Mike's former main hustle and seeks to pay for his services.
But it's not just the lap dance that is transactional (worth a whopping $60,000, as a matter of fact). Instead, he gives her a much-needed sexual release, and in another example of how the franchise has progressed, she's in a position to offer something in return.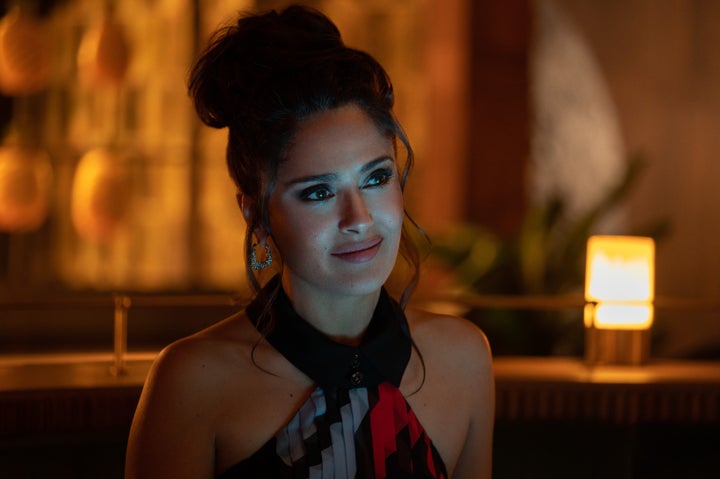 Maxandra invites Mike to fly with her back to her home in London for a month for "a job," which she keeps cryptic, giving her version of a tease for a guy who is otherwise hard-up.
Mike is strapped for money and unquestionably turned on by his powerful female client, so he hops on a plane with her to The Big Smoke. There, he soon learns that Maxandra's wealth was primarily accumulated through her marriage to a man who cheated on her and moved out of the home they once shared with their daughter.
Since becoming single again, she's been busy trying to build her own capital — chiefly through an old theater and putting on tired productions. She hires Mike as the director to essentially make over the show and ultimately help put her name on the map.
It might sound derivative and outside the elements of what's given the "Magic Mike" franchise so much of its appeal, but what elevates "Magic Mike's Last Dance" is that so much of it is satisfying foreplay for the grown and sexy.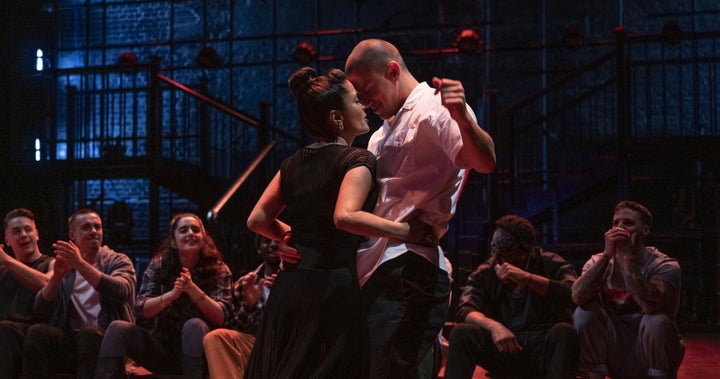 While Tatum is more confident than ever as this mature and no less sexy Mike, Hayek has finally found a role that matches her long-established sex appeal with her comedic talent. For instance, when Maxandra is ranting about the theatrical production, she intermittently asks her butler (Ayub Khan-Din) for his input, only to interrupt him each time he's about to say something.
She's the prototypical female beauty and object of desire that you've seen pop up in the previous "Magic Mike" films, except that she also has agency, a storyline outside of Mike's and a whimsy that complements Tatum's heartfelt bro humor.
Together, they make scenes — like the one where they're in her limo and almost making out (there are many of these moments) until she pulls away from him — as sultry as they should be. Or when Mike performs one of the hottest dances in the movie with a woman who is not Maxandra — but she is gazing at it from the audience.
That's because they give credence to flirtation and the build-up of sex, not just the act itself.
Soderbergh and Carolin seem to realize that. Their film appears to acknowledge the depths of what turns a woman on. It's not just sex or even the strip dance (of which several are throughout the film). It's the notion that a man is listening intently and is open and willing to indulge the needs — sexual, professional, personal or otherwise — of a woman who is wanting.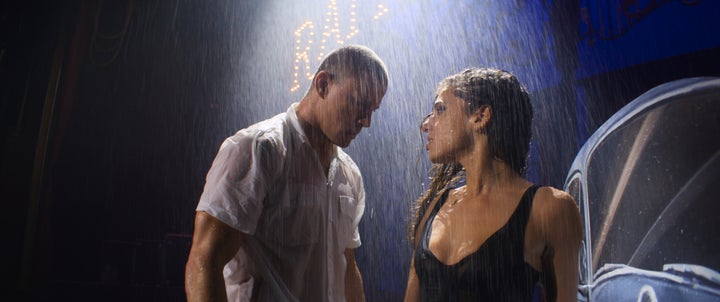 In one month, despite having no prior directorial experience (one of a few things about "Magic Mike's Last Dance" that calls for a suspension of disbelief), Mike revitalizes Maxandra's production. With Maxandra's guidance, his version modernizes its corset-wearing female character (Juliette Motamed) and gives her a sexual thirst like never before.
Cue the film's climactic, ultra-hot dance.
Sure, there is conflict in the narrative. Like, when Maxandra's ex threatens her business authority. There's even a little drama between her and their daughter. And that's all well and good and necessary to create human characters and real tension in these circumstances.
But what is so sublime about "Magic Mike's Last Dance" is that it makes room for Maxandra, powerful in her own right, to articulate her longings on her terms and have each of them, eventually, be fully realized. Because the man who partners with her to help them all come to fruition might also be her soul mate.
If that's not a turn-on, I don't know what is.
Popular in the Community