The Georgia Republican completely derailed the House Committee on Homeland Security's proceedings by accusing Swalwell of having "a sexual relationship with a Chinese spy."
The claim is a wild distortion of Swalwell's cooperation with an FBI probe of alleged spy Christine Fang. The Chinese national posed as Swalwell's political supporter, and there is no evidence she and the lawmaker had a personal relationship.
Immediately, Rep. Daniel Goldman (D-N.Y.) called for Greene's comment to be stricken from the record. Republicans voted to table the measure and let Greene continue her tirade, however.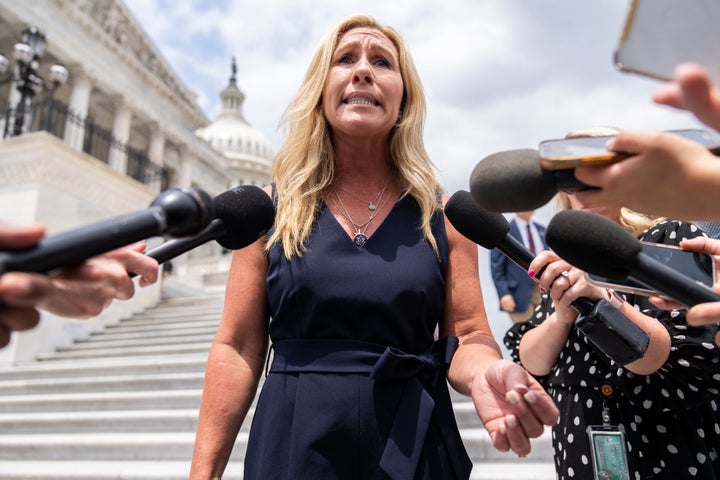 Next, Greene targeted Secretary of Homeland Security Alejandro Mayorkas, claiming his department was responsible for rising fentanyl deaths among young people.
After Mayorkas told Greene that his department was "fighting" drug traffickers, she called him a "liar."
"You are killing Americans with your policies," she added.
By that point, even Republicans' patience was growing thin.
Rep. Mark Green (R-Tenn.) ruled that his Republican colleague had violated the rules of decorum and ordered her words stricken from the record.
"It's pretty clear that the rules state you can't impugn someone's character," he told Greene. "Identifying or calling someone a liar is unacceptable in this committee, and I make the ruling that we strike those words."
Recently, Greene defended the Massachusetts Air National Guardsman accused of leaking classified documents about the war in Ukraine. On Twitter, she claimed his arrest was part of a conspiracy against "white, male, christian[s]" who are "antiwar."
Watch the full hearing below. Greene's remarks begin at the 2:01:00 mark.
Popular in the Community