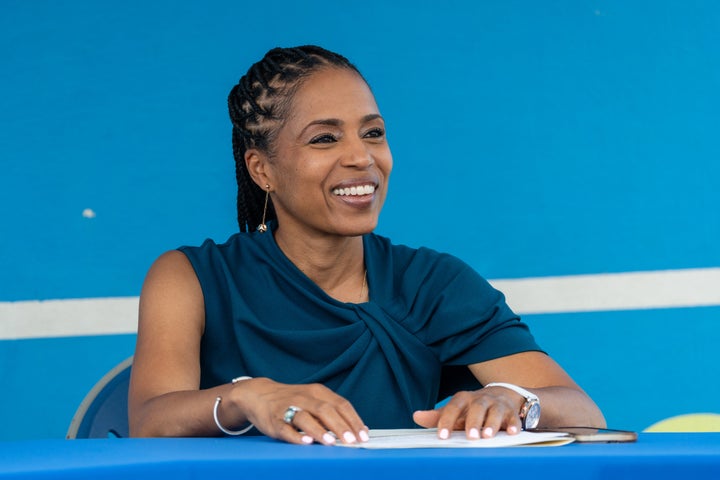 Prince George's County Executive Angela Alsobrooks entered the race for Maryland's open U.S. Senate seat on Tuesday, and instantly became the Democratic Party's best chance to elect a Black woman to the Senate since now-Vice President Kamala Harris' run in 2016.
There have been only nine Black U.S. senators since Reconstruction, and only two of those — Harris and former Illinois Sen. Carol Moseley Braun — have been women.
The 52-year-old Alsobrooks is serving her second term as county executive, following eight years as the top prosecutor in Prince George's County, a majority-black suburban county outside Washington, D.C. She's expected to quickly rack up endorsements from key Democrats and outside groups, including EMILY's List, which backs Democratic women who support abortion rights.
"I get it: There aren't a lot of people who like me in the U.S. Senate," Alsobrooks says in a video launching her campaign. "People who live like, think like and who look like the people they are supposed to represent. I'm running for Senate to be a voice for families like the ones I grew up with."
Alsobrooks opens the video by recounting a harrowing story: A South Carolina's sheriff's deputy shot and killed her great-grandfather in the 1950s and threatened her mother, grandmother and great-grandmother , forcing them to flee the state and resettle in Maryland.
The support of EMILY's List, which has a history of spending aggressively in primaries, could end up being crucial for Alsobrooks' chances. Rep. David Trone, the co-founder of Total Wine and More and one of the wealthiest members of Congress, has already announced his own run for the seat. Trone has said he could spend up to $50 million of his own fortune on the race.
His campaign has already begun airing ads highlighting his pledge not to take campaign donations from political action committees or lobbyists, as well as his work to combat overdoses and overhaul the criminal justice system.
The seat is open following the retirement announcement of three-term Sen. Ben Cardin (D) earlier this month. Montgomery County Councilman Will Jawando, another Black candidate, has also announced a bid.
Rep. Jamie Raskin, who gained national attention for his role in President Donald Trump's second impeachment trial and membership on the House committee investigating the Jan. 6, 2021, insurrection, is also considering a run.
Raskin would likely be the most progressive candidate in the Democratic primary, with Trone, Alsobrooks and Jawando all considered to be in the party's ideological mainstream. All four candidates are also from the vote-rich D.C. suburbs, which leaves a potential opening for a Baltimore-based candidate. Baltimore County Executive Johnny Olszewski could fill that void.
Any Democratic primary victor would be a heavy favorite in the general election. President Joe Biden won Maryland by 33 percentage points in 2020.
Alsobrooks is not the only Black woman running for Senate this year, with Rep. Barbara Lee running to replace retiring Sen. Dianne Feinstein in California. Political forecasters, however, give Alsobrooks a much stronger chance of triumphing: Lee is running against two top-tier candidates, Reps. Katie Porter and Adam Schiff, and is not expected to attract as much institutional and establishment support as Alsobrooks.
Rep. Colin Allred, who is Black, is the leading Democratic candidate to challenge Sen. Ted Cruz in Texas.
Popular in the Community