At least seven officers with the Memphis Police Department were disciplined following the violent Jan. 7 arrest of Tyre Nichols, the department said on Monday.
The identities of six of the officers are known. Police did not disclose the name of the seventh officer, who was suspended on Jan. 8, or describe the officer's role in Nichols' arrest.
Another officer, Preston Hemphill, has been suspended pending an ongoing investigation, police confirmed to HuffPost on Monday. Hemphill was recorded using a stun gun on Nichols, a 29-year-old Black man who died three days after Memphis police beat him at a traffic stop.
Hemphill was relieved of duty but has not been fired from the department, MPD spokesperson Kimberly Elder said.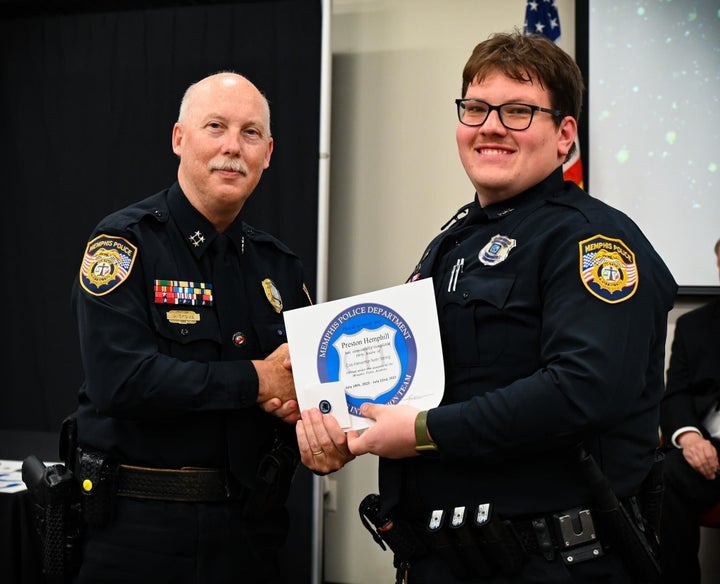 Five other Memphis Police Department officers who were involved in Nichols' arrest ― Desmond Mills, Justin Smith, Tadarrius Bean, Demetrius Haley and Emmitt Martin ― have been fired and charged with second-degree murder and other offenses. They were released on bond.
The five officers were part of the city's SCORPION unit, which was disbanded following Nichols' arrest and death.
Hemphill joined the MPD in 2018, according to the department. Elder said the department would provide more information about its decision on social media.
Police released bodycam footage on Friday that showed officers beating, pepper-spraying, Tasing and verbally degrading Nichols during the Jan. 7 traffic stop. Officers pulled him out of the car and gave him multiple verbal commands without indicating why they had stopped him in the first place.
At one point during the incident, an officer can be heard saying: "I hope they stomp his ass."
Nichols died three days after the arrest. The family released a photo of him on a hospital bed, his face disfigured from injuries.
An independent autopsy found that Nichols "suffered extensive bleeding caused by a severe beating," according to attorneys Ben Crump and Antonio Romanucci, who are representing the family.
Following the release of the footage, two Shelby County deputies who were on the scene were suspended, as well as two Memphis Fire Department employees involved in the initial patient care of Nichols.
Support HuffPost
The Stakes Have Never Been Higher
Popular in the Community